Short Works Prize 2018 AWARDS • Recognizing Excellence in Writing
Description
JOIN US!
The 5th Annual Short Works Prize for Writing

SWP AWARDS CELEBRATION
Don't miss the presentations of:

The Alvin A. Lee Award for Published Creative Non-Fiction
The Judy Marsales Real Estate Ltd. Award for Published Poetry
The Hamilton Public Library Freda Waldon Award for Published Fiction
The Rotary Club of Hamilton AM Young Writers Awards
The Mohawk College Awards for Writing
The Redeemer University College Award for Writing
The Gillett Reminiscence Awards


Listen to Short Readings from the Award Recipients
Meet this year's SWP Mystery Guest...
Featuring the Mohawk College Music Ensemble ArtPop under the direction of composer Dusty Micale.
There will be Door Prizes too!


Celebrate With Us!
Sunday November 18th at 1:30pm
DOORS OPEN AT: 1:00pm
START TIME: 1:30pm
LOCATION: Hamilton Public Library Central Branch, 55 York Blvd., Hamilton. Main Floor Auditorium.
FREE Admission
LIMITED SEATING
R. S. V. P.

To see a list of who will be recognized at the 2018 Awards event click here!

The Short Works Prize for writing is Presented in Partnership by Hamilton Arts & Letters magazine and the Hamilton Public Library.

THANK YOU to our 2018 Sponsors: the Rotary Club of Hamilton AM, McMaster University, Mohawk College, Judy Marsales Real Estate LTD., Redeemer University College, the Hamilton Public Library, the Gillett Reminiscence Awards, and the City of Hamilton.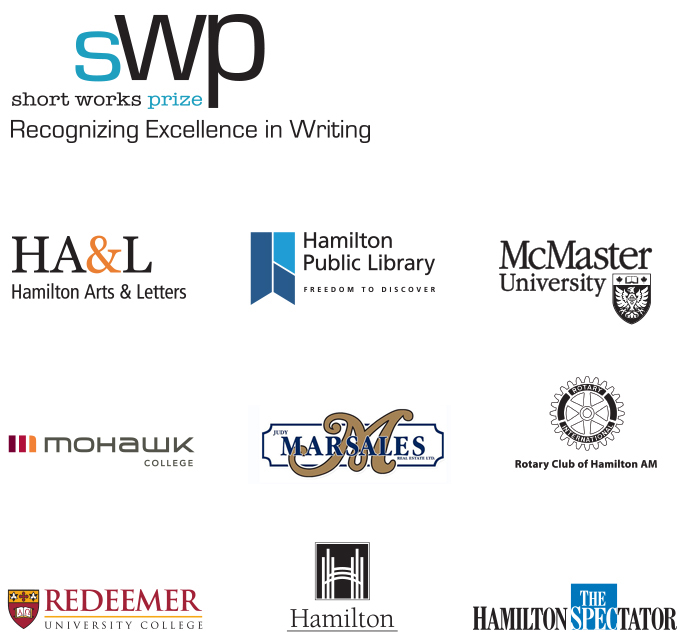 Thanks to HA&L magazine's Community Partner The Hamilton Spectator.

Our thanks to all who participated in the 2018 Short Works Prize for writing! And Congratulations to this year's SWP Award Recipients!

And sincere thanks to all at Bryan Prince Bookseller for their past support!

REGISTER NOW!

Follow SWP on Twitter: @ShortWorksPrize

Questions?
HAL@HALmagazine.com

Paul Lisson and Fiona Kinsella, Editors
Hamilton Arts & Letters
www.HALmagazine.com