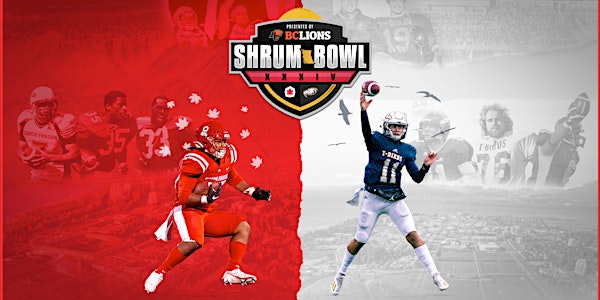 SHRUM BOWL
The Shrum Bowl football game between SFU and UBC is back, with a helping hand from the BC Lions.
When and where
Location
Terry Fox Field 8888 University Drive Burnaby, BC V5A 1S6 Canada
Refund Policy
Contact the organizer to request a refund.
About this event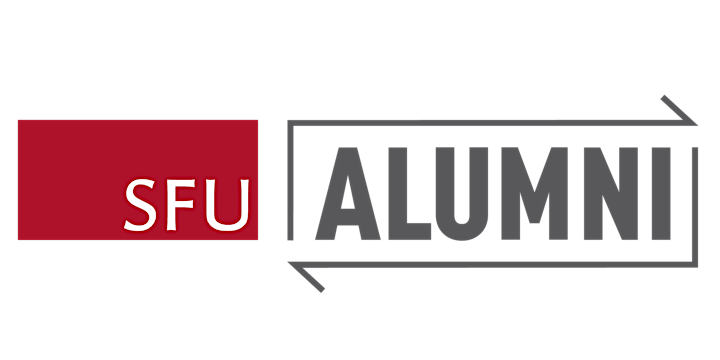 The first 400 people to come through the door and check in at the SFU Alumni booth will receive a free game day gift!
SFU Alumni is a proud supporter of Shrum Bowl XXXIV and SFU Athletics & Recreation. Upon entry to the Shrum Bowl, visit the SFU Alumni tent for swag and treats. See you soon!
KNOW BEFORE YOU GO:
TICKET INFORMATION
SFU STUDENT FIELD LEVEL TICKETS AVAILABLE NOW (BLUE ZONE ONLY)
Current SFU & FIC students are FREE. Must register free ticket here(East Endzone section - see map below). Entry via Gaglardi emergency access lane way. Look for the UBC BLUE tent.
UBC STUDENT FIELD LEVEL TICKETS ON SALE NOW
Current UBC students cost $5.00. Must purchase tickets here (East Endzone section - see map below). Entry via Gaglardi emergency access lane way. Look for the UBC BLUE tent.
Youth, senior and group rates are NOT available for this event.
This game is expected to sell-out. SFU Stadium has a seating capacity of 1823.
ACCESSIBLE SEATING
SFU's stadium has dedicated accessible seating areas available for guests with disabilities. Accessible seating is located on the concourse immediately behind sections 4 and 7 (3 spots for wheelchairs & 3 seats under cover - $25). There is also accessible seating located between section 9 & 10 (3 spots for wheelchairs & 3 seats not covered - $20) and between section 3 & 4 (1 spot for a wheelchair and 1 seat not covered - $20). All accessible seating, whether for a wheelchair or for an attendant, are sold at reserved seating pricing. Email: tickets@sfu.ca for questions or to purchase reserved accessible seats.
DRINKING WATER
Empty personal water bottles (with or without lids) up to 1 litre capacity are permitted into the stadium and are subject to inspection at the gate. Glass bottles are not allowed inside the stadium. Permitted bottles can be filled with water at drinking fountain located on the patio. Bottled water can also be purchased from concessions.
FAN CODE OF CONDUCT
We ask all fans to adhere to the following Fan Code of Conduct and refrain from:
Failing to follow instructions of university staff. Intentionally sitting or standing in areas which obstruct the passage and/or view of other spectators;
Verbal or physical harassment of opposing team fans, officials, opponents or other person;
Foul and/or abusive language and/or obscene gestures;
Intoxication or other signs of alcohol impairment that results in irresponsible behaviour;
Interference with the progress of the game, including throwing objects and/or unauthorized persons on the field of play;
Behaviour that is unruly, disruptive or illegal in nature;
Event patrons are responsible for their conduct as well as the conduct of their guests. University staff will promptly intervene to support an environment where event patrons, their guests and other fans can enjoy the event free from the above behaviour. Event patrons and guests who violate these provisions will be subject to ejection without refund and loss of ticket privileges for future games.
FOOD AND BEVERAGE
A variety of refreshments are available from concession booths, trucks, and carts on the patio. Outside food and beverages are not permitted inside the stadium. All food vendors accept cash and credit cards.
GATE OPENING TIMES
At this time, gates will open 2 hours prior to kick-off.
PROHIBITED ITEMS
Fans are reminded the following items will not be permitted inside the Stadium and West Gym. See list below.
Aerosol cans
Alcoholic Beverages
Animals (except for documented service animals)
Banners or signs large than 3' X 2' or with non-sport message
Cigarettes/E-cigarettes/Vaporizer Pens/Chewing Tobacco
Clothing deemed obscene or indecent in public setting
Coolers of any kind
Fireworks
Footballs and beach balls (inflated or deflated)
Illegal drugs
Laser pointers
Noise makers of any kind (whistles, horns bells, etc.)
Poles or Sticks of any kind, including "Selfie-Sticks" and brooms
Skateboards, roller blades, scooters, or hover boards
Unmanned aircraft systems (drones, etc.)
Weapons of any kind including, but not limited to, firearms & knives
Any item deemed inappropriate or hazardous by stadium security
Outside food/beverages
ROAD CONDITIONS
PARKING INFORMATION
Parking for all SFU varsity events is FREE 90 minutes prior to the start of the event and 60 minutes after the conclusion of the game in the West Parkade, adjacent to the West Gym. To receive complimentary parking guests must down load the HONK parking system app to their smartphone, scan the QR code that will be posted at the entrance to the venue and enter their license plate. Learn about the new HONK parking system at the Burnaby campus.