Description
A Mindfulness Research Symposium open to the public, dedicated to Research in Mindfulness, it's applications, approaches & methodologies. Scientific research in Mindfulness-based practice will be presented together with an exploration of how this research may impact the practical use of mindfulness as a therapeutic, scientific and wellness-enhancing approach in healthcare institutions and beyond. An area of special interest includes methods to consistently quantify the experience of the practitioner and participant, in order to incorporate these data into the ongoing exploration of the efficacy and benefits of Mindfulness.
Our Aspiration: To inspire, envision, collaborate, network, inform, support, and stimulate, research in Mindfulness. Through this symposium we will explore the approaches, applications, modalities, and methodologies of Mindfulness, and the growing body of evidence to support the application of Mindfulness-based practice to benefit wellbeing, health, self-awareness, and resilience.
With Guest Speakers: Dr. Zindel Segal PhD, Dr. Norman Farb PhD , Dr. Dzung Ho MD, Dr. Danielle Ruskin PhD, Elli Weisbaum MA as well as SickKids Research Institute Scientists: Dr. Anne Wheeler PhD and Dr.Steve Prescott MD, PhD applying these modalities, and specialists in the field,
A Mindfulness Research Poster Session will be featured throughout the Symposium
Due to the popularity of this event Screens in the PGCRL Gallery will feature The Mindfulness Research Symposium live. As a result we have relased another block of tickets ......Seating in the auditorium will be on a first come first serve basis. Those who arrive late or need to leave early will be asked to view the event from the live screens in the gallery. Auditorium seats 250 / Gallery 75
An Evening Workshop with Dr. Dzung Vo , Children's Hospital of B.C.

Time Correction: 6 PM till 8 PM
(Please disregard time on poster.....start time has changed slightly)
Get your tickets to an exciting interactive workshop following the symposium with the author of "A Mindful Teen and co-creator of MARS-A :Mindfulness & Resilience for Adolescents.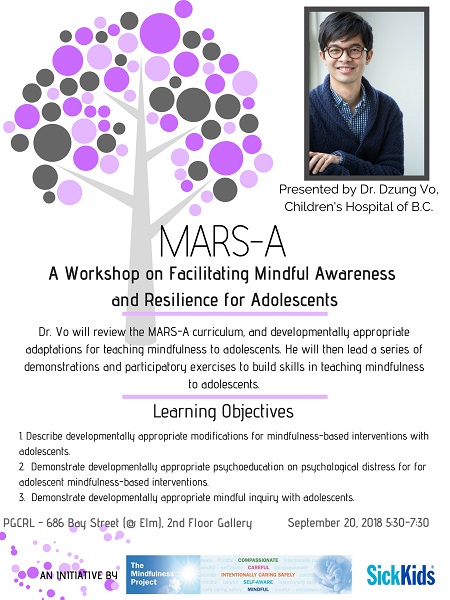 A Full Schedule with Abstacts & Bios will be e-mailed to those who have registered a few days before the event