Description
Sidelaunch Days are Back! Try out cable wakeboarding and watch the pro competition!
PRE-REGISTER TO TRY CABLEWAKEBOARDING YOURSELF!
For the week BEFORE Sidelaunch Days weekend, you can try out wakeboarding in the beautiful, safe and protected Collingwood Harbour. Get on your board, and grab onto the cable as you are pulled through the wakeboard course.
When? Monday 6th August to Friday 10th August. 10am to 6pm daily
Why Pre-Register? You're guaranteed your spot (during the installation) to try-out this hugely popular sport, though it is 'first come, first serve' on any given day.
Cost? 20 minute session for $35pp including rental gear, or $25 if you have your own gear. Cash/credit card accepted on site.
Restrictions? As long as you can swim, you can try-out! Great for boarders of any skill level.
Guaranteed 'Get Up'! They'll get you up or its free!
After you have preregistered - Please call ahead to book your session on 1-855-383-RIDE. Please ask to select the SARNIA location. You can also email to prebook at info@boarderpasscanada.com and use the subject line: Collingwood Pre-Registration.
First come, first serve so avoid a line up and give them a call or email ahead.
Note: This activity is NOT available over Sidelaunch Days Festival as we will be hosting a 2-Day Wakeboarding Competition in the same location.
....... But Wait.......There's More!
---
CHEER ON THE PRO'S AT THE 2-DAY COMPETITION AT SIDELAUNCH DAYS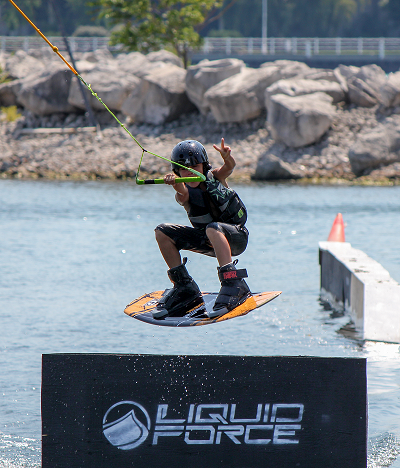 Experience sweet flips and crazy tricks yourself or cheer on the amateurs and pro's in the two day cable wakeboarding competition Saturday 11th and Sunday 12th August at Sidelaunch Days!
Pre-register and experience the thrill of being in, on and around the water in Collingwood.