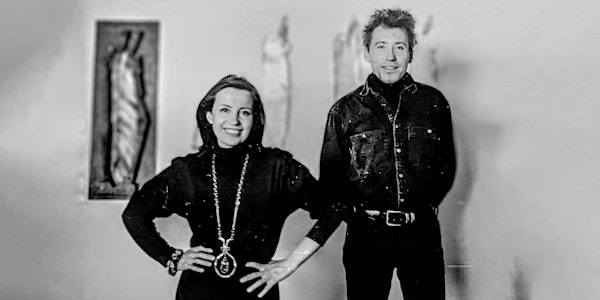 Sidewalk Stories: Punk, Creed & Cree Métis on Queen West
Delve into the counterculture of Queen West from '77 to '83 with a storytelling tour by Cree Métis artists Rebecca and Kenny Baird
When and where
Location
Myseum of Toronto 401 Richmond Street West Studio LL01 Toronto, ON M5V 3A8 Canada
Refund Policy
Contact the organizer to request a refund.
Eventbrite's fee is nonrefundable.
About this event
Explore the counterculture of Queen West from '77 to '83 with a storytelling tour seen through the eyes of Cree Métis artists Rebecca and Kenny Baird. Delve into the history of this tumultuous and flourishing vanguard arts hub as told by the Baird siblings. You'll hear their contributions to punk, queer, street and magazine subcultures, ground-shifting local music, thought-provoking art installations, and more. Weave through this radical time, hearing about the many illustrious arts allies and locales they frequented, such as The Cameron House, Toxic Plan 9, Art Metropole, and more. The tour ends with an artist talk and Q&A with Rebecca and Kenny Baird.
Developed in collaboration with Caroline Azar and Franco Boni.
WHAT TO EXPECT
Meeting point: Myseum of Toronto, 401 Richmond St W, Studio LL01
End point: Myseum of Toronto, 401 Richmond St W, Studio LL01
Length of the tour: 75-90 minutes
Total active walking time: 55 minutes
Total walking distance: 2.5 km
Longest walking time between stops: 10 minutes
This tour is an audio tour; please bring your own devices (eg. smartphone, smart tablet) and headphones for the experience. Here are a few listening options:
On the day of the tour, play the audio tracks directly from the link that will be sent to you prior to the tour. This will require data usage.
To avoid data usage, you will be able to download the audio tracks to your device before the tour at Myseum, and listen offline during the tour. If choosing this option, please arrive 30 minutes before the tour starts.
Should you not have your own device, please contact us at programs@myseumoftoronto.com in advance, by Friday October 7 at 5pm.
Rain or shine the tours will move ahead. However, in the event that the forecast calls for storms or very heavy rain, a notice of cancellation will be sent out 3 hours prior to the start of the tour.
Tours will be in large groups of people. We recommend wearing a mask because physical distancing cannot be possible
Entirely flat terrain, paved sidewalks, city traffic
If you have any questions or concerns, please email us at programs@myseumoftoronto.com.
LED BY
Kenny Baird
Kenny has an established reputation in a variety of commercial design media: Film production design, Commercial and music video art direction, prop fabrication, wardrobe / costume design, Graphic design and illustration.
Rebecca Baird - MFA, OCADU
As a Nehiyaw (Cree)/Métis artist, I have appreciated the occasions that my art has offered to connect with the broader public and further the representation of Indigenous culture. My artistic practice has explored themes of Indigenous history, identity and culture through the lens of sculpture, installation and painting. Challenging western notions of the 'imaginary Indian' perpetuated by mass media stereotypes, my work re-articulates and re-visions Indigenous narratives, while striving to engage a contemporary intersection of memory and meaning. My 30 plus years of exhibition experience includes such landmark presentations as From Sea to Shining Sea, Power Plant, 1987 and Indigena, Former Museum of Civilization, 1992. Notable public art commissions include: The Great Mystery, acrylic on canvas, 1996, Queen West Community Health Centre; Open Sky, acrylic on canvas, 2001, Lester B. Pearson International Airport New Terminal and All My Relations, an installation for Centre for Addictions and Mental Heath's Crisis and Critical Care entrance.
IN COLLABORATION WITH
Caroline Azar - Playwright/Librettist/Songwriter/Director/Producer/Editor
I am a co-founder of agit-prop proto punk group Fifth Column with GB Jones along with hers and my decades old zine work HIDE & Double Bill. Amongst many initiatives and projects, I have written music and lyrics for 'Queer As Folk', story-edited for TV/Film, having published erotica under a pseudonym. I am proud to share that I was mentored by and worked for the following cultural makers: Iconic Gay Playwright John Herbert, Playwright Judith Thompson, Cultural Impresario/Director/Producer Franco Boni and Performance Professor Paulette Phillips. For 40 years, I've contributed to queer, feminist and punk theory, while personally informed by Elaine May, Journalist Studs Terkel, Buckminster Fuller, Bubblegum culture and Psychedelic/Garage music and, of course, all black swans of history and science. (full bio in digital brochure)
Franco Boni - Artist, Producer
Franco is a recognized cultural innovator, facilitator and community builder with a demonstrated track record of restoring financial stability and artistic credibility for local art organizations and festivals for over two decades. Past positions include Artistic and Executive Director of The PuSh Festival in Vancouver, Festival Director of the Rhubarb Festival and Artistic Producer of the SummerWorks Festival. Franco was a founder of Active 18, a local West Queen West community association, instrumental in advocating for good design and retaining the cultural fabric of the West Queen West neighbourhood in Toronto. Awards include the George Luscombe Award for mentorship, the inaugural Ken McDougall Award for emerging directors, and the Rita Davies Cultural Leadership Award, recognizing his outstanding leadership in the development of arts and culture in the City of Toronto. (full bio in digital brochure)
ABOUT SIDEWALK STORIES
Get to know Toronto's unforgettable stories with a unique series of walking tours. There's something for everyone in these five distinct experiences that will transport you back to the formative Toronto of the 17th century, all the way through to the gritty 1980s. Weave through the streets with local artists, architects, authors, and historians, and connect to the stories and spaces that make up this ever-changing city. Learn more.
ABOUT MYSEUM OF TORONTO
Myseum is your Toronto museum. Our engaging programs and experiences showcase the history, spaces, culture(s), architecture, and the people that represent Toronto's unique place in the world. Learn more.
____________________
ACKNOWLEDGEMENTS
Led by Rebecca Baird and Kenny Baird. Developed in collaboration with Caroline Azar and Franco Boni.
Myseum of Toronto is made possible with the generous support of Diane Blake and Stephen Smith.
Image credit: Rebecca Baird and Kenny Baird, courtesy of Rebecca Baird and Kenny Baird