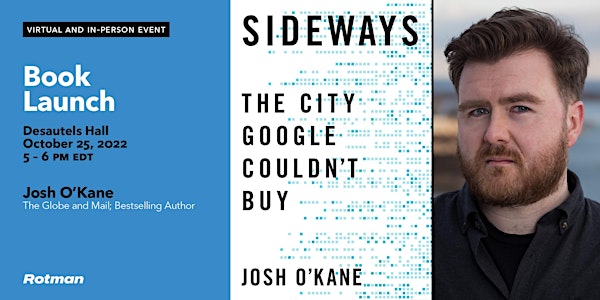 Sideways: The City Google Couldn't Buy
Josh O'Kane discusses his new book "Sideways: The City Google Couldn't Buy" (Random House of Canada).
When and where
Location
Rotman School of Management + Livestream 105 St. George Street Toronto, ON M5S 3E6 Canada
Refund Policy
Refunds up to 1 day before event
About this event
Topic: Sideways: The City Google Couldn't Buy (Random House of Canada)
By: Josh O'Kane
Speakers:
Josh O'Kane, Reporter, The Globe and Mail; bestselling author
Shauna Brail, Associate Professor, Institute for Management & Innovation, University of Toronto
Book Synopsis:
From the Globe and Mail tech reporter who revealed countless controversies while following the Sidewalk Labs fiasco in Toronto, an uncompromising investigation into the bigger story and what the Google sister company''s failure there reveals about Big Tech, data privacy and the monetization of everything.
When former New York deputy mayor Dan Doctoroff landed in Toronto, promising a revolution in better living through technology, the locals were starstruck. In 2017 a small parcel of land on the city''s woefully underdeveloped lakeshore was available for development, and with Google co-founder Larry Page and his trusted chairman Eric Schmidt leaning into Sidewalk Labs'' pitch for the long-forsaken property—with Doctoroff as the urban-planning company''s CEO—Sidewalk''s bid crushed the competition.
But as soon as the bid was won, cracks appeared in the partnership between Doctoroff''s team and Waterfront Toronto, the government-sponsored organization behind the contest. There were hundreds more acres of undeveloped former port lands nearby that kept creeping into conversation with Sidewalk, and more questions were emerging than answers about how much the public would actually benefit from the Alphabet-owned company''s vision for the high-tech neighbourhood—and the data it could harvest from the people living there. Alarm bells began ringing in the city''s corridors of power and activism.
To Torontonians accustomed to big promises with little follow-through, the fiasco that unfolded seemed at first like just another city-building sideshow. But the pained battle to reel in the power of Sidewalk Labs became a crucible moment in the worldwide battle for privacy rights and against the extension of Big Tech's digital might into the physical world around us.
With extensive contacts on all sides of the debacle, O'Kane tells a story of global consequence fought over a small, forgotten parcel of mud and pavement, taking readers from California to New York to Toronto to Berlin and back again. In the tradition of extraordinary boardroom dramas like Bad Blood and Super Pumped, Sideways vividly recreates the corporate drama and epic personalities in this David-and-Goliath battle that signaled to the world that all may not be lost in the effort to contain the rapidly growing power of Big Tech.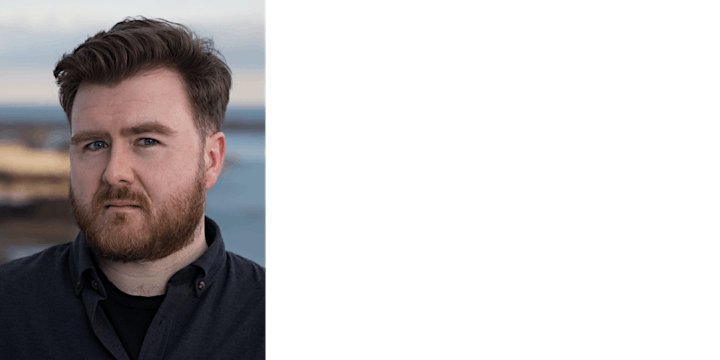 Josh O'Kane has been a reporter with The Globe and Mail, Canada's largest national newspaper, since 2011. He won Germany's Arthur F. Burns Award for transatlantic political and cultural reporting in 2019, for his coverage of that country's broad pushback against Big Tech. O'Kane's reporting has also won numerous Best in Canada awards from the Society for Advancing Business Editing and Writing.
His first book, Nowhere with You, was a Canadian bestseller. He lives in Toronto.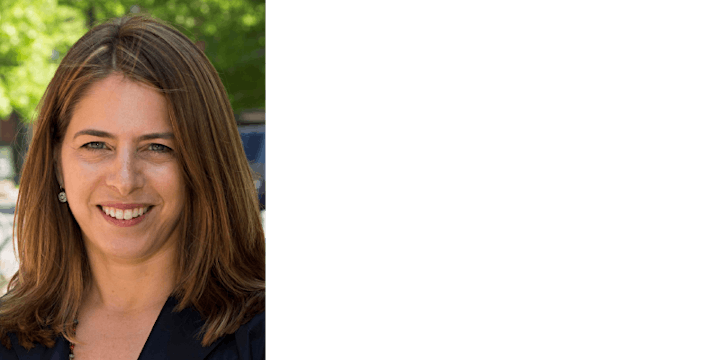 Shauna Brail is an Associate Professor at the Institute for Management & Innovation, University of Toronto. As an economic geographer and urban planner, her research focuses on the transformation of cities as a result of economic, social, and cultural change. Brail's research encompasses studies of broad urban economic challenges and transformations associated with 21st century cities – including the impacts of COVID-19 on cities; the relationship between cities and the digital platform economy; and shifts in urban governance, policy and planning in connection to innovation and technological change.
Brail is a Senior Associate at the Innovation Policy Lab in the Munk School of Global Affairs & Public Policy.
Event Logistics:
This event is available to attend in-person or virtually via livestream.
Rotman Events is committed to accessibility for all people. If you have any access needs or if there are any ways we can support your full participation in this session, please email Mandi Gosling [events@rotman.utoronto.ca] no later than 2 weeks in advance of the event and we will be glad to work with you to make the appropriate arrangements.
General Admission: In-Person Ticket Details
The event will be hosted in Desautels Hall at the Rotman School of Management (105 St. George St., Toronto, ON M5S 3E6). Your registration fee includes a seat at the session, access to a video replay of the session for 30 days and you will receive a hardcover copy of the book when you arrive.
General Admission: Livestream Ticket Details
Rotman Events will email registrants a link to the livestream. Your registration fee includes access to the livestream, video replay for 30 days, a hardcover copy of the book and shipping fees. The book will be shipped to registrants after the event. Please allow 3 - 4 weeks for delivery.
30-day Catch-up Viewing
Unable to attend the event due to scheduling conflicts? Not to worry. All registrants (in-person or livestream) can access the full recording on-demand for one month after the live event.
Cancellation & Refund Policy
Refunds will only be issued for cancellations received in writing NO LATER than 24 hours prior to the event. Please email events@rotman.utoronto.ca for processing.
In-person registrants who do not pick up their book at the event will have 5 business days to request postal delivery by emailing us at events@rotman.utoronto.ca. All unclaimed books will be returned to the publisher after that time.
Questions: events@rotman.utoronto.ca, Mandi Gosling