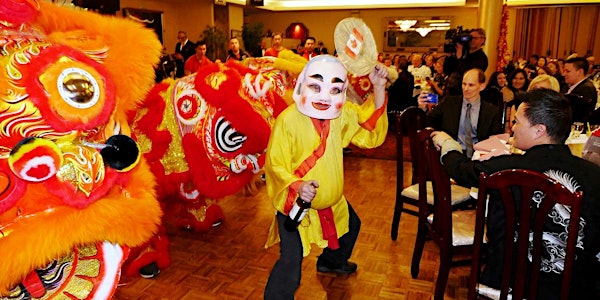 Sien Lok Society's 2023 CNY Gala & Fundraiser
Chinatown's premiere Chinese New Years Event provides a rich cultural experience including traditional 10-course dinner and entertainment...
When and where
Location
Regency Palace Restaurant 328 Centre St South, 3rd Floor Calgary, AB T2G 4X6 Canada
About this event
Sien Lok Society 54th Chinese New Year Gala & Fundraiser
Join us on February 4th, 2023, in the heart in Calgary Chinatown, to celebrate the 54th Annual Chinese New Year Gala & Fundraiser to welcome the "Year of the Rabbit" with the Sien Lok Society of Calgary.
As one of Chinatown's premiere Chinese New Years Celebration Events, this cultural experience will include a traditional Chinese cuisine (10 courses), cultural performances such as Chinese Lions Dance, Classical Chinese Orchestra and much more, followed by dancing accompanied by live music.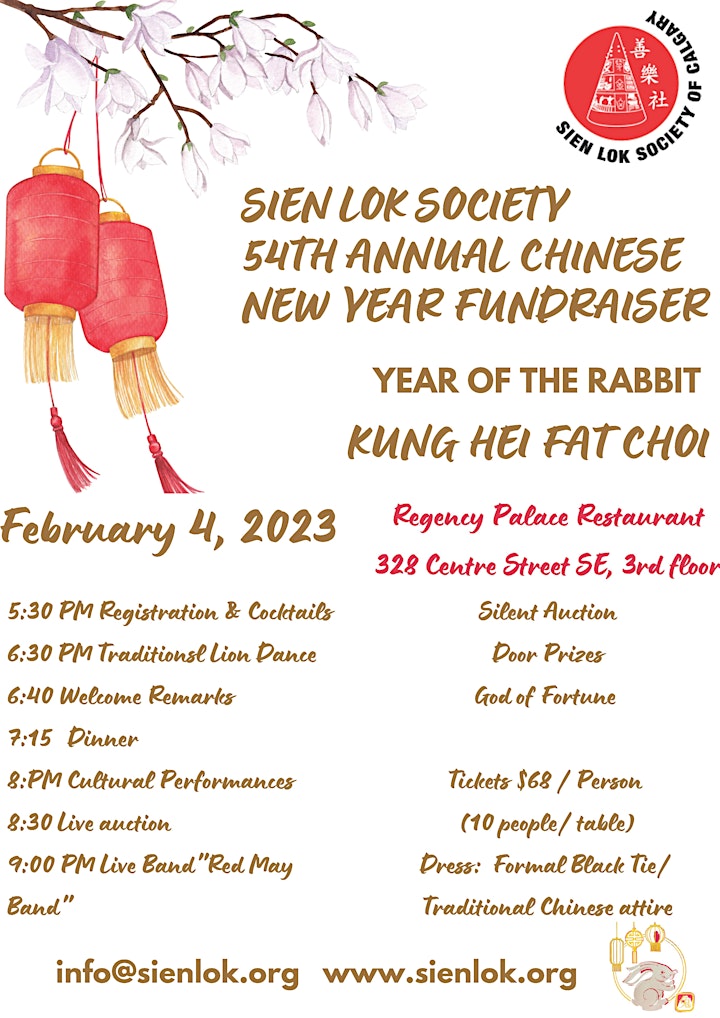 February 4th, 2023 (Saturday)
5:30pm Registration & Cocktails
6:30pm Traditional Lion Dance
6:40pm Welcome Remarks
7:15pm Dinner
8:00pm Cultural Performance
8:30pm Live Auction
9:00pm Live Band Performance
Location:
Regency Palace Seafood Restaurant
Third Floor, 328 Centre Street SE
Tickets:
$68 per person
$680 per table of ten
Dress code:
Formal (black tie) or Traditional Chinese Attire
Check out our Facebook Page for photos from previous CNY Galas...
Contact Information:
CNY Gala Committee
Sien Lok Society of Calgary
email: info@sienlok.org
Chinese Zodiac Rabbit:
The Rabbit is the fourth animal sign in the Chinese zodiac cycle. The 12 zodiac animals are, in order: Rat, Ox, Tiger, Rabbit, Dragon, Snake, Horse, Goat, Monkey, Rooster, Dog, and Pig. Each year has an animal sign according to the 12-year-cycle.
The Chinese zodiac year is usually said to start from Chinese New Year, whose date ranges from late January to mid-February. Therefore, if you were born in January or February in one of the above years, you might be a Rabbit, or possibly a Tiger.
According to Chinese astrology, Rabbits are predicted to be gentle, quiet, elegant, and alert as well as quick, skillful, kind, patient, and very responsible, sometimes reluctant to reveal their minds to others and having a tendency to escape reality, but always faithful to those around them.
Rabbits are characterized by always treating people politely, with a gentle smile that makes people feel that they are credible and sincere. When encountering tough difficulties, they are never discouraged but instead remain persistent in their endeavors to find solutions. This means they eventually achieve enviable success.
Famous Rabbit Year People
Albert Einstein, Michael Jordan, David Beckham, Lionel Messi, Frank Sinatra, Whitney Houston, Natasha Richardson, Lou Gehrig, Bing Crosby, Maria Sharapova, Jack Nicklaus, Jeff Bezos 32, Bob Hope 34, Tiger Woods, Novak Đoković, Angelina Jolie, Tobey Maguire, Drew Barrymore, Nicolas Cage, Charlize Theron, Steven Seagal, Roger Moore, Jet Li, Lisa Kudrow, John Mellencamp, John Cleese, Brad Pitt, Kurt Russell, Mike Myers
(source: www.chinahighlights.com/)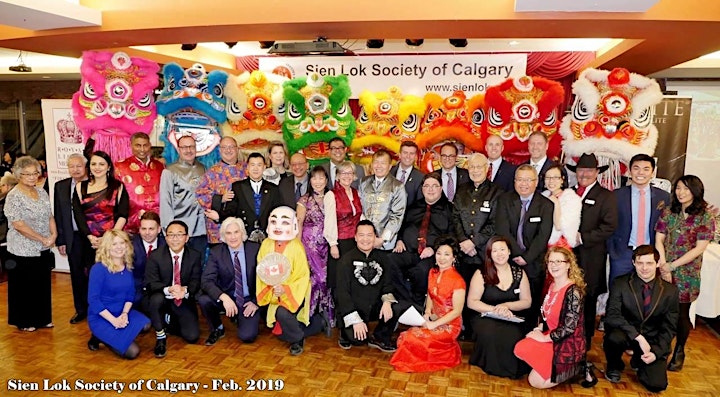 About Sien Lok Society
Sien Lok Society of Calgary's vision is to create an environment where lives are touched, enriched and refreshed though broad ties to our culturally diverse communities. To accomplish this vision, we develop and participate in cultural preservation and promotional activities for those affected by, or interested in, Canadian Chinese culture.
Sien Lok Society continues to embark on new projects to honour the presence of Chinese culture in Calgary's social fabric through benevolent activities. Our annual Chinese New Year Celebration Gala is an event that showcases Chinese traditions and culture to advance and promote Chinese Canadian heritage as well as raise funds for other projects.