SIGGRAPH 2015 Computer Animation Festival Electronic Theater

Wednesday, 11 November 2015 from 6:30 PM to 9:30 PM (EST)
Event Details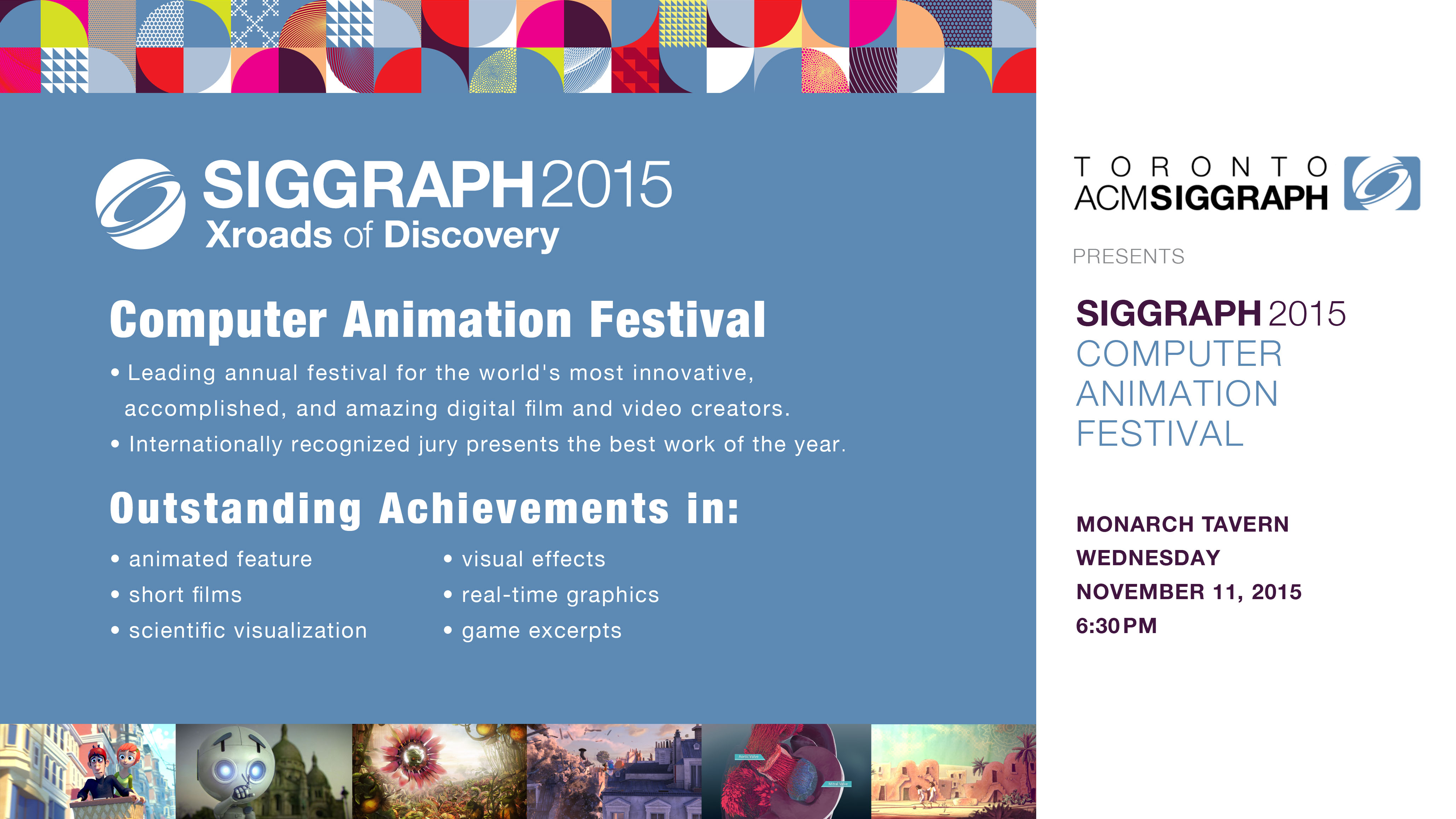 Prepare to feast your eyes and dazzle your mind!
Straight outta SIGGRAPH 2015, we are bringing the Computer Animation Festival back home for everyone who did not make it to the conference.
SIGGRAPH 2015 Computer Animation Festival Co-Chairs Mikki Rose and Joe Takai are proud to present the SIGGRAPH 2015 Traveling Electronic Theater!  As the leading annual festival for the world's most innovative, accomplished, and ground-breaking digital film and video creators, SIGGRAPH strives to present selections that both entertain and amaze.  This year's show does not disappoint!
An internationally recognized jury rated hundreds of submissions and chose the best work of the year to populate the two programs of the Computer Animation Festival, the Daytime Selects and the Electronic Theater.  The traveling show boasts selections from both parts of the Computer Animation Festival screened at this year's conference.  Selections include outstanding achievements in animated feature and short films, scientific visualization, visual effects, advertising, game excerpts, and much more!
Come join us at The Monarch Tavern where we will be hosting our good friend Roy C. Anthony, chair of the SIGGRAPH 2014 and 2015 Production Sessions as well as SIGGRAPH 2018 Conference Chair, for the evening. Roy, from Research & Innovation at Christie Digital Systems in Waterloo, is continuing the tradition of bringing the very best in animation to our local audience. So get ready as this year's screening will be MUCH LOUDER than the last!!!
When & Where

Monarch Tavern
12 Clinton St
Toronto, ON M6J 2N8
Canada

Wednesday, 11 November 2015 from 6:30 PM to 9:30 PM (EST)
Add to my calendar
Organizer
The Toronto ACM SIGGRAPH Professional Chapter is an organization dedicated to the generation and dissemination of information on computer graphics and interactive techniques in the Greater Toronto Area. We are a membership organization that values passion, integrity, excellence, volunteerism, and cross-disciplinary interaction in all of our activities.
Our Vision: One day, every citizen of the Greater Toronto Area will discover their his/her passion for computer graphics.
Our Mission:
To draw together, support, and build the local computer graphics community by producing events where professionals and students can experience, discuss, and celebrate interactive techniquesthe wonder of computer graphics.
To expand the professional networks of our members in the local computer graphics industry
To produce generate excitement and appreciation for computer graphics in the general public
To promote ACM SIGGRAPH and the SIGGRAPH conferences
Visit our website and join us!