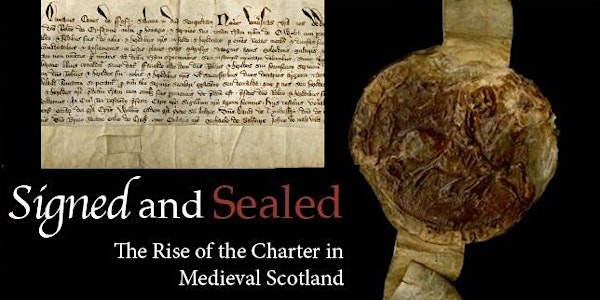 Signed and Sealed: The Rise of the Charter in Medieval Scotland
Join us for an exciting online event and exhibit launch featuring our valuable medieval Scottish land charter collection.
About this event
More than just property deeds, charters can tell us much about Scottish people, their livestock and their lands in the Middle Ages. Invocation clauses in charters reveal the local saints to whom they prayed and the names of the family member whose souls they prayed for. Some charters closely describe the lands they bestowed including wells, ponds, copses and streams that have long since disappeared. Their seals are embossed with heraldry that projects the authority of the grantor. Witness lists can help historians reconstruct political affinities and relationships that were held by local elites. And even DNA, sampled from the parchment, can tell us something about the cattle, sheep and goats that inhabited medieval Scotland centuries ago.
KEYNOTE SPEAKER:
Prof. Cynthia Neville, formerly of Dalhousie University, now of the University of Guelph's Centre for Scottish Studies.
'Chart(er)ing a New Course in Scottish History at the University of Guelph'.
This event is sponsored by the Centre for Scottish Studies at the University of Guelph and the Archival and Special Collections, McLaughlin Library, University of Guelph.