Ecstatic DanceClass w Silent DJ Headsets- Proceeds to Protect Ancient Forests of Vanc Island
About this event
💚 help PROTECT OUR REMAINING NATURAL SACRED PLACES 💚
Would you like to contribute to efforts to protect our precious & irreplaceable ancient forests for future generations? Here's your chance to!.. and a chance to dance and celebrate in community too!
A magical MoonDANCE class following our updated covid safety plan.
Friday May 7th, meet at the south end of Willows Beach off Bowker St.,
Please arrive 7:30pm to pick up headsets & sign covid waivers.
Entrance by donation: by e-transfer to info@silentdjvictoria.com or by credit card on Eventbrite. Please give generously. (Please write the DATE & NUMBER OF PEOPLE it is for in your e-transfer message.)
Get on your Glow in the Dark!! Silent DJ Victoria is stoked to offer another MoonDANCE ecstatic dance class Friday May 7th, under the sweet crescent moon, in support of the protection of Vancouver Islands's ancient forests.💚 Join us on the south end of Willows Beach off Bowker St. for an eclectic ecstatic dance mix with light facilitation. You are welcome to accessorize with glowing spinners and poi etc. Look forward to sharing some night magic with you.
What to Bring: Lots of water, flashlight, warm layers, hat, gloves, masks worn during headset pickup, welcomed & not required while dancing. Some bring a blanket or sleeping bag to stretch or sky gaze. Remember swim gear if an ocean dip appeals afterwards.
Occasionally Asked Questions:
Will it be too cold?- We don't find our bodies get cold because we are moving. Some of us wear light silk long underwear under our clothes and dance without a coat, just adding warmer layers once the music and movements get slower & we cool down. Gloves & hat are a good idea.
I feel self conscious dancing in public. How private is it?- Occasionally the public dog-walk by and barely look at us. Dancers tell me they worried about feeling self-conscious the first time and "it melted within seconds"... and there are quiet nooks to find more solitude in.
What if it rains?- As long as it is light, misty rain: we can dance with bouffant-sized shower caps provided. If rain is in the forecast, bring waterproof hoods & umbrellas.
We gratefully dance on the unceded territory of the Lekwugen-speaking peoples of the Coast Salish family and Songhees Nation.
We want everyone to feel welcome & safe, so we follow an updated WorkSafeBC Covid Safety Plan and we welcome all ages, abilities, races, sizes, sexual orientations, and gender expressions. We are approved to have outdoor dance classes for mental & physical health needs, following the posted safety plan:
WorkSafeBC COVID SAFETY PLAN
PLEASE RETURN HOME TO REST IF YOU ANSWER YES TO ANY OF THE FOLLOWING:
Do you have any of the following symptoms?
Fever, Chills, Cough or worsening chronic cough, Shortness of breath, Sore throat, Runny/stuffy nose, Loss of sense of smell or taste, Headache, Fatigue, Diarrhea, Loss of Appetite, Nausea and vomiting, Muscle Aches, Pink Eye, Dizziness /Confusion, Abdominal Pain, Skin rashes or finger/toe discolouration
Have you or anyone in your household returned form travel outside Canada in the last 14 days?
Are you or is anyone else in your household a confirmed contact of a person confirmed to have Covid-19?
WE ARE A COVID-CONSCIOUS OUTDOOR CLASS; PLEASE NOTE AND FOLLOW:
DISTANCING-
Distancing of greater than 2 metres , spreading out down the expanse of beach or in pods of ten or less
You may dance within your household bubble
Please disperse shortly after class ends and do not socialize with those outside of your bubble or your group of ten if you have one.
HEADPHONE USE-
Please use the hand sanitizer provided before headset pickup
Participants only are to touch their headsets, no one else
At the end of class, please turn off headsets and place in the "Used" bin provided
After use, headsets are quarantined, run through a UV-C sterilizer, and wiped
MASKS-
-masks are worn as you arrive to pick up your headsets and as you drop off your headsets and leave
-masks are welcomed, not required while dancing
THANK YOU FOR YOUR COOPERATION & have a good dance in support of a great cause.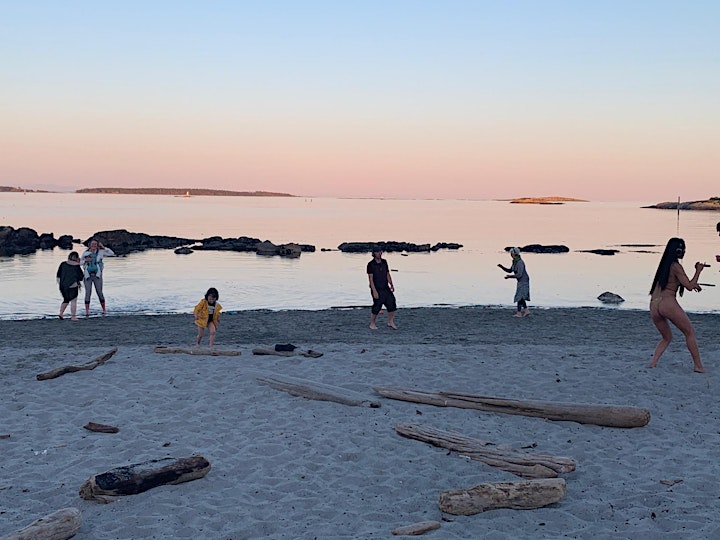 Organizer of Silent DJ MoonDANCE Class on Willows- proceeds to protect ancient forests