Description
SILENT REVUE
TORONTO'S CELEBRATED ONGOING EXPLORATION OF SILENT CINEMA!
Charles Chaplin's first feature film -- A Woman of Paris, on March 24, 4:00PM, with live accompaniment by Tania Gill!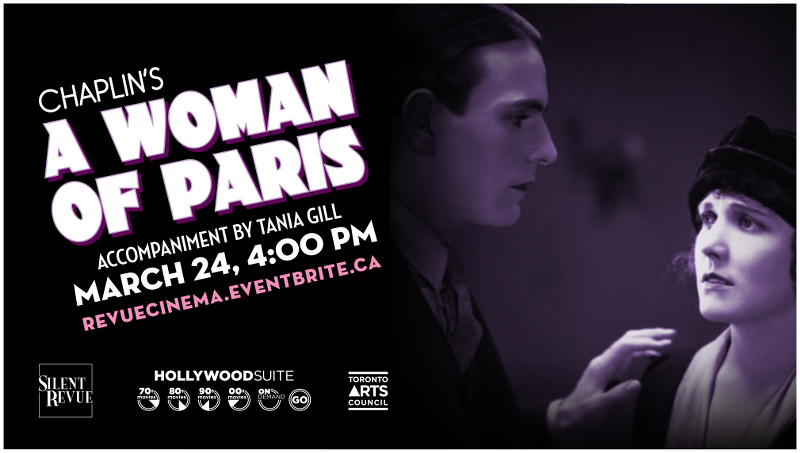 About the film
A WOMAN OF PARIS
USA 1923 82min. PG
Directed by Charles Chaplin
Starring Edna Purviance, Adolphe Menjou
Few icons of the twentieth century understood tragedy and heartbreak as Chaplin did. His first feature film, A WOMAN OF PARIS is a must-see for any fans of his other works. A critical success, yet loathed at the box office due its omission of his universally beloved Tramp character, historians believe that had he taken his name off it, it would be remembered as one of the great films of the era.
Marie St. Clair (Edna Purviance) is in love with bohemian artist Jean (Carl Miller), Jean's parents however, disapprove. Planning to elope in Paris, Jean father's dies suddenly and Marie, unaware of the grave situation, travels to Paris alone. There she lives of life elegance and joie de vivre, attending parties as the girlfriend of a rich industrialist (Adolphe Menjou). Chance has it that she meets Jean once again, forcing her to choose between true love and a comfortable life of luxury.
Meant to boost Purviance's stardom—a gift from Chaplin, her comedic partner and on again off again lover—the film did little for her career, although it did launch Menjou as a popular box office attraction. Regardless, Purviance's performance is mesmerizing and represents the perfect confluence of Chaplin's command over the medium and her ability to elicit empathy. - ALICIA FLETCHER
Presentation format: Digital courtesy MK2
Live accompaniment by Jordan Klapman
Sponsored by Hollywood Suite. Produced with the support of the City of Toronto through the Toronto Arts Council.

Organizer of Silent Revue: A WOMAN OF PARIS (1923) w/ live piano by
The recently renovated Revue Cinema is Toronto's premier not-for-profit community cinema. We offer great second-run Hollywood fare, insightful programming like our Silent Revue series — where classics from the silent era are accompanied on live piano — Food in Film, Designing the Movies, annual galas, retrospectives & numerous other community offerings. The Revue opened in 1912, making it the oldest operating cinema in Toronto. Support us by becoming a member & enjoy great perks throughout the entire year!