Description
SILENT REVUE
TORONTO'S CELEBRATED ONGOING EXPLORATION OF SILENT CINEMA!
Silent Revue & Goethe Institut present
BERLIN: SYMPHONY OF A GREAT CITY
Germany, 1927, 65 min + shorts programme
Directed by Walter Ruttmann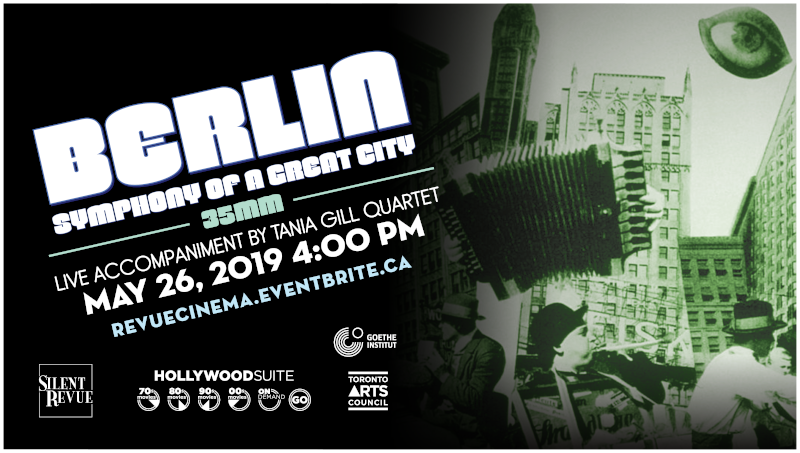 Produced at the height of the Weimar Republic's artistic renaissance, BERLIN: SYMPHONY OF A GREAT CITY is considered one of the masterworks of the twentieth century visual art. Examining an average day in Berlin, the pioneering city symphony beautifully captures the great city's rhythms, its movements, and its energy, preserving a spirit that would soon disappear with the coming of war—as would many of the film's featured settings, including the magnificent Hotel Excelsior, the grandest and most luxurious hotel in Europe, which was destroyed by WWII's bombings.
Directed by experimental film pioneer Walter Ruttmann and co-written by famed German Expressionist cinematographer Karl Freund and CALIGARI scribe Carl Meyer, BERLIN is a key early work in avant-garde film canon. Part documentary, part lyrical travelogue, it's a wholly mesmerizing film that effortlessly creates an absorbing narrative from the simple, everyday happenstances of a major metropolitan city. A ballet of streetcars, factory lines, cafés, and neon signs danced by Berliners of all classes and walks of life make the avant-garde masterpiece an incredible cinematic experience. Screening with selected silent era travelogues from around the world. --ALICIA FLETCHER

Live accompaniment TBA.

Silent Revue is curated by Alicia Fletcher.
Presentation format: 35mm print courtesy Goethe-Institut
Sponsored by Hollywood Suite
Co-presented by Goethe-Institut, produced with the support of the City of Toronto through the Toronto Arts Council