Description
SILENT REVUE
TORONTO'S CELEBRATED ONGOING EXPLORATION OF SILENT CINEMA!
Cecil's B. DeMille's masterpiece – THE CHEAT (1915)
Sunday, May 28 at 4:15 pm. 60 mins. 14A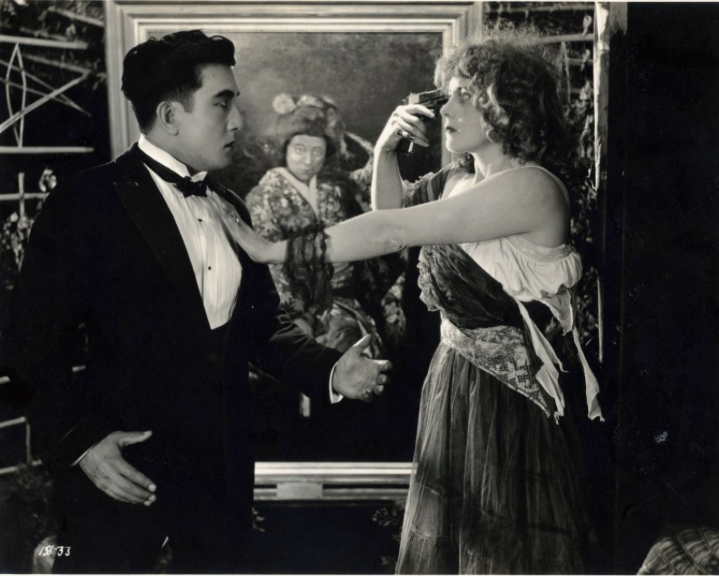 The film that solidified Cecil B. DeMille's name as Hollywood legend—THE CHEAT is scathing in its portrayal of greed, sexual desire, and deceit. Starring Fannie Ward and Japanese screen idol Sessue Hayakawa, DeMille's scandalous feature was the sensation of 1915, leading to several riots upon its release. A box office sensation, it's "pre" Pre-Code and one of the silent era's most notorious and transgressive depictions of sexuality and race.
Sessue Hayakawa in his most famous/infamous roles plays Japanese business man Hishituru Tori, whose sexual obsession with flighty socialite Edith Hardy (Fannie Ward) sparks an illicit business deal. After defrauding the Red Cross to pay off her dressmaker's tab, Tori offers to loan Edith the money to cover her crime and keep her powerful husband (Jack Dean) unaware of her shameful deeds. However, Tori refuses to let Edith pay back her loan, and instead prefers to take his fee by defiling any pretence of her virtue. THE CHEAT's "branding sequence" is one of the silent era's most graphic scenes of violence, one that leads to the film's murderous conclusion.
While it is undeniable that THE CHEAT depicts Hayakawa's character in a racist light, the actor's performance, regardless, is a triumph. Japanese-Americans protested the film's initial release, leading the studio to change Tori's nationality (as well as his name) to Burmese, assuming that Burma and Burmese-Americans were too few to cause any real trouble when the film was re-released in 1918.
Live accompaniment by Jeff Rapsis
Silent Revue is sponsored by Hollywood Suite
This screening is in partnership with The Japan Foundation, Toronto
Silent Revue is curated by Alicia Fletcher
Print courtesy University of Toronto Media Commons

Organizer of Silent Revue: Cecil B. De Mille's THE CHEAT (1915)
The recently renovated Revue Cinema is Toronto's premier not-for-profit community cinema. We offer great second-run Hollywood fare, insightful programming like our Silent Revue series — where classics from the silent era are accompanied on live piano — Food in Film, Designing the Movies, annual galas, retrospectives & numerous other community offerings. The Revue opened in 1912, making it the oldest operating cinema in Toronto. Support us by becoming a member & enjoy great perks throughout the entire year!