Description
SILENT REVUE
TORONTO'S CELEBRATED ONGOING EXPLORATION OF SILENT CINEMA!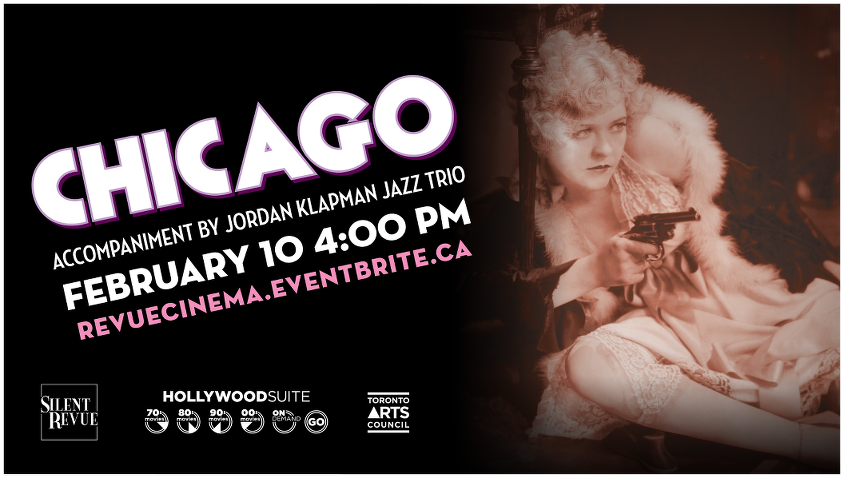 CHICAGO
USA 1927 118min. PG
Directed by Frank Urson
Starring Phyillis Haver, Victor Varconi, Virginia Bradford
Reveling in the sins of notorious jazz-age flapper Roxie Hart, the silent version of CHICAGO—adapted from Maureen Watkins hit Broadway play was a box office smash of the era. Produced by Cecil B. DeMille, it is a polished, technically impressive cocktail that combines bitterness with sweet, scathing critique with lighthearted fun. Beautifully restored by UCLA and presented in 2K digital, CHICAGO begs to be seen on the big screen with live Jazz accompaniment.
Adulteress Roxie Hart shoots and kills the client of her husband (Victor Varconi) when he refuses her requests for money and calls off their affair. Charged with murder, she embarks on a publicity campaign of exoneration aided by her snake oil salesman of a lawyer (Robert Edeson), who recognizes Roxie's blonde appeal is key to getting the cold-blooded murderess off.
Directed by Frank Urson, an up and coming assistant of DeMille's who tragically drowned weeks before the film's premiere, CHICAGO is sultry, sleek, and rebellious. A biting portrayal of trash journalism and the media's obsession with sex, crime, and pretty girls, it's a timely film. Due to its flagrant display of bare legs, the film's notorious prison catfight was censored in many states and banned in Canada you won't want to miss it! -- ALICIA FLETCHER
Featuring live accompaniment by the Jordan Klapman Jazz Trio
Presentation: 2K DCP courtesy Flicker Alley
Sponsored by Hollywood Suite
Produced with the support of the City of Toronto through the Toronto Arts Council