Description
SILENT REVUE
TORONTO'S CELEBRATED ONGOING EXPLORATION OF SILENT CINEMA!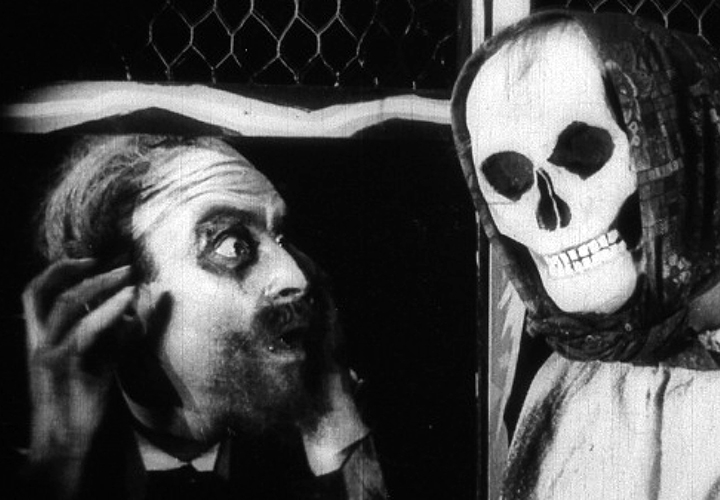 FROM MORN TO MIDNIGHT (1920)
GERMANY 1920 65min. PG
Directed by Karl Heinz Martin
Starring Ernst Deutsch, Erna Morena, Roma Bahn
Silent Revue kicks off its eleventh season with a retrospective dedicated to the unsung gems of German Expressionism. Move over Caligari, take a seat Fritz Lang, and back into you coffin Count Orlok (we still love you, don't worry), we have 8 masterpieces of Expressionism—some never before screened in Canada! While "expressionist" is a term applied rather loosely, inciting much debate, and at times, heated arguments, we're taking the term rather seriously by highlighting the Weimar works of Joe May, E.A. Dupont, and of course, our beloved F.W. Murnau.
First up: the rarest of the rare, and truly more Expressionist than any of its compatriots, FROM MORN TO MIDNIGHT—pioneering theatre impresario Karlheinz Martin's radical, avant-garde forerunner to the road movie. A bank teller (Ernst Deutsch), annoyed by the monotony of his job and family, attempts to woo a glamourous foreigner by absconding with the bank's money. When she rejects him, he escapes to the big city, disguising himself as a high roller. Unfortunately, the personification of death, which takes the form of actress Roma Bahn in four different roles has other plans for him.
Inspired by and doubling down on the avant-garde characteristics of THE CABINET OF THE DR. CALGARI, FROM MORN TO MIDNIGHT remains a neglected masterwork of the Expressionist movement. In part due to its independent production and lack of German release until 1963, the film was thought to be lost, until a print was discovered in Japan in 1959. "Undercut in every shot by the dash of punk irreverence," there's no bigger silent era discovery than this (Michael Atkinson)! - ALICIA FLETCHER
Presentation format: Digital
Silent Revue is curated by Alicia Fletcher
Live accompaniment by Marilyn Lerner
Sponsored by Hollywood Suite, in partnership with GoetheTO.