Description
SILENT REVUE
TORONTO'S CELEBRATED ONGOING EXPLORATION OF SILENT CINEMA!
Alfred Hitchcock's THE RING (1927)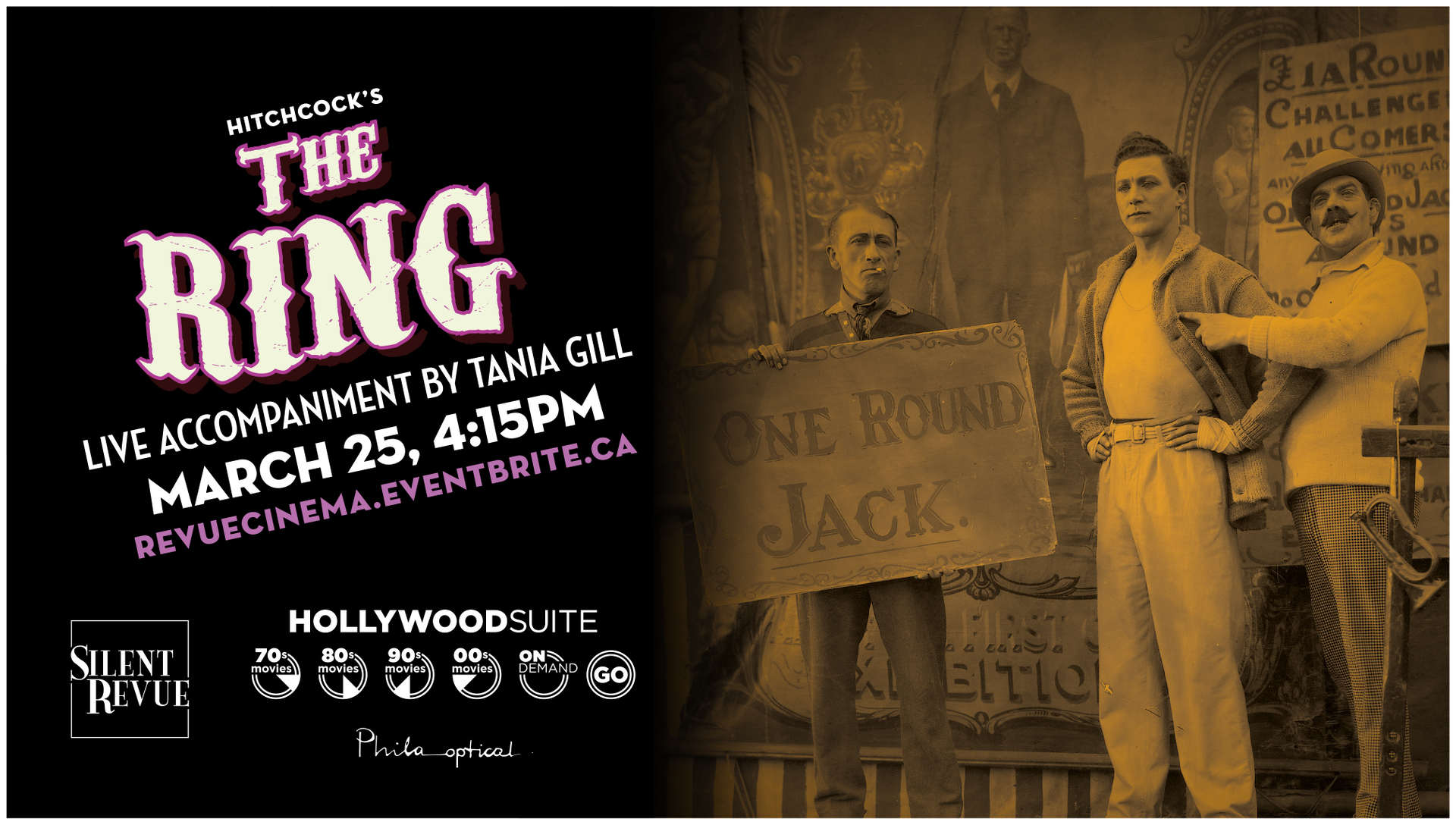 The Ring
UK 1927 116min. PG
Directed by Alfred Hitchcock
Starring Ian Hunter, Lillian Hall-Davis
Circus Dreams, Silent Revue's season-long look at the drama and intrigue that occurs under the Big Top, continues with one of Alfred Hitchcock's very first masterpieces—THE RING. Following on the heels of THE LODGER, Hitchcock penned his one and only screenplay to make this sensational, cockney-infused boxing ring saga. Hunky Carl Brisson plays "One-Round" Jack Sander, a boxing champ working the carnival circuit. Jack's title as heavy-weight champion is threatened when Australian boxing superstar Bob Corby (Ian Hunter) comes to town. Pitted against each for the title of World Champion, the two fighters are at each other's throats over more than fame and glory—Jack's wife Nellie (Lillian Hall-Davis) throws a few punches herself when she steps out with Corby, much to the dismay of her husband.
The first film produced at the famed Elstree Studios, THE RING, under Hitchcock's expert supervision, is brooding, energetic, and structured with an eye for tension and suspense (no surprise there). Its action-packed boxing sequences are expertly directed by Hitchcock, who, an avid boxing fan, could be found ringside at London's most popular matches. His fourth feature, made when he was only twenty-eight, THE RING is one of the key silent Hitchcocks (of which there are merely nine surviving), and one which anticipated much of what was to come, including key sequences and effects from both versions of THE MAN WHO KNEW TOO MUCH. Don't miss this rare opportunity to see it on the big screen with a live score!
Silent Revue is curated by Alicia Fletcher
Live accompaniment by Tania Gill
Special Event Pricing $15/$12 Students, Seniors, Bronze Members/ $11 Silver Members. Membership free event not applicable.
Sponsored by Hollywood Suite, Bill Mohan Real Estate, and Phila Optical