Description
SILENT REVUE
TORONTO'S CELEBRATED ONGOING EXPLORATION OF SILENT CINEMA!
TOD BROWNING'S LAUGH, CLOWN, LAUGH (1928)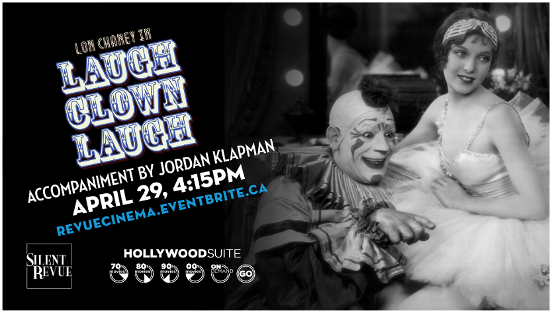 About the Film
LAUGH, CLOWN, LAUGH
USA 1928 73min. PG
Directed by Tod Browning
Starring Lon Chaney Sr., Loretta Young, Nils Asther
Circus Dreams continues with one of the most iconic clown films of all time—LAUGH, CLOWN, LAUGH. Starring the Master of Disguise—Lon Chaney—LAUGH, CLOWN, LAUGH is key masterwork in Chaney's filmography. Produced by the prestigious MGM, LAUGH, CLOWN, LAUGH features Chaney as Tito the travelling, tight-rope walking clown. Having found a young child abandoned, Tito raises the girl as his own daughter. But when Simonetta (a fourteen-year-old Loretta Young in one of her earliest roles) falls in love with a rapscallion of a rich and spoiled Count—played to roguish perfection by Nils Asther—Tito must confront his conflicted romantic feelings for the woman he raised from infancy. With a broken heart and perched high above the circus ring, Tito walks a tightrope to tragedy and despair. - ALICIA FLETCHER
Silent Revue is curated by Alicia Fletcher.
Live accompaniment by Jordan Klapman.
Sponsored by Hollywood Suite & Bill Mohan Real Estate.

Special Event Pricing $15/$12 Students, Seniors, Bronze Members/ $11 Silver Members. Membership free event not applicable.
Organizer of Silent Revue: LAUGH, CLOWN, LAUGH (1928) w/ live piano
The recently renovated Revue Cinema is Toronto's premier not-for-profit community cinema. We offer great second-run Hollywood fare, insightful programming like our Silent Revue series — where classics from the silent era are accompanied on live piano — Food in Film, Designing the Movies, annual galas, retrospectives & numerous other community offerings. The Revue opened in 1912, making it the oldest operating cinema in Toronto. Support us by becoming a member & enjoy great perks throughout the entire year!