Description
SILENT REVUE

- TORONTO'S CELEBRATED ONGOING EXPLORATION OF SILENT CINEMA!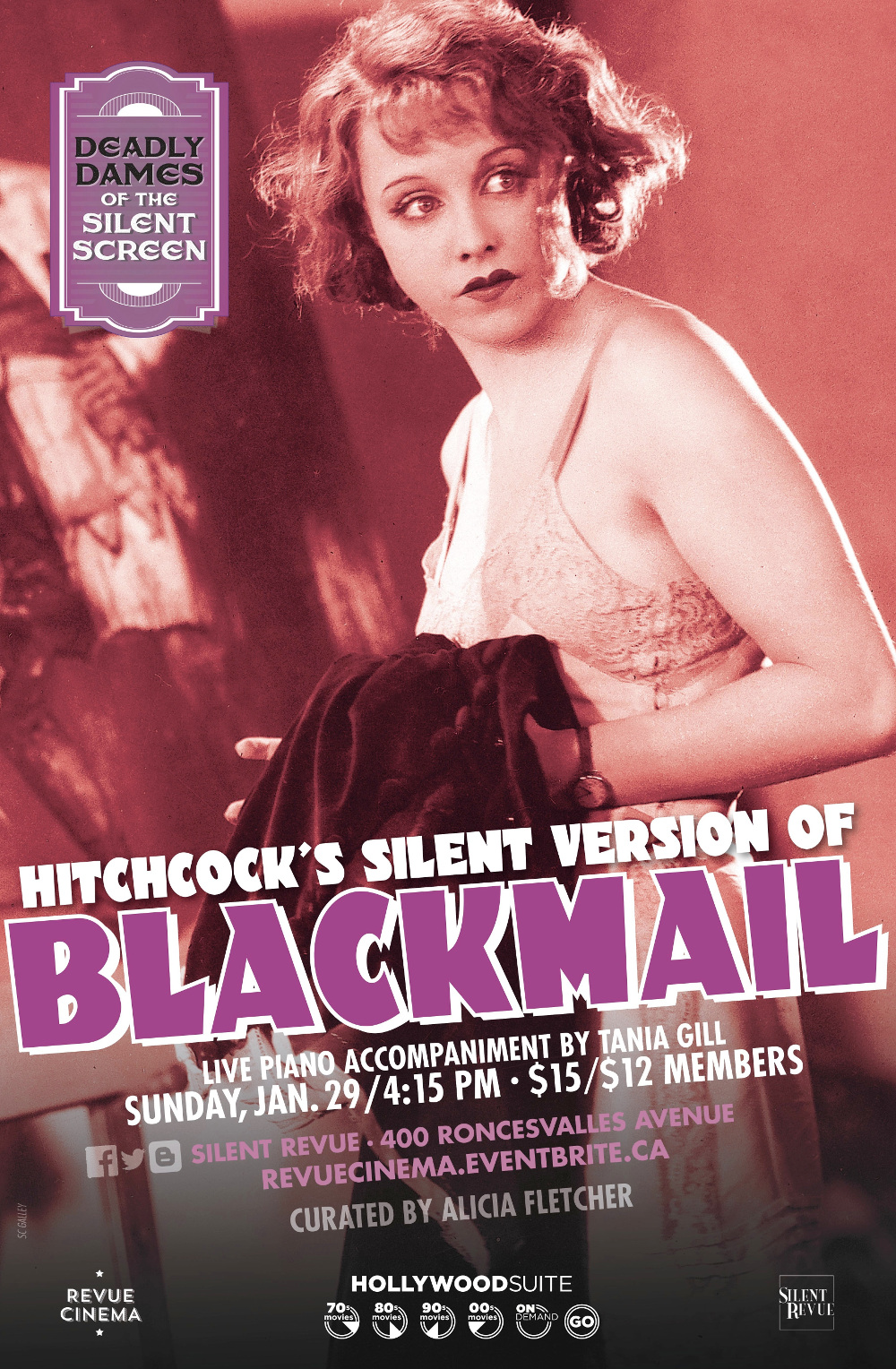 Hitchcock's BLACKMAIL (1929)
Sunday, January 29 at 4:15 pm. 85 mins.
A silent hidden gem from the Master of Suspense, BLACKMAIL is a crucial (albeit rarely screened) text in the legendary filmography of Alfred Hitchcock. The latest entry in Silent Revue's "Deadly Dames" series, BLACKMAIL features Anny Ondra (Hitchcock's original blonde bombshell) as Alice White, a woman who stabs to death her male attacker only to be blackmailed by a witness to the killing. The first work to feature a bonafide cameo from the iconic director, this screening is a must for any Hitchcock fan!
Capitalizing on new technology, BLACKMAIL was released in two versions—a silent, and a part-talkie with synchronized dialogue, thus making it both the master's last silent and his first sound picture. Lucky for us, the elusive silent version is widely acknowledged as the superior film.
Dark, brooding, and suspense-laden, this entry is key to understanding Hitchcock's future films: its thrilling chase sequence, culminating inside the British Museum, prefigures North by Northwest's famous Mt. Rushmore conclusion, as well as the Statue of Liberty finale in Saboteur; and the sexual violence inflicted on women predicts the shocking reveal in Hitchcock's controversial Marnie. One of the greatest silent films to ever come out of Britain, and a film which shaped the career of its iconic director, this is a Silent Revue screening that is not to be missed!
Silent Revue is curated by Alicia Fletcher
Live accompaniment by Tania Gill
Sponsored by Hollywood Suite.