Description
Sunday, March 26, 4:15PM
SILENT REVUE
SADIE THOMPSON
USA 1928 97min. PG
Directed by Raoul Walsh
Starring Gloria Swanson, Lionel Barrymore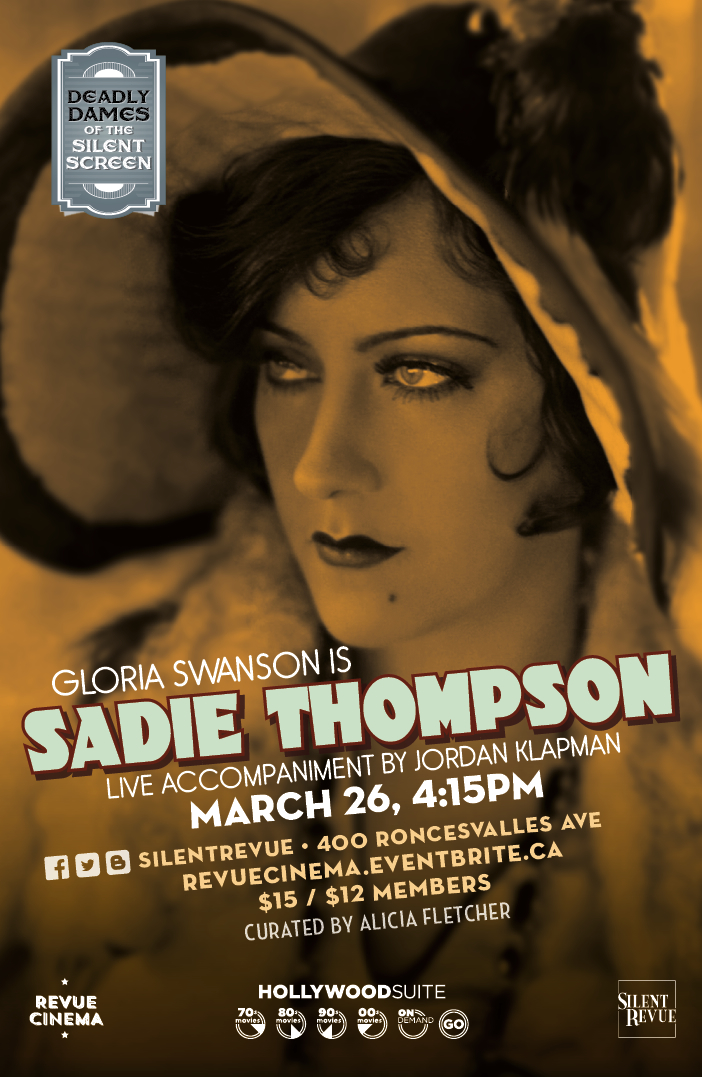 Gloria Swanson plays the notorious prostitute Sadie Thompson in the scandalous masterpiece from the legendary director Raoul Walsh. Based on a Somerset Maugham story that was deemed too controversial to film, it stands as one of the most brazen films of the silent era, and features what most critics agree to be Swanson's best performance. With the tropical rains descending on the island, Sadie Thompson arrives to the South Seas' Pago Pago, where she quickly boozes it up, blasts Jazz on the victrola, and cavorts with the island's soldiers, infuriating fellow hotel residents—namely a self-righteous moral reformer played to sinister perfection by the legendary Lionel Barrymore. Refusing to repent for her shameless ways, the moralist uses his contacts to deport her to San Francisco, where Sadie's unsavoury past will haunt her.
Silent Revue is curated by Alicia Fletcher.
Featuring live piano accompaniment by Jordan Klapman.
Silent Revue is sponsored by Hollywood Suite.