Description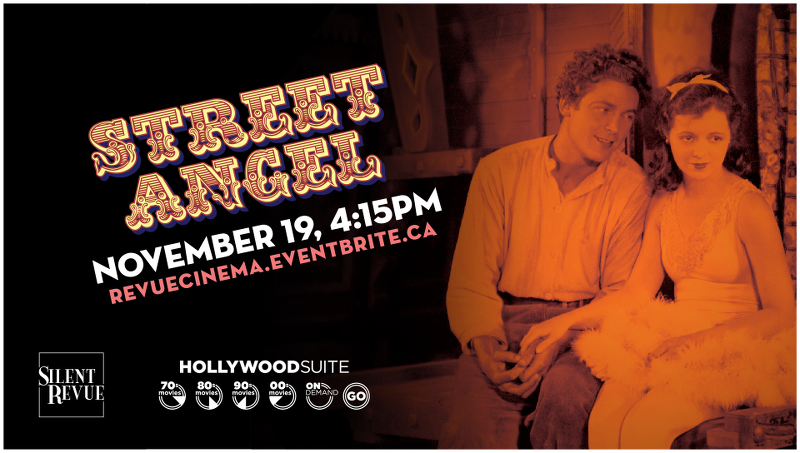 SILENT REVUE
TORONTO'S CELEBRATED ONGOING EXPLORATION OF SILENT CINEMA!
STREET ANGEL (1928)
Sunday, November 19 at 4:15 pm. 102mins.
Silent Revue's new season "Circus Daze" continues with Frank Borzage's tragic, atmospheric circus romance STREET ANGEL. A high point at the end of an era, STREET ANGEL stars the leading couple of silent Hollywood—Janet Gaynor and Charles Farrell, who appeared together in a dozen silent and early sound era films. Gaynor won the first Best Actress Academy Aeard for this film along with Borzage's 7TH HEAVEN and Murnau's SUNRISE: A SONG OF TWO HUMANS.
Angela (Gaynor) is a destitute "street angel" (a euphemism for prostitute) in Naples attempting to provide for her ailing mother. Arrested for stealing from a fruit vendor, she evades capture and hides out as a performer at a seaside circus, where she meets Gino (Farrell), a painter enamored with her perceived innocence. They fall in love and Angela must do everything she can to hide her past from him.
Directed by the criminally overlooked Frank Borzage, who visited the set of Murnau's SUNRISE to replicate its stunning cinematography and art direction on his own Fox project, STREET ANGEL—presented in a brand new restoration—is a visual wonder that highlights raw performances from two silent era greats.
Silent Revue is curated by Alicia Fletcher
Live accompaniment by Marilyn Lerner
Sponsored by Hollywood Suite and Bill Mohan Real Estate