Join Silent Revue In November for THE CAMERAMAN!
About this event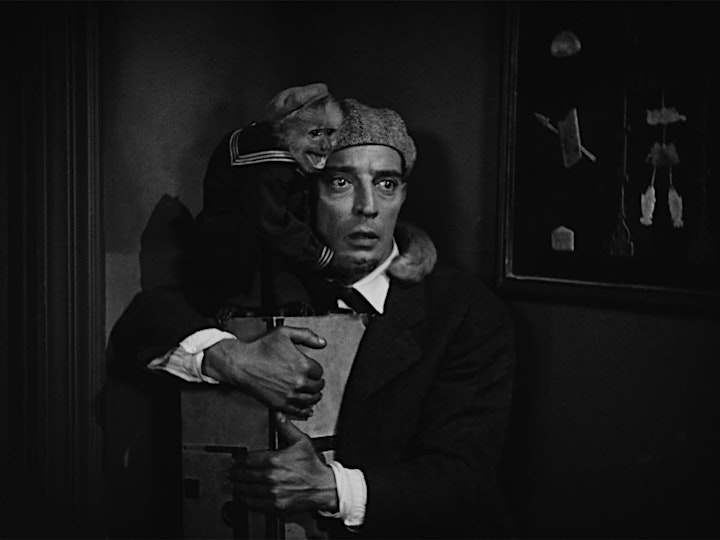 To celebrate the re-opening of The Revue and the return of Silent Revue after a long and unexpected hiatus, we're launching a season of greatest hits, with knockout titles from Silent Revue's 12-year history!
Long after the silent era waned, MGM employed its 1928 masterpiece THE CAMERAMAN as a training film for the studio's writers—the studio knew then, as we do now, that THE CAMERAMAN was a rare specimen, a straightforward, transcendent, and timeless "perfect comedy." Featuring the "Great Stone Face"—Buster Keaton—in top form, it was swan song for its creator, and arguably, for silent comedy as a whole.
Keaton plays an out-of-step sidewalk tintype portraitist, who after developing a crush on a woman (Marceline Day) working for MGM's Newsreel Department, endeavours to become a bona fide cameraman to impress her. With a quickness in his step, and substantial ingenuity, Buster captures the calamity of the streets—including the Tong War in Los Angeles's Chinatown—yet mechanical tribulations get in the way of his dream. Not to fear, after teaming up with the resurrected monkey of an organ grinder (played by the silent era's greatest simian performer, Josephine the Capuchin), Buster has a chance to capture the footage that can save his nascent career and win him the girl.
Few silent films get as "meta" as this—with Keaton and director Edward Sedgwick using THE CAMERAMAN to comment on the perils of the movie industry, while also celebrating the indescribable and unpredictable magic that happens in front of the camera. - ALICIA FLETCHER
About The Film
THE CAMERAMAN
USA | 1928 | 67 mins + short | Unrated
Dir. Edward Sedgwick
Cast: Buster Keaton, Marceline Day, Josephine the Capuchin
Featuring live accompaniment by William O'Meara
Silent Revue is curated by Alicia Fletcher
Silent Revue is sponsored by Hollywood Suite
As part of the provincial government's vaccine certificate program, which was announced in September, everyone will be required to show that they received both doses of an approved COVID-19 vaccine at least 14 days earlier in order to enter the cinema for this event.
Everyone must bring either their paper vaccine receipt or PDF vaccine receipt available online, along with photo ID to prove that they have been fully immunized.
Regular admission applies. For INDIVIDUAL MEMBERSHIPS ($350) and FAMILY MEMBERSHIPS, please email us at info@revuecinema.ca to get a ticket!
Organizer of Silent Revue: THE CAMERAMAN (1928)
The recently renovated Revue Cinema is Toronto's premier not-for-profit community cinema. We offer great second-run Hollywood fare, insightful programming like our Silent Revue series — where classics from the silent era are accompanied on live piano — Food in Film, Designing the Movies, annual galas, retrospectives & numerous other community offerings. The Revue opened in 1912, making it the oldest operating cinema in Toronto. Support us by becoming a member & enjoy great perks throughout the entire year!