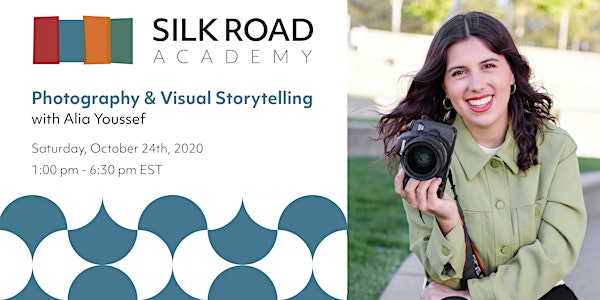 Silk Road Academy: Photography and Visual Storytelling with Alia Youssef
Learn from renowned artists while connecting with your community!
Refund Policy
Contact the organizer to request a refund.
Eventbrite's fee is nonrefundable.
About this event
Immerse yourself in a holistic photography course with award-winning portrait and documentary photographer, Alia Youssef, who will walk participants through everything from photography techniques such as exposure, composition and lighting, to the intricate process of portrait photography, while also exploring visual and conceptual themes and learning to build a portfolio. This workshop is geared for artists who identify as beginner to intermediate in their skill-level and open to those who have their own cameras as well as those who currently don't own cameras and are able to use their phones for the purposes of the exercises in the workshop. Connect with emerging and experienced artists, deepen your love for photography, and explore how this medium can transform your ability to document the world around you and tell stories through intentional and thoughtful photography principles.
About the Artist
Alia Youssef is a Vancouver based portrait and documentary photographer. Her commercial projects with global brands, such as Dove and Getty Images, have been displayed internationally, including in New York's Times Square and London's Piccadilly Circus. In her personal projects, Alia highlights underrepresented stories and histories, mainly pertaining to Muslim women and communities, in order to complicate stereotypical representations of Muslims. Her personal projects have been exhibited in solo and group shows at prominent galleries and festivals across Canada such as The Ryerson Image Centre Student Gallery, Gallery 44, The Parliament of Canada, Presentation House Gallery, and Nuit Blanche Toronto. Her work has been published in numerous online and print publications including Elle Magazine, VICE, The Globe and Mail, and Oprah Magazine. Alia holds a Bachelor of Fine Arts Degree in Photography and a Master of Fine Arts Degree in Documentary Media from Ryerson University. To learn more about Alia's incredible work, visit her website.
Early Bird tickets are on sale until October 17th.
About Silk Road Academy
Part of our new Silk Road at Home digital offerings, Silk Road Academy will be hosting its first series of online arts workshops this October and November. Silk Road Academy aims to give participants the opportunity to learn directly from acclaimed artists, and to foster strong community ties. Our online workshops will be delivered online to cities all across the country and internationally, combining pre-recorded video components, with interactive components between participants and the artists. Watch this space over the next few weeks, as we introduce the amazing artists of Silk Road Academy.
To stay informed about our upcoming workshops, visit Silk Road Institute's Facebook, Instagram, and Twitter pages, website, and subscribe to our newsletter!