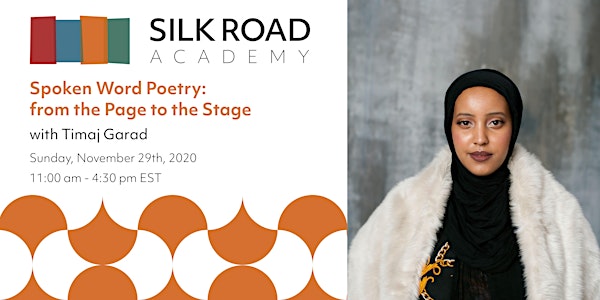 Silk Road Academy: Spoken Word Poetry - from the Page to the Stage
Learn from renowned artists while connecting with your community!
Refund Policy
Contact the organizer to request a refund.
Eventbrite's fee is nonrefundable.
About this event
Explore all elements of spoken word poetry through this immersive course that will allow participants to engage deeply with the writing and performance of poetry. Renowned Spoken Word Artist and Writer, Timaj Garad, will lead participants through a series of activities designed to expand creative possibilities in writing poetry including a profound examination of poetic devices such as metaphor, simile, imagery, personification, and more, as well as structure, style, narrative and content development in poetic writing intended for the stage.
In addition to writing poetry, participants will learn performance techniques that will bring their writing to life on stage and support them in developing their own unique voice and presence in front of a live audience. From the page to the stage, participants will gain tools to translate lived experience into poetry and tell compelling stories that will captivate, inspire, and provoke thought.
About the Artist
Timaj Garad is an Ethiopian Toronto-based Poet, Singer-Songwriter, Arts-Educator, Community Organizer, and multi-disciplinary storyteller, using poetry, theatre, and music to bring her stories to life. Her art is autobiographical, working at the intersections of a Black Muslim woman challenging injustice, unearthing truths, and healing. As an award-winning Artist & Educator, Timaj has graced over 300 stages and facilitated several arts-based workshops.
Timaj is known for creating and leading community arts programs such as Stellar (R)evolution: a poetry & theatre series for Black Muslim Women, Project Heartwork a multi-arts wellness retreat series for Muslim Women change-makers, and LUMINOUS Fest - Canada's first Black Muslim Arts Festival, to name a few. She was recently honored as a finalist for 2018 Artist of the Year at the Muslim Awards for Excellence (MAX) and named as one 8 Muslim Youth Making an Impact by CBC in 2018. In 2012, Timaj was named the City of Waterloo's Top 40 under 40 for her community leadership. In 2018, Timaj designed, implemented, and hosted a national storytellers' retreat for Canadian Muslim Storytellers called Beyond the Single Story for the National Council of Canadian Muslims (NCCM).
Most recently, she co-founded an arts-based wellness retreat series for Muslim Women called The Sisters' Retreat where she facilitates 'Tales & Tapestries' - a reflective writing workshop - as part of the organization's flagship retreat in Panama. Timaj is currently living in Toronto, working on her debut EP 'Blooming at the Mouth' to be released in 2021. She believes in the transformative power of the arts.
You can follow her work at timajgarad.com
About Silk Road Academy
Part of our new Silk Road at Home digital offerings, Silk Road Academy will be hosting its first series of online arts workshops this October and November. Silk Road Academy aims to give participants the opportunity to learn directly from acclaimed artists, and to foster strong community ties. Our online workshops will be delivered online to cities all across the country and internationally, combining pre-recorded video components, with interactive components between participants and the artists. Watch this space over the next few weeks, as we introduce the amazing artists of Silk Road Academy.
To stay informed about our upcoming workshops, visit Silk Road Institute's Facebook, Instagram, and Twitter pages, website, and subscribe to our newsletter!
This workshop is made possible by a generous grant of the Canadian Red Cross and Employment and Social Development Canada.