Simply Breastfeeding (location: Cornerstone Medical)
Description
Baby's coming. Are you ready?
There is a lot to think and learn about when expecting a baby. Learning how to feed your newborn is one of the essentials.
It will be difficult to absorb new information when you tired and recovering from birth.
Learn the basics of breastfeeding now, before baby arrives. Avoid frantic middle-of-the-night Google searches, not knowing what to trust.
Why learn about breastfeeding?
We have worked with 30,000 new families and have seen the same things 'trip up' new parents. We want to give you the tools you will need to have the very best chance of meeting your breastfeeding goals.
Many early breastfeeding problems can be avoided by knowing how to latch baby deeply at the breast, knowing how often to feed and how to tell baby is getting enough.
New mom Elayna Carausu (from Sailing La Vagabonde) recently said:
"I feel like I spent a lot of my time while I was pregnant learning and researching a lot about the birth and probably not enough about breastfeeding. So that's my advice to any other first time mamas who are also hoping to breast feed!"
Some things you can expect to learn from this class include:
The secret of skin to skin snuggling

Comfortable breastfeeding positions

How to get a deep, pain-free latch

How often to feed

How to know baby is getting enough milk

What to do if problems arise

How partners can support breastfeeding


What families are saying:
"Keeping a helpless human alive is pretty stressful. Knowing how to tell if my baby was getting enough helped me relax." - Ali
"Before this class, I knew nothing about breastfeeding. This class made me believe I could do it!" - Mckenzie

" Breastfeeding was what I was most stressed/worried about. It wasn't easy but the information from this class really helped." - Meaghan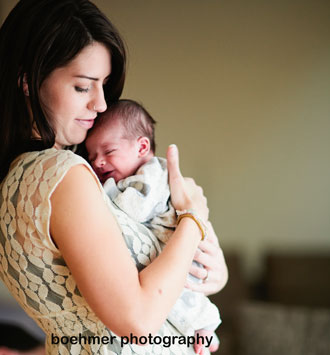 FAQs
Why should I choose THIS breastfeeding course?
As Registered Nurses and International Board Certified Lactation Consultants, we have worked with over 30,000 new families. We developed this course with feedback from parents about what they WISH they had known before their baby arrived.
We teach you the basics of breastfeeding, guiding you step by step through what you need to know to make breastfeeding easier.
Can you guarantee I will have problem-free breastfeeding?
We cannot guarantee breastfeeding will be problem-free but we will help you to avoid the most common mistakes families make when getting started with breastfeeding.
Should my partner attend the class with me?
Yes! If possible, bring your partner or a support person. (They attend for free!) This is valuable information for both of you.
If your partner is not able to attend, don't let that stop you from coming. After class, we will email links to online information on the most important topics. Share these links with your partner.
Where can I contact Cindy & Jana if I have questions?
Email Cindy & Jana: contact@cindyandjana.com
What is the refund policy?
Class are non-refundable if cancellation occurs within 7 days of the class