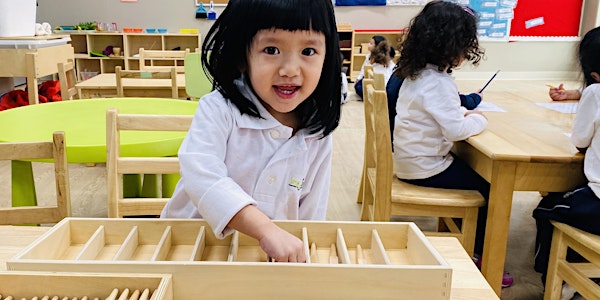 Multiple Dates
SimplySmart - Brampton February in person Tours
SimplySmart- Brampton in-person tours. Parents will get a tour of the facility & learn details of our daycare & Montessori program.
About this event
SimplySmart Child and Montessori is a great daycare program offering Montessori CASA program and Emergent program in different classrooms. If your child is between the age of 6 months to 6 years you can now book an in-person tour to our SimplySmart Brampton location. Conveniently located at Mississauga Road & Steeles.
Please select a time slot from the list. Each time slot is for one family only so please be on time. The tour will be for 20 minutes which gives us enough time to sanitize for the next family.
You will be able to see the program plan, the classrooms and be able to chat with the Site Director and other team members. Looking forward to seeing you. Attached is a link for a virtual tour our location so that you can have an idea of what our location looks like. We offer JK and SK programs as well.
Looking forward to seeing you and serving your needs.
Why Choose SimplySmart?
Offers infant, toddler, preschool, and Montessori programs
Qualified teachers who observe and cater the program & activities to your child's needs
Nutritious and balanced meals provided on site
Live streaming available for you to be in touch with your child everyday
Access to SimplySmart Connect app that provides daily reports
Progress and developmental reports always available via our app
Organizer of SimplySmart - Brampton February in person Tours
SimplySmart has been providing education to children aged infant, toddler, preschool and kindergarten. Our Montessori program is based on the curriculum developed by Maria Montessori and not only focuses on academic learning, but also allows the children to expand their minds in two other academic areas; practical life & sensorial. Our Emergent program is based on the philosophy of "How does learning happen" where children explore and learn based on their interest and teachers plan activities accordingly. Parents have a choice of our Emergent or Montessori program for their children in preschool.
Our curriculum is designed to foster a love of learning and the ability to ask questions, seek out answers and build self-confidence.
Our Teachers interact, observe and discover what the children are interested in, then plan activities to expand your child's learning opportunities.
Our core values include Honesty, Respect, Gratitude & Generosity, Determination, Compassion and Responsibility.