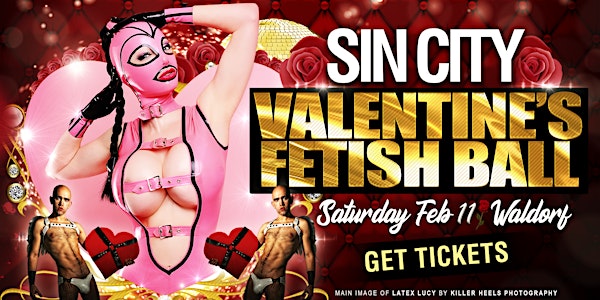 Sin City ~ Valentine's Fetish Ball ~ ONLINE TICKETS
Join all your kinky friends for a fun & flirty night of fetish socializing, dancing, naughty play areas and more!
When and where
Location
The Waldorf 1489 East Hastings Street Vancouver, BC V5L 1S4 Canada
Refund Policy
Refunds up to 1 day before event
Eventbrite's fee is nonrefundable.
About this event
Join all your kinky friends at the fabulous WALDORF for Sin City's epic Fetish Valentine's Ball, always one of our biggest parties of the year! This party is busting at the seams for fun & frisky things to do ... there's a DJ & dancing room, a kink & cuddle room, kitted out with padded BDSM play furniture, custom built dance cages and stages, kinky carnival games hosted by sassy dominatrixes, roving glamour photographers, sexy go-go dancers .... all held against the backdrop of a tropical oasis Tiki themed venue! Please note this event has a fetish dress code – participation is part of the cost of admission! Plainclothes wearers will not be permitted entry. Read on for more info!
LGBTQ+ / STRAIGHT / CROSS-DRESS / DRAG
FEMME / BUTCH / NON-BINARY / GENDER-FLUID
ALL BODY SHAPES & SIZES / ALL AGES 19-65+
ALL GENDER IDENTITIES AND PREFERENCES
SINGLES / COUPLES / LIFESTYLERS / NEWBIES WELCOME
Sin City is a safe and welcoming pervy party & play space for everyone, with a great reputation earned over 20+ consecutive years and literally hundreds of fun & flirty events! Sin City happens approximately once a month (plus extra holiday special events) at kink-friendly venues around Vancouver!
Please visit our website for everything you could possibly need to know about Sin City ...
And sign up for the Newsletter while you're there! This is the best way to keep informed without needing to check in to Facebook or social media.
Sin City website --> www.sincityfetishnight.com
IT'S VALENTINE'S! DRESS YOUR BEST ...
Themes are ALWAYS just an added bonus and are never mandatory. Any fetish outfit as per the full Sin City dress code will do, but the Valentine's theme is HIGHLY encouraged! We highly recommend any and all of the following :
pink / red / white
angel (but only small wings please! It gets crowded fast!)
kinky cupids & horny devils
fancy lingerie / full tuxedo
hearts / sparkles / glitter
anything else you can dream up!
DIRTY DJs :
- EVILYN13
- R-LEX
- ANTONIA JANE
HOSTED BY : ISAAC T
SEXY GO-GOs TBA!
SOME OF THE PARTY HIGHLIGHTS :
Strict fetish dress code
Themed outfits an added bonus for fun & creativity!
Camera-free zone / no unauthorized photos allowed
Super juicy Funktion One sound system to beat that bass into your body
Kinky carnival games
Dance platforms & dance cages
Bondage play furniture options
Social, cuddle & kink play area
Pro coat check space (these things are important at high volume fetish nights!)
Fully stocked bar (not all venues have this!)
Semi-private outdoor smoking / cool-off area
KINKY PLAY AREAS
Sin City provides several kink play areas with different vibes for every level and comfort zone for play. There is a monitored play area in the Hideaway Playroom, hosted by Mistress Mercedes, a satellite and slightly more open play area, as well as the always super popular SPIN OF SIN, hosted by Switch Kitchen and Dangerous Goods! Spin the wheel and win 5 minutes of delicious torture from one of our sassy dominatrixes! All spaces are stocked with sturdy, padded BDSM play furniture, and are places where we encourage you to get naughty with a consenting pervy play partner!
CODE OF CONDUCT / CONSENT
All attendees are expected to respect one another and party hard, but party safely. Poor behaviour of any kind is not tolerated and will result in ejection from the event and a possible ban from future events. Absolutely no unwanted, inappropriate or unasked for touching of any kind is permitted without prior, clear and verbal consent given. If you are unsure, ALWAYS ask FIRST! Only a clear and continued 'YES' indicates consent. And if someone is asking, there is never any shame in saying 'no thanks' and moving on. All attendees are expected to be aware of and graciously accept a 'NO' statement or vibe if one is given. If there are ever any issues (which are thankfully few and far between), our Sin City and venue staff are always at hand and accessible for you to bring any concerns to, which will be dealt with promptly, professionally and anonymously on your behalf.
Additionally, our discreet but firm and watchful Consent Crew are on patrol through the event, making sure everyone is playing safely, sanely, and consensually!
✘ NO UNAUTHORIZED PHOTOS ALLOWED
As always, Sin maintains a strict no cameras policy, preserving the atmosphere of mutual respect and safety! You can go as crazy and kinky with your outfits as your imagination will let you, and what happens at Sin City ... stays at Sin City!
For those exhibitionists who want to show off their outfits or awesome selves for posterity, feel free to jump in front of our staff photographers on site and get a photo taken for the official web gallery!
FETISH DRESS CODE IN EFFECT!
✘ NOT PERMITTED:
Plain jeans, cargo pants, briefs or boxers, t-shirts, suits and work clothes. Absolutely no street or casual wear! Lower genital nudity is not permitted.
✓ HIGHLY ENCOURAGED ATTIRE:
Suggested attire includes but is certainly not limited to - vinyl, pvc, leather, rubber, bondage, straps, chaps, full-on fetish-goth, fetish-punk, cyber-fetish, full tuxedo, tailcoats / fancy dress, military / full uniform, fantasy or period costume, armour, drag / cross-dress, body paint, fancy lingerie, kilt, or any other risque costume your perverted little mind can dream up ...
GIVE IN TO YOUR DARK DESIRES - WE'VE GOT A LITTLE SOMETHING FOR EVERYONE!
Whether you're a complete newcomer or a regular enthusiast, and no matter how you like to spend your time in public, there is a place for you to claim as your own. Get crazy on the dancefloor, chill out in the lounge & seating area, check out the dungeon, kitted out with a variety of sturdy, padded bondage gear, friendly dungeon monitors, and plenty of viewing space for the voyeurs at heart.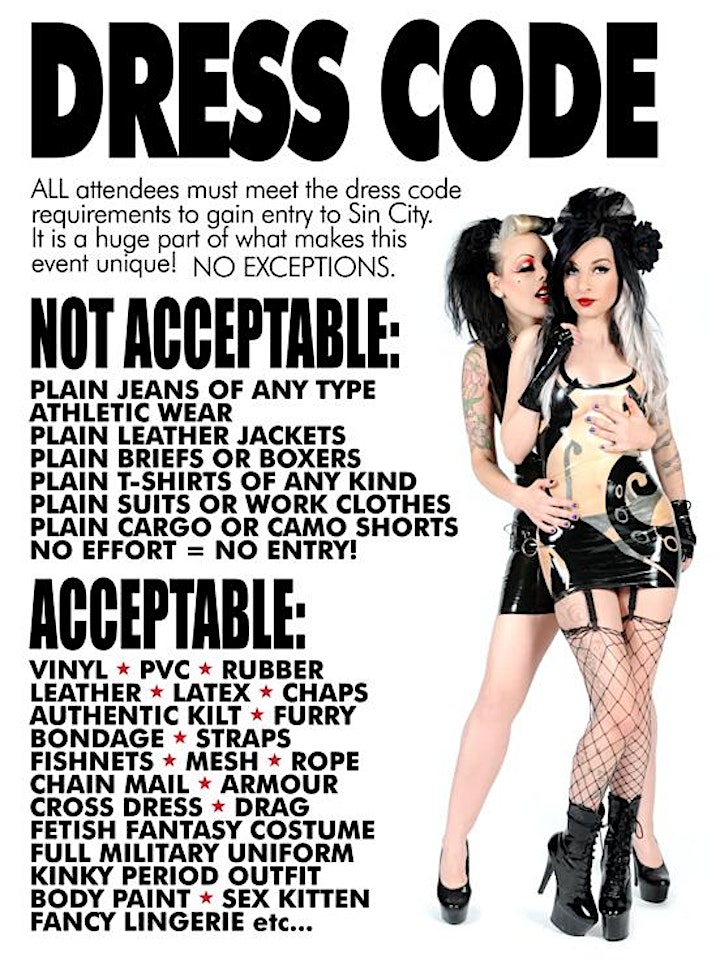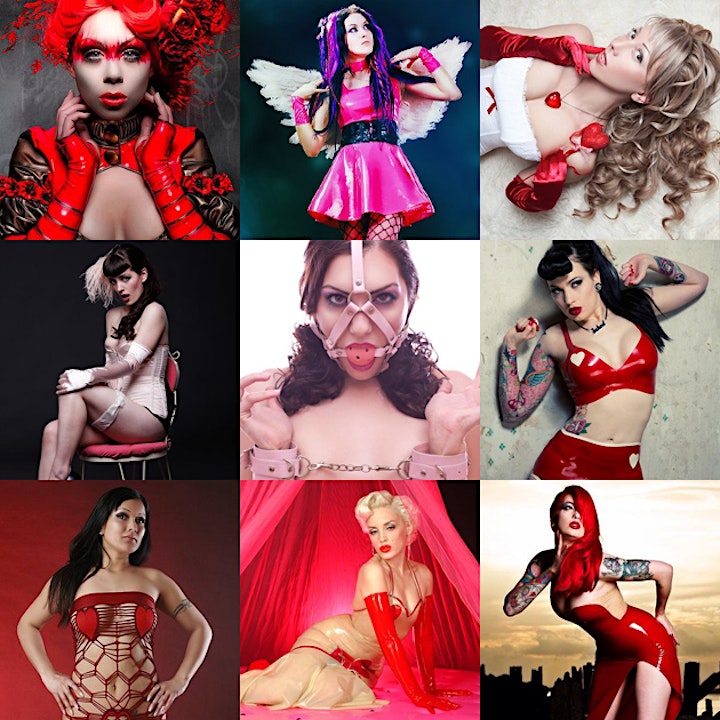 Sin City is proudly presented by RESTRICTED ENTERTAINMENT, your trusted servant to the scene, presenting cult & counter-culture events to the alternative, LGBTQ and fetish communities for over 350 events and 25 action-packed years! Sister events also produced by Restricted Entertainment include : Vancouver Fetish Weekend, SPANK, PURR, Menagerie, and many others!