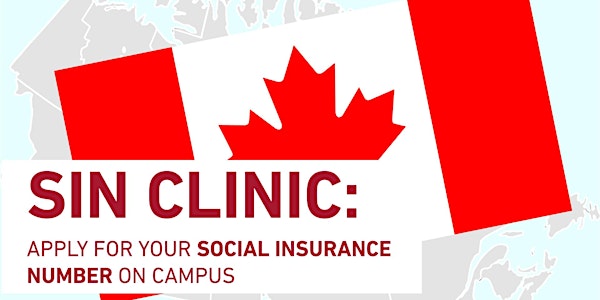 SIN Clinic: Apply for your Social Insurance Number on campus
When and where
Location
Maggie Benston Centre(MBC) 0300, SFU Burnaby 8888 University Drive Burnaby, BC V5A 1S6 Canada
Description
Service Canada is coming to SFU to help you apply for SIN on campus.
Please note that this event is open to ALL SFU students. Family members and partners of SFU students are also welcome to attend. Individual registration is required.
SFU Burnaby campus:
Dates: Thursday, September 5

Clinic Hours: 9:30am-4pm

Location: MBC 0300, SFU Burnaby
Please BE ON TIME for your appointment. We will not hold your spot if you are more than 5 minutes late. Service Canada will not be able to process your SIN without all the required documents. Visit the Service Canada website for a complete list of acceptable primary and secondary documents.
Please bring your ticket (printed or on your phone) with you.
For any questions, please contact an International Student Advisor at intl_advising@sfu.ca or 778.782.4232.
Accessibility
We strive to create as accessible and safe a space as possible for this event. Please submit any accessibility needs to us by email (intl_advising@sfu.ca) or phone (778-782-4232) so that we can accommodate you better.
---
*IMPORTANT INFORMATION*
What is a Social Insurance Number (SIN)?
A Social Insurance Number (SIN) is a 9-digit number that the Canadian government requires for taxation purposes. You must have a valid SIN in order to be paid for any work you do in Canada.
What documents do you need to bring to your SIN appointment?
When you apply for a Social Insurance Number (SIN), you must provide a valid original primary document to prove your identity and status in Canada. You may also need to provide a valid supporting document if the name indicated on your primary document is different than the name you are currently using. There is no fee to apply for a SIN. Visit the Service Canada website for a complete list of accepted documents.
If you are an international student, you must bring your original passport and one of the following documents:
- A work permit; or
- A study permit with a notation confirming you "may work" or "may accept employment", such as one of the following remarks:
may work 20 hours per week off campus or full time during regular breaks if meeting criteria outlined in paragraph 186(v) of the Immigration and Refugee Protection Regulations; OR

may accept employment on or off campus if meeting eligibility criteria, per paragraph R186(f), (v) or (w) and must cease working if no longer meeting these criteria
- A study permit and a "confirmation to work off campus" letter from Immigration, Refugees and Citizenship Canada issued before February 6, 2015.
If your study permit does not include the proper work authorization conditions, you may need to request a correction or apply to change the conditions of your study permit before you can apply for a SIN. Contact an International Student Advisor for more information.