Join the Canada Delta in Ottawa for our "Sincerely Yours Semi Formal", where proceeds are donated to St. Jude's Children Research Hospital!
About this event
The mission of St. Jude Children's Research Hospital is to advance cures, and means of prevention, for pediatric catastrophic diseases through research and treatment. Consistent with the vision of the founder Danny Thomas, no child is denied treatment based on race, religion or a family's ability to pay.
The research gathered at St. Jude is used worldwide at other children's hospitals since all of their research is shared, meaning that our Children Hospitals in Ottawa benefit from the research conducted at St. Jude, and every donation is able to help a child going through treatment at St. Jude Children's Research Hospital.
In 2014, Tri Delta received the St. Jude Partner of the Year Award and announced the largest single pledge in St. Jude's history, to raise 60 million dollars in 10 years, receiving prominent recognition on the hospital's campus at Tri Delta Place: a short-term housing facility.
In 2018, we were half way there, with 30 million raised in 4 years. In 2021, we continue trying to reach this goal, and this year the Canada Delta Chapter of Tri Delta is having a Semi-Formal with proceeds going directly to St. Jude Children's Research Hospital!
With your ticket, you will receive a sit-down meal with two different menu options, and be able to help a child undergoing treatment at St. Jude Children's Research Hospital.
PROOF OF ONTARIO-APPROVED VACCINATION WILL BE REQUIRED BY THE VENUE ALONGSIDE A GOVERNMENT-ISSUED ID. No-refunds for this event as it is a charitable event with the profits donated.
UNE PREUVE DE VACCINATION APPROUVÉE PAR L'ONTARIO SERA EXIGÉE PAR LE LIEU DE L'ÉVÉNEMENT, AINSI QU'UNE PIÈCE D'IDENTITÉ ÉMISE PAR LE GOUVERNEMENT. Aucun remboursement pour cet événement car il s'agit d'un événement charitable avec les bénéfices reversés.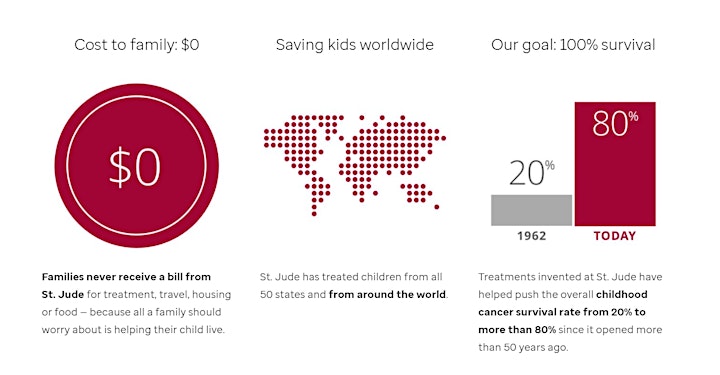 La mission de l'hôpital de recherche pour enfants St. Jude est de faire progresser la guérison et les moyens de prévention des maladies pédiatriques catastrophiques par la recherche et le traitement. Selon la vision du fondateur Danny Thomas, aucun enfant ne se voit refuser un traitement en raison de sa race, de sa religion ou de la capacité financière de sa famille.
Les recherches recueillies à St. Jude sont utilisées dans le monde entier dans d'autres hôpitaux pour enfants puisque toutes leurs recherches sont partagées, ce qui signifie que nos hôpitaux pour enfants d'Ottawa bénéficient des recherches menées à St. Jude, et que chaque don est en mesure d'aider un enfant qui suit un traitement à l'hôpital de recherche pour enfants de St. Jude.
En 2014, Tri Delta a reçu le prix du partenaire de l'année de St. Jude et a annoncé la plus grande promesse de don de l'histoire de St. Jude, visant à collecter 60 millions de dollars en 10 ans, recevant une reconnaissance de premier plan sur le campus de l'hôpital à Tri Delta Place : un établissement de logement à court terme.
En 2018, nous avons fait la moitié du chemin, avec 30 millions collectés en 4 ans. En 2021, nous continuons à essayer d'atteindre cet objectif, et cette année, le chapitre Canada Delta de Tri Delta organise un Semi-Formal dont les recettes seront directement versées à l'hôpital de recherche pour enfants St. Jude !
Avec votre billet, vous recevrez un repas assis avec deux options de menu différentes, et vous pourrez aider un enfant qui suit un traitement à l'hôpital de recherche pour enfants St-Jude
Organizer of Sincerely Yours Semi Formal for St. Jude Children's Research Hospital