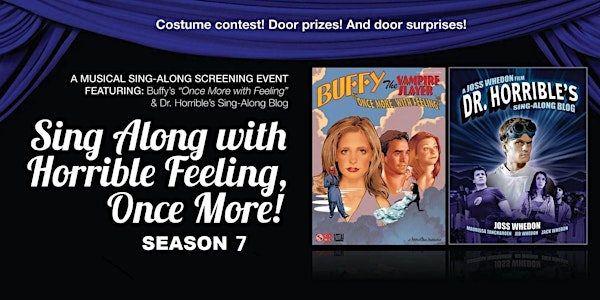 Sing Along With Horrible Feeling, Once More! Season 7
ALL AGES
Hosted by Kendra Anne and her awesome team of Volunteers
Please join us for the SEVENTH installment of this "wacky Broadway nightmare". Think 'Rocky Horror Picture Show'...
Date and time
Starts on Tuesday, May 9 · 7pm CDT.
Location
The Park Theatre 698 Osborne Street Winnipeg, MB R3L 2B9 Canada
About this event
... but for Buffy the Vampire Slayer and Dr. Horrible's Sing-Along Blog!
Brand new prizes, brand new SURPRISES, same great event!
We show the hit Internet musical Dr. Horrible's Sing-Along Blog, followed by the classic Buffy the Vampire Slayer musical episode, 'Once More with Feeling'.
Come dressed as your favourite Buffy/Dr. Horrible/Angel/Firefly/etc. character, and sing along with some awesome tunes as we broadcast these triumphs of musical media on a 27- foot screen at The Park Theatre!
If this isn't enough to set you quaking in your stylish-yet-affordable boots, we will ALSO be having...
-a costume contest, complete with themed prizes for the winners!
-trivia!
-multiple (10+) door prizes, and
-participation bags!
Come one, come all for some nerdy fun, and let's open those 'lacy, gently wafting curtains' on two of the greatest musicals that redefined what musicals could do!
Tuesday, May 9th, 2023
Doors open at 6:00 PM
The show starts at 7:00 PM
30-minute intermission and costume contest
The Park Theatre
698 Osborne Street
Gender-inclusive washrooms are available on site.
Lots to see and check out at 6:00 PM, including registering for the costume contest, a silent auction for charity, and more!
This event is volunteer-run and organized, and all ticket sales go directly into purchasing participation bags, door prizes, costume contest prizes, and supporting local businesses.
6:00 PM Doors Open
6:50 PM Take your seats!
7:00 PM Introduction & Trivia
7:10 PM Dr. Horrible's Sing-Along Blog!
8:00 PM Intermission
8:30 PM Costume Contest
8:50 PM Once More, with Feeling!
9:40 PM Drawing of door prizes!
9:55 PM Closing Remarks
About the organizer
The Park Theatre, is now in its seventeenth year of operations and has grown into one of Winnipeg's premier live event venues. With over 300 events a year spanning music, comedy, theatre, and film, the room has become home to an expansive community of artists.
In 2014 The Park Theatre was awarded "Venue of the Year" at the Western Canadian Music Awards, after being nominated for the same award in both 2012 and 2013.
The venue itself is a renovated movie theatre that opened in the fall of 1915. While many of Winnipeg's neighbourhood theatres have been demolished or "repurposed" into bowling alleys or retail stores. The Park managed to hold out for 73 years before fate caught up with it. After sitting vacant for nearly a decade it was revived into what is now one of Winnipeg's most popular live music venues.
With its high-quality sound, great atmosphere, two full-service bars, and premier live entertainment from local acts to international touring artists, it's no wonder that artists and audiences alike keep coming back.