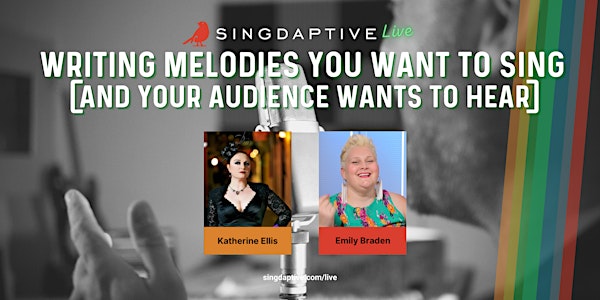 Singdaptive Live: Writing Melodies You Want to Sing
Topline writers and vocalists Katherine Ellis & Emily Braden, also instructors at Singdaptive, show how melodies & lyrics hit your audience.
About this event
About This Event:
Register to attend this free online event. The Singdaptive Team invites all singers to hear insights from Katherine Ellis and Emily Braden on how writing melodies and lyrics needs to connect with you to be able to connect with an audience. Get tips and tricks. Q&A and performance during the event.
The webinar is less than up to 45 minutes long. You'll receive a zoom link just prior to the webinar - so watch your emails.
Want to get your questions answered? Singdaptive account holders can submit their question before the event to be considered by our instructors. Join at singdaptive.com for free.
More About Your Guest & Host:
Katherine Ellis is one of the most respected and versatile vocalists and topline writers in the industry today. She is a true performer who lives for the stage and gives her all, engaging and transporting her audience whilst wowing them with her incredible voice.
Her back catalogue includes the huge club hits 'When you touch me' with The Freemasons, 'Lost' by Roger Sanchez and 'Dreaming' by The Ruff Driverz. Katherine is also featured on the BAFTA and OSCAR winning original soundtrack to accompany the feature film 'Gravity'. Her performance on the title track can be heard at the climax of the movie! Her single, 'Tears' with the Freemasons was released and received support from the likes of Greg James on Radio 1 and the Wideboys on Kiss FM. 'Live Again' with My Digital Enemy received support from Tiesto and featured on Hed Kandi Miami 2015 CD. She is also the third member of the band Bimbo Jones. Their second studio album 'Go Naked' was released in October 2014 via Radikal Records.
She has worked and performed with some of the biggest names in Dance music including The Freemasons, The Utah Saints vs Drumsound & Bassline Smith (with the 2012 release of 'What can you do for me'), Dave Lee/Joey Negro, Roger Sanchez, Cerrone and on a more underground tip - Meat Katie, Dylan Rhymes and Lee Coombs. Katherine's touring credits include that of working with the likes of Belinda Carlisle, Chaka Khan and Boy George.
She writes the majority of her own material including 'When you touch me' by the Freemasons, 'Insatiable' by Mark Knight, 'Fascinated' by Raven Maize and 'Getting Into You' by W.O.S.P. She also writes for other Artists including 'If You Wanna/Salsoul Nugget' by M&S Presents The Girl Next Door and 'Dancing In The Dark' by 4Tune 500.
Emily Braden is an award-winning singer from New York City. Whether she's fronting an genre-defying orchestra or leading a world-class trio in the heart of Manhattan, Braden has the innate ability to win the heart of any audience with her powerhouse vocals and striking stage presence
Winner of New York City's prestigious "Best of the Best" Jazzmobile Vocal Competition, Braden's signature sound is an effortless blend of jazz and soul. Her debut album Soul Walk is composed of high-energy originals and "flipped-out" jazz standards. Producer Misha Piatigorsky says, "As a singer, Emily has no boundaries. She gives me goose bumps.
Braden has performed at notable NYC venues such as the Blue Note Jazz Club (Late Night Groove Series), Birdland Jazz Club, le poisson rouge, BAMCafe and as well as on international festival circuits. East coast residencies include Richard Bona's Club Bonafide and Minton's Playhouse in Harlem, the original home of bebop. Braden has traveled to Burkina Faso, West Africa as part of the US Embassy's Arts Envoy program. She recently made her debut as a featured vocalist with Post Modern Jukebox. Her vocal versatility has earned her a place as a front woman with The Sketchy Orkestra, the Matt Parker Trio and Oliver Swain's Big Machine. Her own group Double Bass, Double Voice released their debut album in the US and Japan in February 2017. See www.emilybraden.com