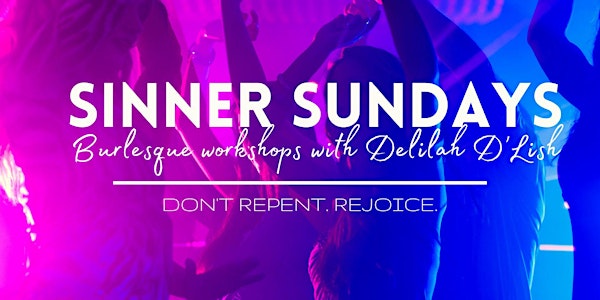 SINNER SUNDAYS Burlesque - VIGILANTE SHIT
Don't Repent. Just Rejoice. Introducing Pop-up burlesque workshops. Creating space for self exploration through burlesque movement.
When and where
Location
Dance Victoria 2750 Quadra Street Victoria, BC V8T 4E8 Canada
About this event
Don't Repent. Just Rejoice.
We're starting off moving to Taylor Swift's new song, Vigilante Shit (How appropriate!)We're setting the lights down low, closing the door and creating something magically sensuous!
Rejoice in your gender expression.
Rejoice in your sensuality and sexuality.
Rejoice in your body as it is right now.
Rejoice in your queerness
Rejoice in unapologetically taking up space.
Rejoice in reclamation.
The best form of active protest in loving yourself for exactly who you are right now. In this moment.
Welcome to the first of what will be a series of pop up movement workshops with the goal of creating a space for you to just be yourself and become grounded in your body through burlesque.
Wear whatever makes you feel fucking hot!
Class Structure:
Opening: Introduction - Warm up
Skill building: Learning and refining movements we will learn in our choreography
Short Break
Choreography
Cool down
What to bring:
Knee pads
Water Bottle
Small snack if you need to replenish during our break
Your fabulous self
Whatever you want to wear that makes you feel fucking hot (However, jeans are not recommended as they are difficult to move in)
Proper footwear can include character shoes, jazz shoes, or you can go with bare feet. No pointy heels please as they can damage the Marley floors
Accessibility
Dance Victoria is located in Quadra Village close to Quadra and Hillside and is accessible by multiple bus routes
The dance studio has ample parking and is on the ground floor with wheelchair accessible washrooms on site
There is a separate lobby area for those who may need to take breaks
Lighting will be low lit with purple/pink lighting to be more sensory friendly
No strobe or moving lights will be used in this workshop
If cost is an issue for me, please feel free to let me know. I am happy to have you in my class regardless of what you can afford.