Description
This event celebrated locally sourced food and beverages designed to bring chefs, farmers, winemakers, brew masters and local food producers together to create a culinary experience. The Sip & Savour Experience will focus on Leamington's unique culinary offerings and landscape. The purpose is to focus on the food and drink experiences Leamington has to offer. Visitors will be able to explore the culinary culture that makes Leamington unique by enjoying fresh, local food, shopping with local culinary merchants, unique programming, and joining in signature experiences.
August 18: 5:00pm-12:00am
August 19: 11:00am- 12:00am
August 20 Kid's Day: 11:00am-5:00pm
This year we are excited to announce that Food Network's Celebrity Chef Lynn Crawford will join the Sip & Savour Experience on Saturday August 19, 2017. Chef Crawford is an award nominated cookbook author, restaurant owner and celebrity chef. She has made regular appearances on programs such as Iron Chef America, Top Chef Master Series Season Five, Restaurant Makeover, Top Chef Canada, and is currently a resident judge on Chopped Canada.
The event includes live entertainment, amazing food, a world-class Celebrity Chef, Kid's Day programming, and much more!
Ticketed portions of the event include
General Admission- $4
Children under 12 are free
Perch Fish Fry hosted by Freddy's Cocktail Lounge and Restaurant- $25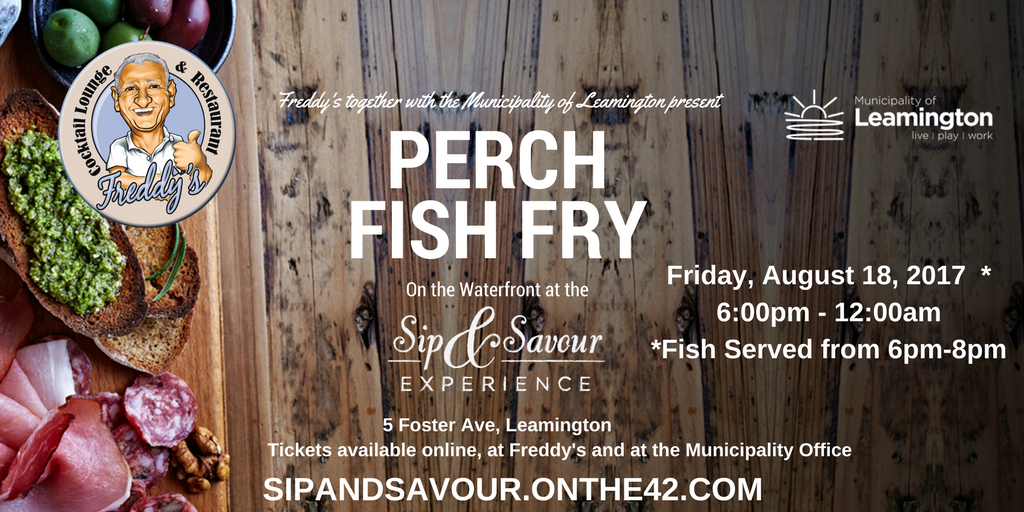 Freddy's Cocktail Lounge and Restaurant together with the Municipality of Leamington are hosting their first annual Perch Fish Fry located on the Waterfront at the Sip & Savour Experience on Friday, August 18th, 2017. Come and enjoy the delicious local dinner together with live entertainment from Bob Gabriel and Dan Woods in our VIP Tent! Pelee Island Winery will be present passing out free tastings of some of their favourites!
Tickets are $25 including dinner and entertainment and there will be a cash bar available on-site. Tickets available online, or in-person at Freddy's and the Leamington Town Hall.
Please note, though the event will be open from 6pm-12am, dinner will be served between 6pm-8pm.
VIP Signature Experience feat. Special Guest Chef Lynn Crawford- $50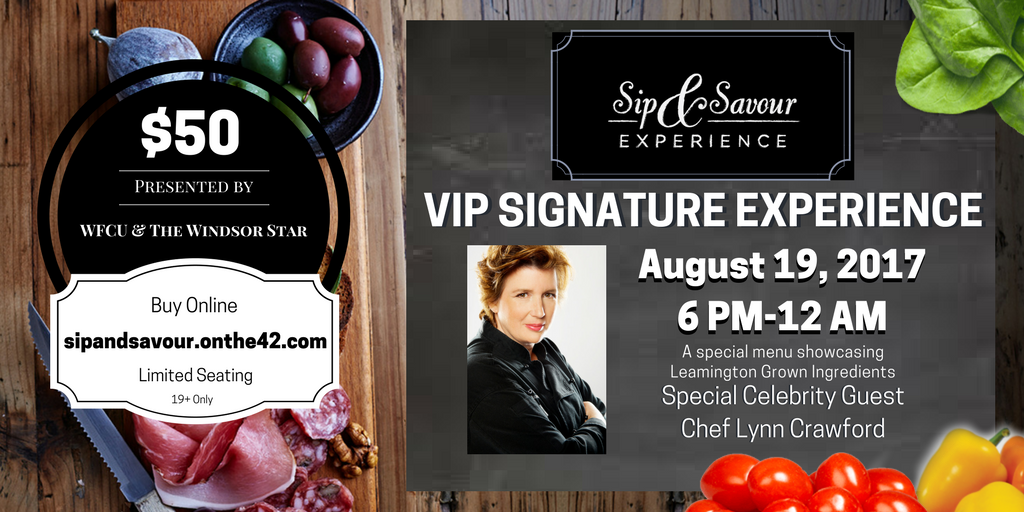 Join us and Celebrity guest Chef Lynn Crawford at our VIP Signature Experience.
Waiter-passed culinary delights from Culinary Catering will have you tasting local, sip on beverages served by the WindsorEats Traveller. Get on the outdoor dance floor and boogie to Jody Raffoul, The Oh Chays and Jay Allen or enjoy the view from our waterfront patio.

Presented by The Windsor Star and WFCU Credit Union
Tickets Include:
Unlimited, specially crafted tapas-style food

Live mucial entertainment including Jody Raffoul

An exclusive atmosphere, with waterfront views, ambiance, and special programming
Please note: While food is included in the cost of tickets, alcohol purchases are separate.
This event is for Adults 19+.
Limited tickets will be available for this exclusive event.
This is an outdoor tented event on a grassed surface. Flat shoes are recommended for outdoor environment.
Tickets will not be refunded for inclimate weather.

For more event information visit sipandsavour.onthe42.com