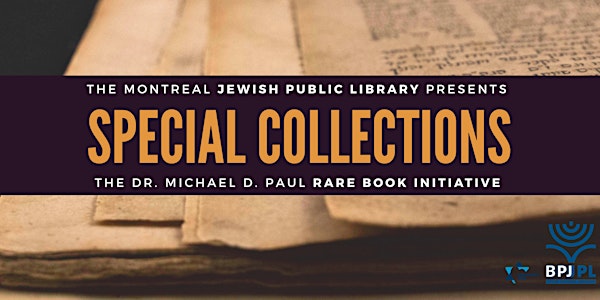 SIS Research Seminar Series: The Dr. Michael D. Paul Rare Books Initiative
The Jewish Public Library presents a hands-on rare book workshop for students in McGill's School of Information Studies.
When and where
Location
McGill University School of Information Studies, room 106 661 Rue Peel Montréal, QC H3C Canada
About this event
Please Note: Attendance is restricted to McGill University School of Information Studies students only. Registration with a McGill student email account is necessary to verify attendance.
The Jewish Public Library's collection of rare Jewish volumes dates from 1481, and along with its 1500 volumes are 1500 stories that together, comprise the histories of Jewish communities across Europe and the Near East. Visibly censored Torah commentaries, the oldest Yiddish Bible, a 19th century edition of the Zohar whose material history is fraught with deception, murder, and a love story. These narratives have been based on research JPL librarians have conducted over the last 8 years.
In this workshop, antiquarian Judaica texts will be used to show the parallel and contrasting histories of Hebrew and Yiddish printing with particular emphasis on how the material history of books distill an understanding of medieval and early modern history. Jewish texts were produced in the face of limitations, restrictions, and dynamics with the non-Jewish world. The history of the printers, the authors, and the texts themselves will be discussed to highlight potential research questions.
Eddie Paul, Senior Director Library & Learning Services at the Jewish Public Library, oversees collections development, reference services, and education outreach. He developed the Rare Books Initiative in 2014 to mark the JPL's centennial year. In the spring of that year, he co-curated the exhibit of the rare books "A Roomful of Dwellings", and 2 years later, co-curated the exhibit, "Decanting Memory" in collaboration with the Jacob Lowy Collection of Library & Archives Canada. He developed The Dr. Michael D. Paul Rare Books Initiative as a project that combines research and storytelling. Several workshops have been given to elementary and secondary schools, universities, colleges, synagogues, churches, seniors, and community centres.
Eddie and his colleagues who work on this initiative will be animating the session.