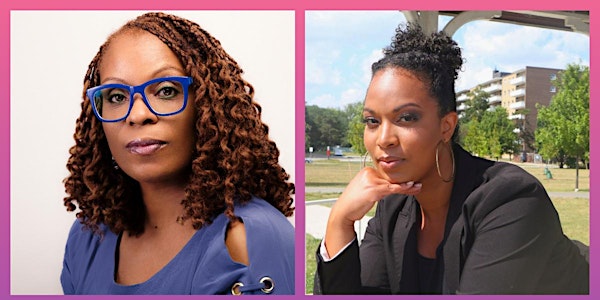 Sistahs In Da Biz 2022
Sistahs In Da Biz is a Virtual Business In The Arts Experience produced by Imani Enterprises - a Global Arts Services Company
About this event
Thank you so much showing an interest in Sistahs In Da Biz! part of the Imani Enterprises Let's Talk Series. We can't wait to see you at more of our future in person or virtual events.
Please check our WEBSITE for follow us on Twitter / IG @Amanisvibe Once registered you will receive more detailed information Webex Link for Sunday October 23rd at 3pm - 6pm (EST)
WHAT IS SISTAHS IN DA BIZ?
Sistahs In Da Biz is part of the Imani Enterprises Let's Talk Series that invites Artists and Creatives making moves in the Industry to share the secrets to their success for only a fraction of their consulting, coaching or booking rates.
Sistahs In Da Biz is a Virtual Business In The Arts Experience produced by Imani Enterprises - a Global Arts Services Company run by Amani aka Anne-Marie Woods is the event where Boss Lady Creative Professionals will share the secrets to their success and teach an abridged workshop that highlights their skills and talents.
This year we will have a Sistah Creative from the Theatre, TV and Film Industry
A Sistah Creative from the PR & Communications Industry
A Youth Creative who is taking the Comedic World by Storm who at the age of 18 has already been a featured comedian and is at the top of her game
Early Bird Tickets and Youth (ages 15 -25) Tickets Go on Sale September 23 rd at 5pm (EST) - Oct. 8th at 11pm
Regular Tickets are $40.00 Sale Begins October 8th
Early Bird Tickets are $25.00
On October 23rd from 3pm - 6pm (EST)... Creatives, BIPOC, Artists, Artpreneurs, Arts and Cultural Workers and Youth (ages 15-25) as well as members of the general public with an interest in the Arts and/or Business will have a chance to listen to and ask burning questions they have about how to survive as a Creative in this day and age.. Led by Industry Professional and Renaissance Woman Amani and Facilitated by Youth Facilitator and Arts Practitioner Marissa Trott... registered participants can listen to four leaders in their creative field who are not only Creatives but they are artists and creatives with a strong Business Acumen...
3pm - Individual Presentations and Q & A
4:20pm - All Participants go into break out rooms for a 45 - 50 minute workshop with one of the Esteemed Boss Lady Panelists
5:20pm - Rapid Fire - Hot Questions and Final Words of Advice
Get the answers to such questions as:
How do I start a small business?
What are the main things I need to know for Grant Writing?
How did you get started?
When should I get an accountant?
What should I be studying to be a Creaive?
How do I stay relevant?
How do I get into acting or voice over work?
Is it hard being a teenager in business? How do you juggle work, home, school and being on stage?
Amani aka Anne-Marie Woods- the Brainchild behind this Event, is a graduate of the Dalhousie University Actor Training Program, has a small business certificate and has received over 15 artist grants and awards which included residency grants, travel grants, internships grants and grants to create spoken word CD's. She is the recipient of the Harry Jerome Award for Excellence in Entertainment. She is a Curator, Creative Consultant, Producer, Playwright and Creativity Coach, who has performed and produced both locally and internationally. She had two plays that had World Premieres at Black Theatre Workshop in Montreal 'She Said/He Said' (on Black Love in Toronto) and 'Scotian Journey' (on the rich history of African Nova Scotians) Most recently she's received a Canada Council Grant for the Arts and an Ontario Arts Council Grant for the further development of her new play "Why Black Women Whisper" A pioneer in her field and a spoken word artist who will hit you with her Contemporary Blues. Amani has mentored, coached and consulted her way into having some of the most amazing grass roots, individual and corporate clients. Presently an Educator for Outreach and Public Programming at the City of Toronto Archives... she has found ways to bring her Artistic background into her curriculum development and exhibit and outreach work.
Marissa Trott - Youth Facilitator Marissa Trott is an emerging Theatre Arts Practitioner and graduate of Mount Allison University in Sackville, New Brunswick. She is an actor and director with a passion for stories about the Caribbean Diaspora. Marissa will guide the participants and facilitate the conversation and Q&A period.
Alicia Richardson - Boss Lady Reppin the Theatre, Film and TV Industry is an actor/writer, and vocal coach from Boynton Beach, Florida. She graduated from York University's MFA Acting & Diploma of Voice Teaching Programs. Now a Permanent Resident of Canada, Alicia calls Toronto her home. Her body of work spans television, film, theatre, and voice-over. Recent acting credits include: Diggstown (CBC / BET +); Pinecone & Pony (AppleTV+); Tall Boyz (CBC Gem); A Sisterly Christmas (OWN Network); and Two For the Win (Hallmark). She's also a member of The Black Pledge Collective, a group of artist-activists working to create safer spaces for Black performers in the performing arts.
Precious Iz - an 18 Year Old Boss Reppin the Comedy Scene in Ottawa. This young and upcoming stand-up comedian, public speaker and activist, is passionate about everything she does. She's been performing stand-up comedy since the age of 15 at the Absolute Comedy Club, the Good Clean Funny Showcase, and other events. Some of her most popular performances include I'm not cute, I'm dangerous, My Aunt's Worst Nightmare and All I want is Freedom. Actively involved in volunteerism she was awarded the Orleans Outstanding Youth Award for her involvement and contributions to her community. Presently she's in a first year university student in Social Work.
One more surprise panelists will be revealed in October.
This year's Intergenerational and Diverse Panel will Virtually help you discover your own potential and aid you in seeing what the true possibilities can exist for the life of a Creative.
This year's event is open:
to Creatives, Artists, Artpreneurs, BIPOC, Arts and Cultural Workers and Youth (ages 15-25) -are all encouraged to attend
Once you register and pay you will receive confirmation information and the link to the event will be sent to you on October 23rd - Five hours before the actual event.
Registration is non transferable and tickets are non-refundable.
Please check this link to our ImaniArtsBiz.com Website for any updates or follow us on IG @Amanisvibe