SisterTalk: February Goddess Circle ~ Exploring Mindfulness + Self-Care
Description
"You can't stop the waves, but you can learn to surf!" - Jon Kabat Zinn : Founder, Mindfulness Based Stress Reduction
Life the 21st Century is game of rapid fire responses due to the overflow of information we need to process, in addition to societal and self-induced pressures of achievement. It's exhausting on the best days and to thrive, new tools must be implemented.
Mindfulness and 'self-care' are the buzzwords of our time, but what do they mean? How do I make this an automatic part of my life?
Personal Development Coach and Certified Mindfulness Facilitator, Nova Browning Rutherford will be offering guidance on the importance of a mindfulness practice, identifying 'red flags', reframing patterns and how to create a physical 'sacred space' in your home. "influencing influencers" is the way culture shifts. Naturally, we begin with women in leadership positions (all of you!).
By attending this Goddess Circle, you will receive guidance & instruction on:
- guided meditation and "body scan"
- understand the mind body connection
- notice emotional triggers
- notice autopilot tendencies
- apply self-care for the senses
- learn how to explore diverse perspectives
- practice self-care fundamentals
Life IS moment to moment and with the proper tools, we can learn to expand our lives (instead of taking on more) and re-prioritize without 'feeling bad' for past behaviour.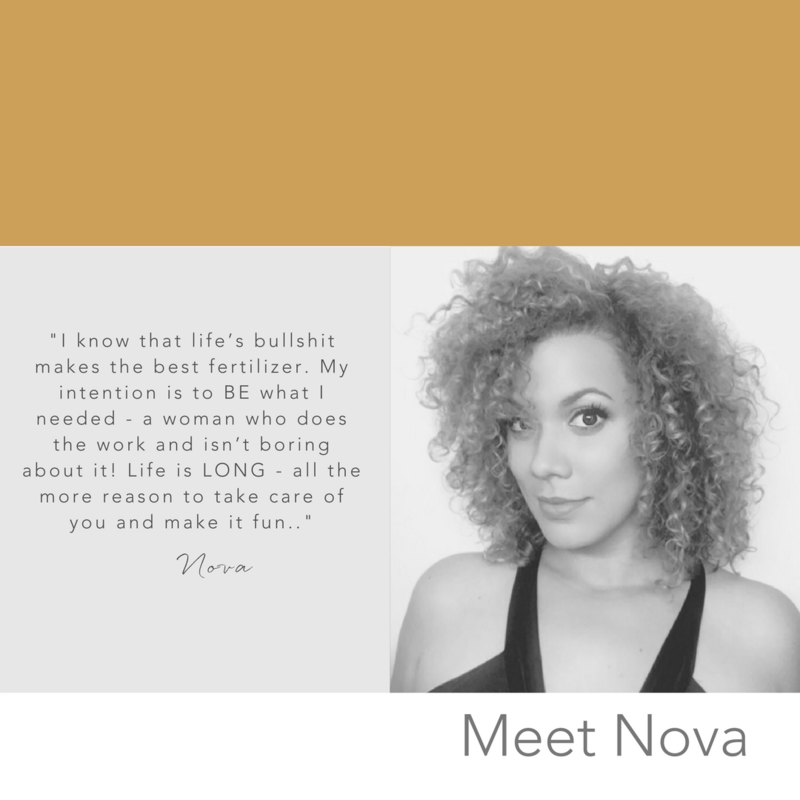 Meet This Month's Speaker: Nova Browning Rutherford

About Nova - aka the creator of But I Love Me More, where the BUT is the choice you make to put yourself FIRST, transforming pain into progress.

Greetings fellow warriors! Nova Browning Rutherford here - a loving guide on your journey of becoming beautifully resilient. I have been practicing mindfulness, meditation and self care for 15 years, not out of wisdom, but sheer life saving necessity. After a 4 year depression, in 2005, I decided I had ENOUGH of the victim mentality. I too have survived personal traumas and professional drama (a decade of working in the music business taught me oh-so much!) and I can honestly say that I am better because of it.
Now with applied knowledge, years of practice, study and certifications, I know that life's bullshit makes the best fertilizer. My intention is to BE what I needed - a woman who does the work and isn't boring about it! Life is LONG - all the more reason to take care of you and make it fun. The work we do is who we are.
About SisterTalk: Goddess Circle
SisterTalk: The Goddess Circle: is an intimate evening of deeper connection to self, exploring the power of vulnerability, how to leverage our emotions & thoughts better so that we can live a meaningful & fulfilling life.
Through our monthly events, we support the birthing of your boldest desires & that ONE step towards your goals & full potential. This event is for the ambitious woman who is ready to shift from leadership to legacy. This empowering, women-only event will feature intimate conversations, work-shop based interactions based on the latest neuroscience research on how the brain works, the power of emotional intelligence and practical strategies and tips on how to thrive at work, at home, and in life.
Our intention is to give you the tools you need to master your thoughts & your emotions so that you can live a meaningful and fulfilling life - starting today.
Here to help you finish strong!!!!