SisterTalk: The Goddess Circle ~ The Art Of Communicating With The Emotiona...
Description

"Between stimulus and response, there is space. In that space is our power to choose our response. In our response lies our growth and our freedom." Victor E. Frankl
SisterTalk: The Goddess Circle is an intimate evening of deeper connection to self, exploring the power of vulnerability, how to leverage our emotions & thoughts better so that we can live a meaningful & fulfilling life.
Through our monthly events, we intend to support the birthing of your boldest desires & that ONE step towards your goals & full potential. This event is for women who are ready to shift from leadership to legacy.
This empowering, women-only event will feature intimate conversations, work-shop based interactions based on the latest neuro-science research on how the brain works, the power of emotional intelligence and practical strategies and tips on how to to thrive at work, at home and in life.
Our intention is to give you the tools you need to master your thoughts & your emotions, so that you can live a meaningful and fulfilling life - starting today.
Join us every month for an action, soul-packed, sisterhood circle featuring different speakers, emotional & mental self-awareness mastery activities and more! This event is open to the Beautiful Warrior who is ready to tap into her inner goddess, nuture her gifts , be a H.E.R.O in her own life whilst making an impact in her community, humanity & the world.
Our next few meet-ups are all designed to help you finish the year strong under the theme #FinishStrong2017! Up next!
The ART of Communication: how to communicate with the emotional brain in mind.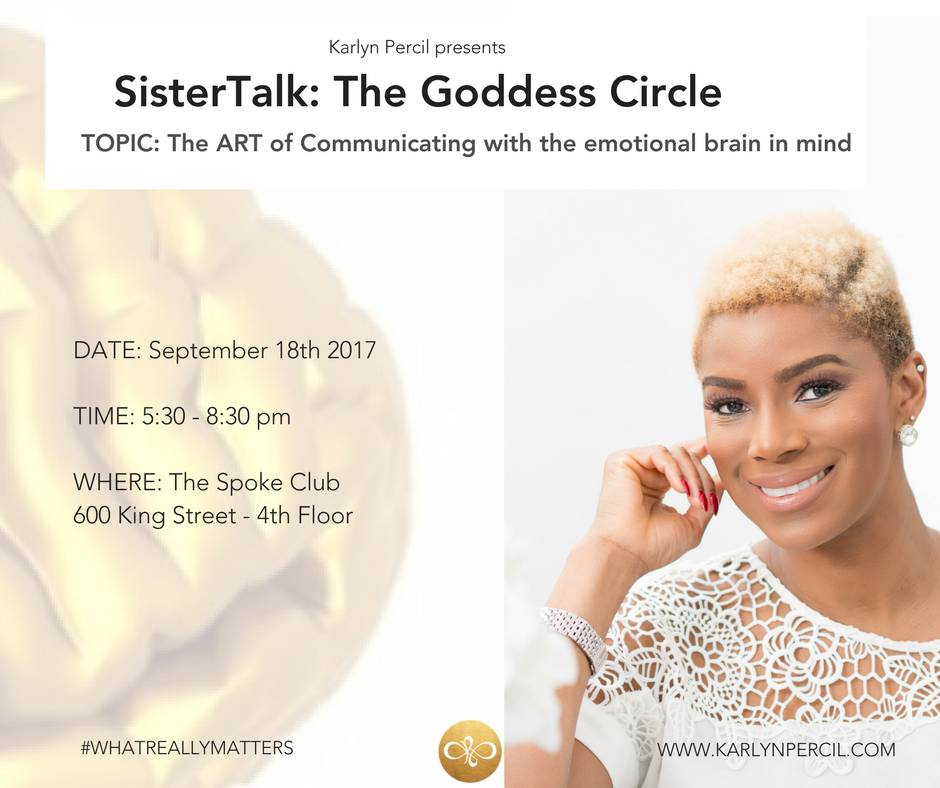 Objectives:
Understand the power of emotional self-expression
Review the various communication styles + the imact on your emotional language (verbal + non-verbal)
Understand the emotional brain + it's symtoms
How to know when you're emotionally hijacked
Get strategies for how to deactivate the emotional brain
Learn how to get in Emotional flow - use your emotional data in an effective way
Tips on how to be emotionally agile
"Discomfort is the admission to a meaningful life." - Susan David, Author Emotional Agility
Walkaway With:
The Emotional & Mindset Mastery Workbook: The Communication Edition
Communication tools to add to your toolkit
Deeper insight to your verbal & non-verbal communication styles
Language & examples of how to shift from "You always do this"....to communicating for the results you want.
Get the leadership skills you need to live better - to L.E.A.D, to have more meaningful conversations & deeper connections with your husband, wife, children, parents, at work, etc etc. Show up with confidence, lead with intention & shift from leadership to legacy.
...............................................................................................................................................................................
The Future is NOW. We need you to shift from leadership to legacy ...NOW.
Do more with what you have, where you have. Take up more space. Lead with intention. Use your brain better. Leverage your emotiional intelligence. Make time for what matters the most.
Within you is a unique gift, story, business, idea, book, Ted Talk, patent, and more. Join us every month as we explore, discover & unleash your greatest potential + how to brith the best version of yourselves while enjoying the journey to success.
Through our circles - we will elevate, celebrate and support you on your boldest dreams & your deepest desires. This is the year for BIG moves, bigger dreams & bold action.
We are excited to serve you. Bring your Success Planner with you for that ONE next step you will take towards your boldest dreams.
your success cheerleader & mindset catalyst,
Karlyn