Six Degrees Real Estate Investors Mixer - Networking & Education with Barry Lebow & Aaron Charles

Monday, 29 February 2016 from 6:30 PM to 10:00 PM (EST)
Event Details
PS: if you wish to unsubscribe, please email me.
Are you a real estate investor or a home owner looking for NEW strategies to invest in REAL ESTATE?
Well, tonight, YOU will discover NEW avenues to grow your capital and save for retirement.
TONIGHT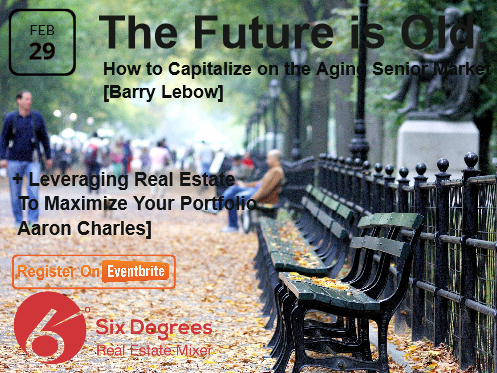 The Future is Old.



How to Capitalize on the Aging Senior Market [Barry Lebow]



+

Leveraging Real Estate To Maximize Your Portfolio

 [Aaron Charles]
NETWORKING + EDUCATION
2 SPEAKERS
Monday, February 29, 2016

to
360 Geary avenue, Toronto, ON * Free Parking
2 SPEAKERS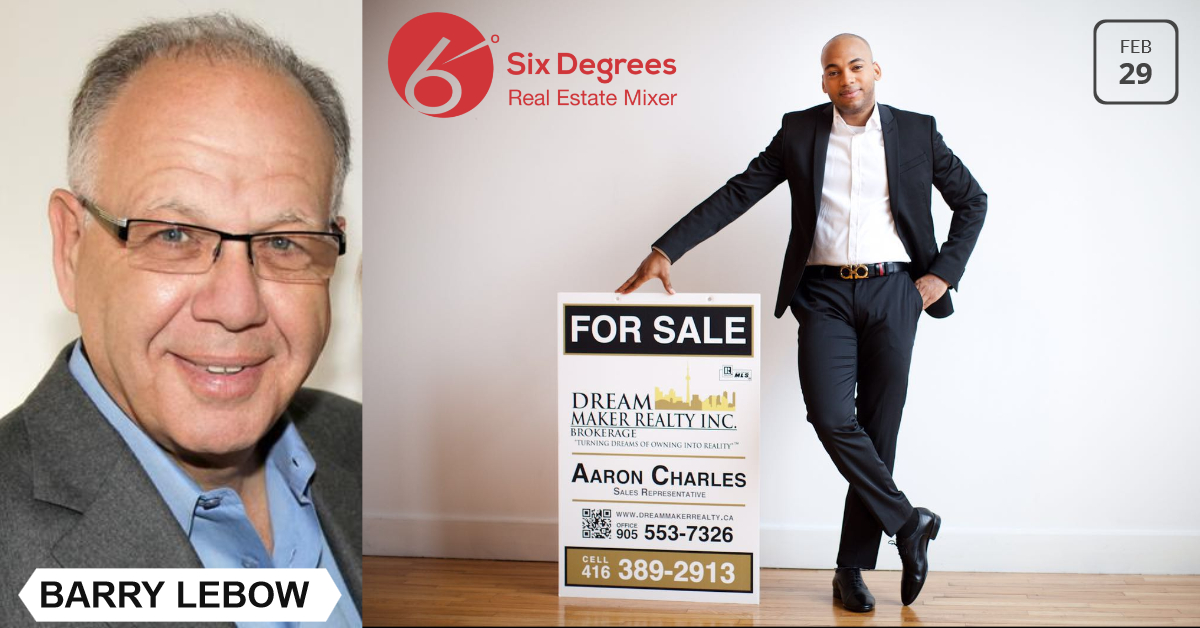 Barry Lebow's topic: How Aging Demographics Lure Investors into Senior Housing. Senior housing is really an impact investment that delivers both measurable social benefit and financial performance. The positive social impact of keeping families and communities intact is, by itself, a singularly worthwhile reason to put capital in this asset category.
Aaron Charles in a second part will show you his strategies to grow your asset base with Pre-Construction Stacked Homes.
Background
Canada's age 65 and older population is projected to continue its strong growth over the next two decades. This group is expected to increase in size by 85 percent between 1998 and 2021 and will represent 18% of Canada's total population, up from the current 12.3 percent. IEven more significantly, Canada's elderly population is becoming top-heavy with persons in the oldest age brackets. By 2021, 29 percent of Canada's seniors will be in the age 75-84 bracket and 13 percent will be age 85 and over. Persons at such ages are at increased risk of chronic Ihealth problems and physical and cognitive impairments that threaten their ability to maintain independent households.
AGENDA
6:30pm Doors Open ~ Networking
7:15pm Laure Ampilhac | Mortgage Agent & Certified Wealth Management Advisor
7:30 Barry Lebow | One of Canada's Leading Real Estate Personalities
8:30pm Aaron Charles, Realtor | Investor | Speaker
9:00pm - 10:00pm ~ Networking
"Knowledge is power. Information is liberating. Education is the premise of progress, in every society, in every family."
- - Kofi Annan

Event Organizer
Six Degrees Real Estate Investors Mixer
[ Helping Home-Owners and Real Estate Investors Retire Early With Real Estate]
www.realestatemixer.ca
(416) 358-9686 | (877) 764-9492
info@laureampilhac.com
info@realestatemixer.ca
ABOUT BARRY LEBOW

Barry Lebow || A Leading Real Estate Professional Since 1968
My Present, My Future. I have returned to my roots as an active broker/Realtor. In 1968, as a young man of 21, I started my real estate career as a salesman. A few years later, I became a broker, and have remained a Realtor. In the recent past, my emphasis shifted to litigation appraisal issues. What you may not know is that I continued to work as a Realtor (for select clients).
Focus on Mature Market. Over the past decade I have been increasingly involved with the 55+ age group and Seniors in respect to real estate needs. In 2008, I launched my new course, the Accredited Senior Agent designation for Canadian Realtors. Over 2,500 Realtors have taken that course now. Two years ago I turned over the association to new leadership as it was time for me to focus on the practical side of what I have been teaching.
Barry A. Lebow, FRI, CRF, Master ASA, SRES, ARB, CREC, IFAS
Professional Land Economist, Arbitrator and Mediator
Broker, RE/MAX Ultimate Realty Inc., Brokerage, REALTOR
http://barrylebow.com/real-estate-brokerage/
ABOUT AARON CHARLES
Realtor | Investor | Speaker

The saying goes that, "every man is the architect of his future." Aaron Charles' passion for real estate lies in not only in constructing a solid and impactful foundation for his vision but also in his commitment to actualize the dreams of the individuals and families who he works with to help secure their biggest investment. To create, design and build a solid groundwork for any venture, one must have a big vision – a trait that Charles prides himself on possessing. The ability to see the bigger picture despite small instances, setbacks and obstacles is what has been the cornerstone of Charles' success. His simplistic approach to real estate is a principle that he applies to life as well – buy low, sell high. In life you have to build from the ground up but aim high.
www.aaroncharles.ca/
www.reapinc.ca/
www.dreammakerrealty.ca
ABOUT LAURE AMPILHAC
After 15 years as a Business development Executive in France and Canada, Laure left the corporate world during the 2009 recession, to follow a new path.Robert Kiyosaki's Rich Dad Education led her to a career in Real Estate Investing, creating multiple sources of active and passive income. Laure is a real estate entrepreneur, a property manager, a mortgage agent and now a Certified Wealth Management Advisor.
Her expertise and her passion for Early Retirement has allowed her to mentor and empower home-owners to acquire more properties and build a long-term retirement strategy using their home equity, life savings and Registered Retirement Savings Plans (RRSP, LIRA, TFSA).
#retirementplanning
#wealthcreation
#realestateinvesting
Mortgage Agent & Certified Wealth Management Advisor
✆ (416) 358-9686 ✆ (877) 764-9492
iBrokerPower Capital Inc (The Mortgage Centre) Lic# 10538
www.laureampilhac.com
www.linkedin.com/in/laureampilhac
Get Event Updates

ABOUT THE VENUE
* Free Parking
ABOUT SIX DEGREES
Six degrees of separation is the theory that everyone and everything is six or fewer steps away, by way of introduction, from any other person in the world, so that a chain of "a friend of a friend" statements can be made to connect any two people in a maximum of six steps.
The Real Estate Mixers are designed to educate & connect home-owners and investors in an intimate and warm environment.
Lively, interactive EDUCATIONAL & NETWORKING EVENTS:
If you are interested in learning more about how to invest in an rental property/multiplex (active investing) or invest your RRSP/Cash savings in alternatives investment vehicles in real estate (passive investing), then you have come to the right place.
The aim of these evenings is to create a space for like-minded people with an interest for real estate and investing Come and learn about money lending (private mortgages), MICs, Real Estate Investment Groups/Private Equity Funds and more.
HOSTED NETWORKING EVENTS
Laure will be there to connect you with the professional, lender, investor that you have been looking for your project, real estate transaction or investment. Come to us during the networking event and we will introduce you to the right person! See you there.
SPONSORS
Aaron Charles
Realtor | Investor | Speaker
Stacked Town Home  Pre | Construction
Builder's VIP pricing
www.aaroncharles.ca/
www.reapinc.ca/
www.dreammakerrealty.ca

Alex Bell, B.A.
Home Insurance / Property Insurance
Commercial Account Executive
Reality Practice
35 Stone Church Road, 3rd Floor, Ancaster, Ontario L9K 1S5
Tel: 1-888-385-8466 Local: 905-648-3922 ext. 2617 Fax: 905-648-6980
Cell: 289-237-6829 Direct: 905-304-2617
alexb@daltontimmis.com
www.daltontimmis.com
Fazle Naqvi
Sales Representative
Mobile: 416-418-1351 Office: 905-812-8123
Keller Williams Real Estate Associates, Brokerage
7145 West Credit Avenue, Mississauga, ON, L5N 6J7
905-812-8123
Looking for a realtor to purchase an investment property in Hamilton? Contact Fazle
Patricia Abad
Life insurance
Financial Planning Advisor
NBBN
(416) 417-0332
Renata Magalhaes
Renata's Bookkeeping Services
Mauricio Jimenez
Photographer
Photo Credits: Mauricio Jimenez 647.688.5814
MAGIC VISION Photography
Voted – Top PHOTOGRAPHY STUDIO in Toronto ( Top Choice Awards – 2013)
Visit us at www.magicvision.ca
Joe Smith
Videographer
MoneyGate MIC
CALENDAR
Tax Strategies 21 Mar 2016 6:30 PM
Property Insurance & Life Insurance for Real Estate Investors 25 Apr 2016 6:30 PM
Pre-Construction Investing: Grow Your Capital in a Flash 30 May 2016 6:30 PM
Family Trusts and Asset Protection for Real Estate Investors 20 Jun 2016 6:30 PM
GEARY LANE - THE VENUE
BROUGHT TO YOU BY: Laure Ampilhac
Mortgage Agent & Certified Wealth Management Advisor
✆ (416) 358-9686 ✆ (877) 764-9492
iBrokerPower Capital Inc (The Mortgage Centre) Lic# 10538
www.laureampilhac.com
www.linkedin.com/in/laureampilhac
Bring lots of business cards and good vibes!
Have questions about Six Degrees Real Estate Investors Mixer - Networking & Education with Barry Lebow & Aaron Charles?
Contact Laure Ampilhac
When & Where

Geary Lane
360 Geary Avenue
Toronto, ON M6H 2C7
Canada

Monday, 29 February 2016 from 6:30 PM to 10:00 PM (EST)
Add to my calendar
Organizer
✔ Laure Ampilhac
╚► Helping Canadians RETIRE EARLY WITH REAL ESTATE ★ Leveraging home equity ★ RRSP ★ Designing Early Retirement Plans
☆☆ Real Estate Investments Consultant | Certified Wealth Management Advisor | Mortgage Agent | Refinancing | Private Mortgage Lending | Six Degrees Real Estate Investors Mixer

My expertise and my passion for "early retirement" has allowed me to mentor anxious Canadian families and home owners who have not managed to invest their life savings effectively.

I help them acquire properties, diversify their investments and build a long-term retirement strategy using their home equity, savings and Registered Plans (RRSP, RESP, LIRA & TFSA).

Today, my clients include home-owners and individual investors who are ready to fathom new avenues for their own investments. I help them by:
★  Educating & Empowering though the Six Degrees Real Estate Investors Mixers (www.realestatemixer.ca meetup).
This is where I bring together seasoned investors, speakers and mentors from various backgrounds.

★  Educating & Coaching though one-on-one consultations.
This is where we take stock and compile their savings, pension, investments and available home equity (net worth).

★ Designing and Implementing a retirement income plan with a new investment strategy that incorporate their current locked investments with new acquisitions.These cater to the clients' current AND future cash flow needs.

Specialties: Real Estate Investing | Mortgages | Financing  | Private Money Lending | Alternative Investments | Pre-Construction Townhomes | RRSP | TFSA | Rental Property | Retirement planning | Wealth creation | Wealth management | Asset protection
► Visit www.laureampilhac.com to schedule your FREE Consultation!
► or call 416-358-9686

When working with investors, we explore the following real estate investment vehicles:
❶ Income properties (for Cash flow) and Pre-Construction TownHomes
❷ Investing in Private Lending (Mortgages & MIC)*
❸ Alternative Real Estate Investment (Private Equity and Syndication)*
* RSP-eligible