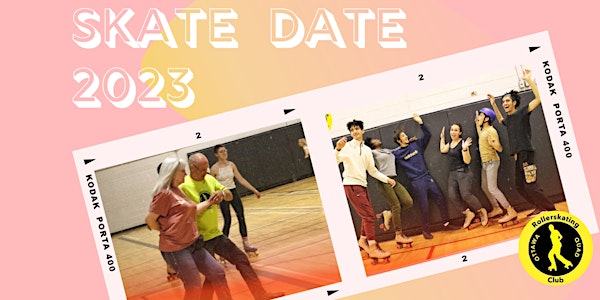 Skate Date Access for 2023 (Jan.-Apr.)
Discount Code Access Spend a lovely evening skating with us on Fridays from January through April! Tix here too!
When and where
Location
Norm Fenn Gym - Carleton University 1125 Colonel By Dr. Ottawa, ON K1S 5B6 Canada
About this event
SKATE DATE
Want to get serious about skating and attend all (or many) of the sessions? Be our Skate Date! Buy dinner and we'll make sure we save you a seat and make every skate after that a little sweeter. ;) We'd love to see you all the time!
This is for attendees who have their own skates. This is not an option that can be done if you need to rent skates. We wanted to build the community and offer a bonus for folks who were coming out regularly and committed enough to have purchased their own wheels!
For $40 you buy access to a discount code for this season (Jan.-Apr.)to be used to access and buy hidden adult tickets for yourself for each Friday that you want to attend. Each session's ticket will only cost $8 (down from $15). You start saving after 5 visits and your contribution supports the Club with upfront costs. The perfect match. We will also reserve a potential spot for you so you don't have to worry about us selling out for a Friday night! We want to make sure you always feel the quad love!
Purchase the access code first and check your email. Then return to THIS event (not the usual Friday night event for everyone else) and use the Promo code in the spot at the top to reveal the hidden tickets and purchase them for the nights you wish to attend. You need to purchase a ticket for each night you wish to attend.
This is only valid for tickets for yourself. This can not be used to purchase tickets for others or special events and the code will expire at the end of April.
Note: If you need to purchase for youth for the same night, please do that on the regular event FIRST. https://CarletonWinter2.eventbrite.ca Those tickets are subject to capacity restrictions and might be sold out (wait list available), but these ones are reserved for you.
__________
Ottawa Quad Sessions are all about fun on eight wheels. Any style, all levels, no instruction, lots of watch-and-learn. We quad to tunes. Always.
---
PLEASE READ THROUGH #1 TO #6 BELOW .
1. E-TICKETING POLICY:
Each adult skater must purchase their own ticket from a unique email address.
We will cancel any ticket transaction where an admission is being purchased for someone else.
The context: Waivers now need to be online as part of the admission process and you cannot legally consent on behalf of someone else: our insurance provider will have none of it!
Each adult admission must bear the name of the person who purchased the discount code access and who will actually be skating, and provide consent to the waiver.
2. COVID-19 PROTOCOLS:
OTTAWA QUAD ROLLERSKATING CLUB'S COVID-19 PROTOCOL APPLIES:
Do not attend if you suspect you are unwell.
Mask on at admission and skate rental areas.
Masks optional for skating.
Please be respectful of people wearing masks and grant them extra space.
CARLETON ATHLETICS' COVID-19 PROTOCOL APPLIES TO ALL ATTENDEES:
For now, the only requirement is self screening the day of attendance. We will advise if this changes.
3. ADMISSIONS
Admission is strictly online, through Eventbrite. No cash at the door.
Adult admissions are individual sale only (no group purchases), or purchases for other adults.
4. RENTALS
Are not available for Skate Dates, please bring your own skates (quad or inline)
5. REFUND POLICY
Refunds will be considered for COVID-related illness if requested within 24 hours after the event. No exception.
Admissions are otherwise non-refundable, non-exchangeable, and non-transferable.
6. KEEPING IT SAFE
Head and limb protection is strongly recommended for all.
Safe Skating Code in effect (to be acknowledged when booking admission).
COVID-19 protocols in effect (to be acknowledged when booking admission).
ABOUT THE VENUE
The Norm Fenn Gymnasium is located in Carleton Athletics' Ice House Building, off University Road
The gymnasium is a full-size basketball court (wooden floors).
There are no locker rooms, or coat checks on the premises.
Multiple bus routes will deliver you to Carleton U
! This year parking will be included in the Carleton lot for Club attendees. Access HotSpotParking after 20:45 to register your vehicle from 20:45-23:15.
ABOUT THE OTTAWA QUAD ROLLERSKATING CLUB
We're volunteer-run, we're non-profit, we're fun-driven!
We also go by the name of OQS (Ottawa Quad Session), the weekly events we put together.
We run a year-long program of recreational rollerskating for our membership and whoever wants to drop in for a spin. We quad weekly on Fridays and throw in a number of roller parties throughout the year for good measure (and fundraising!) Levels don't matter. All are welcome. No instructions but always lots of watch-and-learn. We only skate to tunes. Rentals are available for some events.
Quads in OQRC stands for rollerskates but we won't bite if you inline retro 90s style.
Email is how to get in touch: ottawaquadsession@gmail.com.
What we do is only possible thanks to our beautiful volunteers (yellow shirt peeps). If you want to yellowshirt with us, please do reach out.