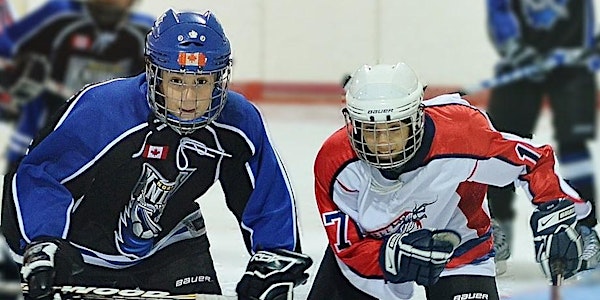 Skater Skills: U7 (2015) to U14 (2008): 2:00pm – 3:30pm
Skater skills sessions each Saturday, from 2:00-3:30pm at Mitchell Field arena: U7 (2015) to U14 (2008) players, Feb 12 to Mar 26, ex Mar 12
By North York Knights Hockey Association
Date and time
Sat, Feb 12, 2022 2:00 PM - Sat, Mar 26, 2022 3:30 PM EST
Location
Mitchell Field Arena 89 Church Ave North York, ON M2N 6C9 Canada
About this event
2022 North York Knights Skater Skills
For North York Knights House League & Select Players ONLY
The Knights are pleased to have partnered with Impact Hockey to deliver our newly improved 1.5hr Skater Skills Program – consistent with the delivery of their regular commercial program. The program will have 1hr of skills development with three focus areas: Power Skating, Shooting & Puck Control PLUS 30 minutes of half-ice of 3-on-3 scrimmage. There will be one skills sessions each weekend at Mitchell Field arena: U7 (2015) to U14 (2008) players from 2:00pm – 3:30pm. The Knights are pleased to offer this program at a subsidized cost of $175 for the 6-session program – half price when compared to similarly offered commercial programs.
Dates for Skills Training (all Saturdays)
Registration includes all Saturdays from February 12th to March 26th except for March 12th.
Skater Skills Program – Core Elements
Power skating
Shooting
Puck Control
More information available on website.
Registration & Questions
Registration for the Skater Skills Program will be offered on a first come first serve basis.  The Knights reserve the right to realign the player skill cut-off between the two sessions for the Skater Skills Program based on actual registrations.  Please email nykhockeyskills@gmail.com with any questions about these programs.
About the organizer
The North York Knights Hockey Association is incorporated as a not-for-profit, non-denominational, volunteer-run community organization dedicated to making hockey accessible and fun. It is governed by a nine-member Board of Directors. The Knights serve families in the North York area and the northern part of Toronto. Our philosophy is to provide children a solid foundation of hockey fundamentals in a learn-to-play program before integrating game experience.
Three program streams – Learn-to-Play, House League and Select – provide over 980 players and their families with a hockey experience that meets their commitment and competitive needs. The affiliation with the GTHL Knights offers an additional option for players looking for more ice time per week and a higher level of competition.