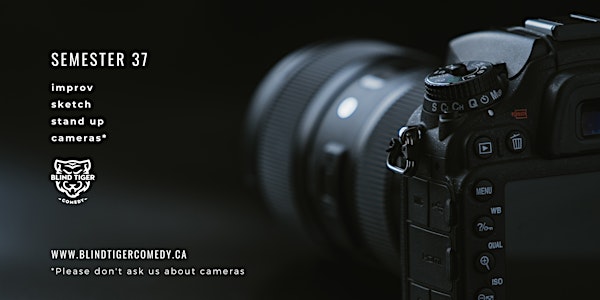 Sketch 2 & Sketch 3
Train with Blind Tiger! Learn comedy from professional comedians and take your comedy skills to the next level!
When and where
Location
China Cloud Studios 524 Main Street Vancouver, BC V6A 2T9 Canada
About this event
SKETCH 2 – Full Metal Sketch & SKETCH 3 - Versatility- with Allie Entwistle
EIGHT WEEKS. TWO SHOWS. $395.
Thursdays (January 19 - March 16) 7:30pm - 10:00pm PST
*There is no class on Thursday February 16*
Location: China Cloud Studios
Masks: Optional – see our COVID-19 Safety Plan for full details.
All students need to show valid proof of vaccination to take this class.
This class is a elementary school-style split grade class, meaning the Sketch 2s and Sketch 3s work with the same teacher and perform together in their showcases. The two classes have distinct learning objectives and topics each week, and your teacher will approach noting each group's sketches distinctly. Meanwhile, the whole class will operate as one cohesive writing room. Plus, everyone takes recess at the same time.
SKETCH 2
"Some people have a way with words, and other people…oh, uh, not have way." -STEVE MARTIN
This class is focused on your ability to turn a good idea into a great sketch, and begins to develop techniques for presenting a cohesive sketch set. Develop the ability to find the best characters for a given premise, and to highlight distinct voices within your scripts. Become skilled at producing material and not be afraid of the blank page.
Blind Tiger sketch classes, like sketch comedy itself, are homework intensive: in Sketch 2 you will be expected to write a sketch a week. This in turn will help you develop your portfolio and give you a greater understanding of what your unique style and voice is.
You will move onto Sketch 3 with a strong portfolio, an ability to write a wide variety of characters and types of sketches, and an understanding of more advanced ways to combine and interweave sketches within a single set.
PRE REQUISITE: Sketch 1
SKETCH 3
"Gags die. Humour doesn't" – JACK BENNY
This course will expand your range as a sketch writer. You and your classmates will study and try a wide range of sketch types including audience manipulation, solo, and patience sketches. Every week you will immerse yourself in a different style, and come out wiser, funnier, and more versatile.
Blind Tiger sketch classes, like sketch comedy itself, are homework intensive: in Sketch 3 you will be writing extensively in each week, only some of which will be presented in class shows.
PRE REQUISITE: Sketch 2
Refunds & Cancellations – a 100% refund is available up to two weeks before your class begins. Within two weeks of the class start, registration is non-refundable.