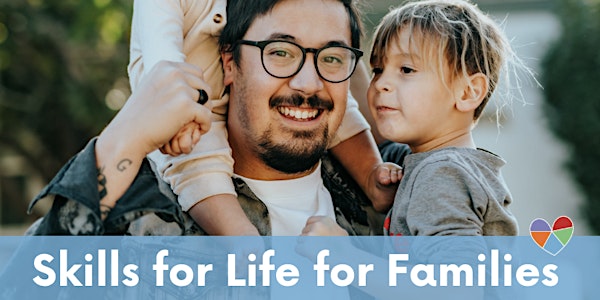 Skills for Life for Families - Workshop Series
The Dalai Lama Center, in partnership with Capilano Community Services, presents Skills for Life for Families.
When and where
Location
Lions Gate Community Recreation Centre 1733 Lions Gate Lane North Vancouver, BC V7P 0C7 Canada
About this event
What would parenting look like if you experienced less stress and anxiety, had more control over your emotions, and had the space for reflection before taking action?
This series of five, free workshops will help parents learn practical skills in:
Listening mindfully
Handling difficult emotions
Resolving conflict effectively
Balancing life's demands and challenges
Enriching your parenting experience
Registration closes on Dec 20th.
Registrants are expected to attend all five workshops.
Workshop Schedule
Week 1: Friday, Jan 6, 11:45am-1:45pm
Week 2: Friday, Jan 13 , 11:45am-1:45pm
Week 3: Friday, Jan 20, 11:45am-1:45pm
Week 4: Friday, Jan 27, 11:45am-1:45pm
Week 5: Friday, Feb 3, 11:45am-1:45pm
Workshop Descriptions
Workshop 1: Parenting Today – Understanding Our Children
Workshop 2: Mindful Communication and Stress Reduction Strategies
Workshop 3: Mindful Listening and Understanding Difficult Emotions, Including Anger
Workshop 4: Dealing with Anger and Practicing Assertive Responses to Conflict
Workshop 5: Putting It All Together: Using our New Skills at Home
__________________________________________________________
The Skills for Life Program workshop series is designed to present a vision of mindful and purposeful parenting. In the company of other like-minded participants, parents will learn many practical skills. Through group discussions, experiential and reflective activities, parents will have the opportunity to do the following:
Discover the emotional, cognitive, and physical developmental needs of your child at different ages, learn to see the world from your child's perspective, and gain skills and sensitivity to nurture their sense of security as well as meeting their developmental needs.
Identify and practice strategies of stress reduction and skills in mindfulness that will help you to be aware of your own thoughts and feelings in the present moment, thus allowing you to be open to the needs of your child without filters or judgment.
Identify and practice skills for dealing with difficult emotions, learn sensitive and reciprocal parent-child communication and how to use conflict resolution strategies to act more confidently and calmly.
Reinforce constructive changes in your inner life and strengthen practical skills that can lead to a home environment that maintains emotional equilibrium.
Facilitated by experienced Dalai Lama Center facilitators: Jennifer Westoby and Suzanne Vardy.