Learn effective skills and share insight with others who have loved ones struggling with mental health challenges.
About this event
This Online Skills Group offers several skills-based sessions, employing the proven strategies of DBT and EFT therapy techniques. These sessions are designed to help families learn a variety of techniques to help them better cope with a loved one dealing struggling to regulate their emotions. This group is facilitated by a person with lived experience giving participants the compassion and understanding that they deserve.
It is also a chance of building a network of peers who understand your challenges and can provide support on how to deal with loved ones struggling with mental health challenges. This group is open to anyone (parent, sibling, spouse, grandparent, friend) who has a loved one of any age wishing to learn more and how to cope better.
Learning how to 'RIDE THOSE WAVES' in a safe environment to share your experiences.
See registration details below.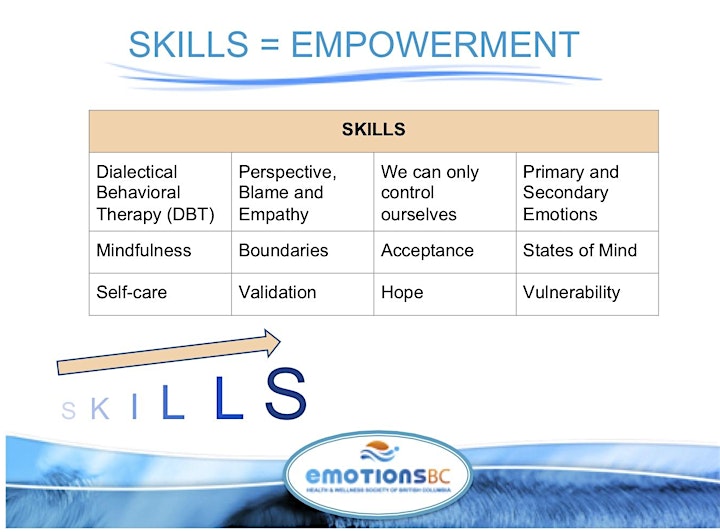 REGISTRATION PROCEDURE
Step 1: Register by choosing your preferred date
Step 2: Look for an email from christine@emotionsbc.ca on the date of your online meeting for full instructions and link to join the meeting.
ONLINE MEETING BEST PRACTICES
Please note that in keeping with all of our group guidelines, the following are very important to us to keep this session running smoothly and in the most secure manner possible. Please ensure you have the following in place in order to participate:
1. A safe and quiet environment for you to participate in this session
2. A set of earphones or headset with a microphone that can be plugged directly into your computer/tablet/phone. This ensures that others around your space won't be able to hear the other participants on this online meeting to respect their confidentiality.
3. Make sure to check your email on the day of the session so that you can participate ☺
Looking forward to connecting with you!

Organizer of SKILLS GROUP for Families + Caregivers
 EmotionsBC (EMOTIONS Health and Wellness Society of British Columbia Inc.) is a charitable organization delivering programs and services to people impacted directly or indirectly by emotional struggles caused by diagnosed or undiagnosed mental health challenges.
We are all on our own journeys and at various stages and therefore looking for different ways of improving our mental health and wellness. Whether we are caregivers of someone who needs our support, or whether it's us needing some extra care and feeling of connection with others who may be experiencing similar feelings, our groups and programs provide just that.
What Sets Us Apart
• PEER Facilitated – by bringing our own unique lived experience, it makes things more relevant and relatable.
• IMMEDIATE Support by way of our weekly drop-in Support + Skills Groups.
• Easily ACCESSIBLE – we offer all groups and programs online.
• NO REFERRAL is required.
• NO PAYMENT is required.
• ONGOING Support – you can attend as many times as you need to.
• SKILLS Program – learn skills to help cope with heightened situations as well as improve relationships based on DBT (Dialectical Behavioural Therapy) and EFT (Emotion-Focused Therapy).
• Regardless of RELATIONSHIP or AGE, we provide support for you if your loved one who is struggling with mental health challenges and you're looking to understand and connect with them better ( i.e. sibling, parent, grandchild, spouse, friend, etc.)
CONTACT US at info@emotionsbc.ca for information about our free groups and programs or call us at 604-968-6448.