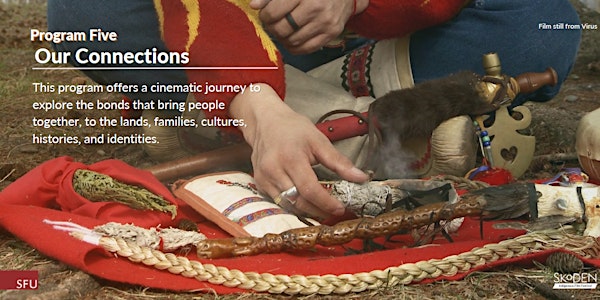 SKODEN INDIGENOUS FILM FESTIVAL 2023: Program 5 (Closing)
a two-day student-led film festival which features exclusively Indigenous filmmakers and creatives from across Canada
Date and time
Sat, Apr 1, 2023 5:00 PM - 6:45 PM PDT
Location
SFU Goldcorp Centre for the Arts 149 West Hastings Street Djavad Mowafaghian Cinema Vancouver, BC V6B 1H4 Canada
About this event
1 hour 45 minutes

Mobile eTicket
PROGRAM 5 | CLOSING
OUR CONNECTIONS: APRIL 1 | 5:00 PM (102 MIN.)
This program offers a cinematic journey to explore the bonds that bring people together, to the lands, families, cultures, histories, and identities.
The 5th Annual Skoden Indigenous Film Festival, March 31 – April 1, is  a 2-day student-led film festival which features exclusively Indigenous filmmakers and creatives from across Canada. 
Skoden is a two-day student-led film festival which features exclusively Indigenous filmmakers and creatives from across Canada.
Founded on the principles of truth and reconciliation, Carr Sappier (Wolastoqew) and Grace Mathisen created the festival in 2019, and now we are headed towards the fifth annual Skoden Indigenous Film Festival. It's organized and led by a class of students from all over SFU's School of Contemporary Arts and FCAT, and co-taught by Carr Sappier and Kathleen Mullen (who has been involved as a Festival consultant / mentor since the first year).
Skoden is an Indigenous slang term that stands for 'Let's go then!'. According to Carr Sappier, Skoden is emblematic of more. "Skoden represents a sense of happiness, inclusion and a space where all filmmakers can feel like they are part of something that holds them up in respect," they say. And for instructor Kathleen Mullen, "we are sharing experiences and knowledge through this course and for me this is what SKODEN means—Let's Go Then! Said with humour, dialogue, and respect."
INDIVIDUAL PROGRAM TICKETS: PAY WHAT YOU CAN: $0, $10, $15, $20
FESTIVAL PASSES: SKODEN ACCESS PASS (STUDENTS, SENIORS, ARTS WORKERS): $25 | SKODEN FESTIVAL PASS: $50
Please note: Each individual program requires a separate ticket, while Festival Passes will give you access to all of the programs.
All ticket sales go directly back into the sustainability of the Skoden Indigenous Film Festival and the costs related to putting on the festival (e.g. artist and guest speaker fees, festival operations).
Content warnings to be updated closer the Festival. If you have any concerns, please contact the box office at gca_events@sfu.ca
More information about the festival can be found here.
PROGRAM 5 | CLOSING
OUR CONNECTIONS: APRIL 1 | 5:00 PM (102 MIN.)
This program offers a cinematic journey to explore the bonds that bring people together, to the lands, families, cultures, histories, and identities.
ISTEN:A (MOTHER) (KJ EDWARDS, 5 MIN.)
Isten:a (mother) is a poetic retelling of a visit from the artist's mother Beatrice in dream space. This film reflects on dreams as a meeting place where we can communicate with our loved ones, who we remain tethered to, even though we may be distanced by our material reality.
THE SCISSORS (KATIA KURTNESS, 3 MIN.)
At the sound of cardboard being cut, Annette remembers the first time she cut out animal silhouettes and passed on this talent to her daughter, Katia.
KOKUM, WITH LOVE (KIM STADFELD, 12 MIN.)
Flora Bear's youngest granddaughter searches for truth and answers about her Indigenous grandmother's life. This short documentary is the filmmaker's personal journey of discovery to honor her late grandmother's life and understand her family's history.
NUKUM MARY (MY GRANDMOTHER MARY) (NORMAND JUNIOR, 7 MIN.)
A Naskapi grandmother passes on to her Innu granddaughter her experience, knowledge and culture as well as the patience and meticulousness that have characterized the first peoples of Canada for thousands of years.
JOURNEY TO OUR HOMELAND (ADRIEN HARPELLE, 24 MIN.)
This film follows Nibinamik First Nation Elders Tommy Yellowhead and Stephen Neshinapaise, accompanied by a small group of youth and Shebafilm crew, as they traveled a historic canoe route to their birthplace. This film hopes to encourage other Matawa members to connect socially with each other through their waterways and trails in order to demonstrate the current and traditional land usage for all Matawa communities and First Nation members.
WE ARE NOT SPEAKING THE SAME LANGUAGE (DANIKE ST-LAURENT, 8 MIN.)
Thinking back on her only phone call with her maternal grandmother, Danika explains her connection to her Indigenous identity (and her grandmother) through beadwork.
THE GOLDEN AGE (BAWAADAN COLLECTIVE, 20 MIN.)
A short fantasy – whimsical, mysterious, and sometimes humorous. A morality tale for adults played out as an allegory about the loss of connection between humans and animals, and the global pandemic.
VIRUS (RÉAL JUNIOR LEBLANC, 5 MIN.)
The film is a reflection of a poem or a slam of an Innu on the virus called COVID.
INUKTITUT LANGUAGES IN THE 21ST CENTURY (ULIVIA UVILUK, 9 MIN.)
Ulivia explores what is accessible via the Internet in terms of Inuktitut. A tongue complex that includes several dialects and which varies from one generation to another, Inuktitut is threatened by dominant languages. Are there solutions for Inuktitut with this technology?
TORCH NARROWS (SIMON GAREZ, 11 MIN.)
This film is about two small-town friends who revisit a traumatic memory they shared on the Saskatchewan River.
To purchase individual tickets for the rest of the festival, please visit the following:
Program 1: Activating the Landscape, March 31st @ 5:00pm
Program 2: It's a Long Story with feature Ever Deadly, March 31st @ 7:30pm
Program 3: The Deepest Part of My Heart, April 1st @ 12:30pm
Program 4: Who I Am, Who We Are, April 1st @ 2:30pm
Program 5: Our Connections, April 1st @ 5:00pm
Festival Passes can be purchased here.
COVID-19 Safety:
Masks are encouraged on our campuses, particularly in spaces where people are in close proximity. Masks are not mandatory.
Further information on SFU's Return to Campus policy can be found here.