About this Event
Join Antonia Issa, a past Slack employee in Customer Experience and someone who has helped teams onboard into Slack, in the second of a two part Slack learning series on Slack Workflows.
In this 90-120 minute interactive session, you will take existing broken or problematic processes in your organization and, using a combination of the toolkit from the last session and process tips from this session, design functioning workflows using Slack.
By the end of this session you will:
1. Learn about ways in which the Slack team itself has created workflows in Slack
2. Acquire a toolkit of tips and tricks for designing workflows
3. Design and share a workflow to solve for an existing broken process in your organization
Please bring your own laptop with Slack installed. Download the app here.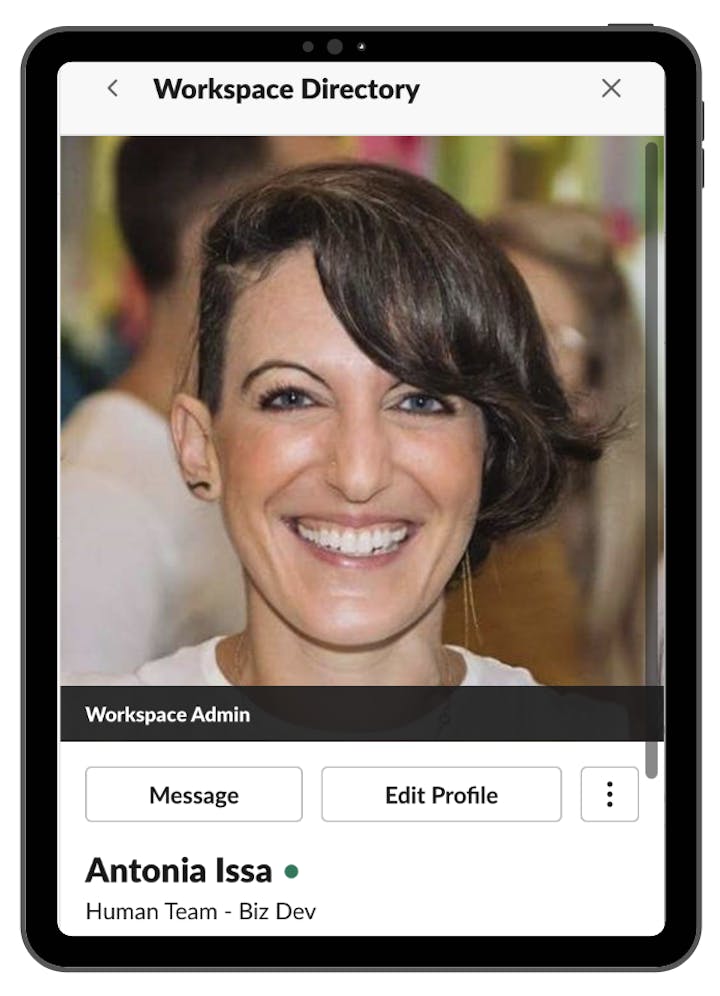 Antonia was employee 111 at Slack on the Customer Experience team. She worked in Support, helping customers with questions and problems and also ran the onboarding program for new support agents.
After 2.5 years at Slack, Antonia moved on to be a Learning Manager at STAT Search Analytics, with a not-so-secret additional agenda around helping the team level up in Slack. When STAT was acquired by Moz, Antonia led the culture and tooling merge of Slack workspaces.
Now, Antonia works at Airbnb in Business Development for the Open Homes Program and is leading efforts with another ex-Slack employee to revolutionize how Slack is used at the 9000 person company.
In Vancouver, Antonia set both SCWIST and YWCA Focus at work, up on workspaces with Slack's free standard plan for charity organizations.
I guess you could call her a Slack evangelist, who maintains a healthy perspective, and recognizes that while Slack _can_ brew coffee, it doesn't necessarily need to do everything in life.
PROGRAM
5:30-6:30 pm Registration, refreshments and networking
6:30- 8:30 pm Workshop with Q&A
CHILDREN
Mothers are welcome to bring their children and will be primarily responsible for their care and well-being. STEM activity kits will be available for school-aged children. Toys (train and tracks, dolls) will be available for preschool children.
If you are bringing children, please inform Khristine Cariño at director-communications@scwist.ca.
PHOTO AND VIDEO CONSENT
Please be advised that photographs and videos will be taken at the event and may be used by SCWIST on their website, marketing materials, and other publications.
By being at this event, you consent to SCWIST, to photograph and use your image and likeness.
Grant of rights: You irrevocably and wholly grant SCWIST the exclusive use of your name, voice, picture, and likeness as recorded during this event. You also irrevocably and wholly grant the exclusive use of any statements and actions you make as recorded during this event. This grant of rights shall be effective throughout the world and in perpetuity.
Use by SCWIST: SCWIST may use any footage it obtains at this event for any purpose, including but not limited to live and recorded transmission, advertising, promotion, sale, and transfer, in all media now known or hereafter devised throughout the world and in perpetuity.
You agree you have been fully informed of your consent, waiver of liability, and release before participating in this event.
NO REFUNDS PERMITTED.
However, you may pass on your registration to another person. That person will have to present a printed ticket at the event registration desk.