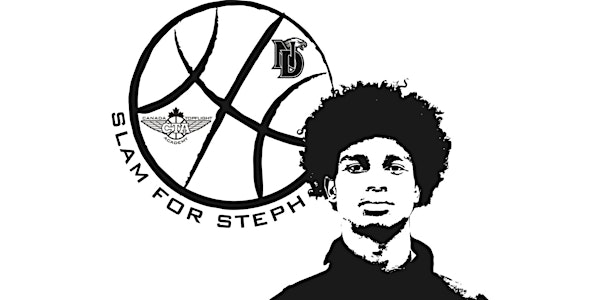 SLAM FOR STEPH
A fundraiser that will feature a live DJ, an exhibition game with a Slam Dunk competition, silent auction, food, door prizes and more!
When and where
Location
Notre Dame High School 710 Broadview Avenue Ottawa, ON K2A 2M3 Canada
About this event
It is with great honour to announce that Canada Topflight Academy (CTA) and Notre Dame High School will be hosting our "Slam For Steph" fundraising event Thursday, December 1st from 6:00pm - 9:00pm at Notre Dame High School (710 Broadview Ave).
Stephane Okenge was a student athlete enrolled as a full-time student at Notre Dame High School and part of the elite level CTA basketball program for two years 2017-2019. Steph was part of CTA's second National Championship team that won it in 2018. He recently turned 19 years old and is attending York University in Nebraska pursuing his dreams of playing college level basketball.
On the morning of Sunday, October 23rd, Stephane was the passenger in a car accident and suffered major trauma to his cervical spine from extreme whiplash. The most severe injuries are the major fractures to his cervical vertebrae. C5, C6, & C7; more minor fractures are present up to C3 and down to T1. The ligaments of his vertebrae in that region are damaged as well. Because of this, there is severe damage to his spinal cord. This means he has no feeling or movement anywhere below his shoulders. Some of the muscles used for breathing are also affected. While we are wholly focused on Steph recovering and regaining the ability to breathe on his own, the reality is that he now has quadriplegia - no feeling or movement from his shoulders down.
It is safe to say that his life has been seriously altered as he and his family face the biggest challenge in the days, weeks and hopefully years to come. One of the biggest challenges is the financial costs that the family needs to bear in the upcoming weeks and years. Costs which include their accommodations while Steph remains in ICU and hospital care, meals, and transportation while in Nebraska, the significant overrun that will happen when Stephane's medical insurance maxes out, and his relocation cost to Canada. Once Stephane is back in Canada, setup with specialized equipment such as a wheelchair, van, and modifications to the home will represent significant expenses.
Anyone having known him will attest he is a special young man, he was definitely more than just a solid student and great basketball player, he touched the lives of many and makes the world a better place!
He is very deserving of this event and we know it will give him the hope to battle when he sees how many people are supporting him from Ottawa.
Please join in the next chapter of his story and support him and his family as they focus on bringing Stephane to the best possible quality of life despite this devastating setback.