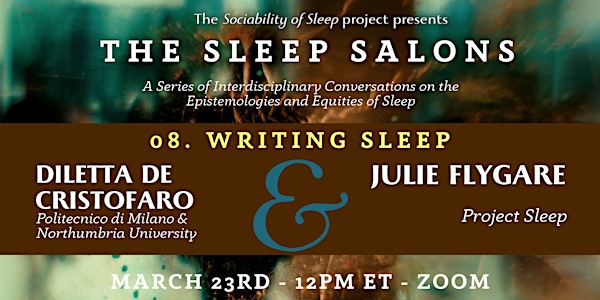 Sleep Salon 8: Writing Sleep, with Diletta de Cristofaro and Julie Flygare
This event juxtaposes explorations of sleep in contemporary fiction with the awareness of life writing about sleep and its disorders...
About this event
Speakers:
✦ Diletta de Cristofaro (Politecnico di Milano / Northumbria University)
✦ Julie Flygare (Project Sleep)
To transform sleep into an object of research or even a topic of conversation has always required writing. From the "writing" of the most advanced EEG in the sleep laboratory to the keeping of a humble dream journal, writing allows us to learn from others' experience of sleep and to accumulate fine-grained knowledge of sleep's social significance. Salon 8 juxtaposes literary-critical explorations of sleep in contemporary fiction with the awareness- and empathy-building practices of life writing about sleep and sleep disorders.
✦ Diletta De Cristofaro is currently a Marie Skłodowska-Curie Research Fellow at Politecnico di Milano (Italy) and a Visiting Research Fellow at Northumbria University (UK). As a literary scholar, she has published on the contemporary post-apocalyptic novel, and her current project examines the notion of sleep crisis in contemporary literary and cultural contexts.
✦ Julie Flygare (JD) is President and CEO of Project Sleep, where she leads the organization's patient-driven advocacy, awareness, and education programs. Her book Wide Awake and Dreaming: A Memoir of Narcolepsy, uses life writing to build knowledge and empathy about sleep and sleep disorders.
Moderated by Aleksandra Kaminska, Associate Professor of Communication at Université de Montréal and lead applicant on Sociability of Sleep. Her work focuses on the intersection of media aesthetics, material and visual cultures, and history and philosophy of science and technology.
The Sleep Salons at Sociability of Sleep continue with an exciting Winter program. Our ongoing conversation on the social lives of sleep ranges across new interdisciplinary territories: design, architecture and media for sleep; sleep writing and advocacy; music, sleeping and listening; theater and the public performance of sleep; and the politics of sleep and/as labour. Our international cast of speakers includes artists, designers, architects, composers, activists, a chronobiologist and a sport scientist.
The Winter Sleep Salon series is co-curated by the lead applicants of Sociability of Sleep, Professor Aleksandra Kaminska (Associate Professor, Université de Montréal), and Alanna Thain (Associate Professor, McGill University), with Josh Dittrich.
All Salons will take place on Zoom, and recordings will be subsequently available on our website.
✦ Salon 9: Stuff of Sleep, with Tega Brain, Sam Lavigne & New Circadia: Wednesday April 20th 4:30pm – 6pm ET
✦ ✦ ✦ ✦ ✦
The Sociability of Sleep is two-year research program that explores both everyday and exceptional experiences of sleep and its disturbances. Launching our programming this Fall are the Sleep Salons, monthly public sessions featuring scholars, artists, and researchers on sleep, showcasing innovative research though conversations that examine how we learn and know about sleep, and that question and expand the methodologies, epistemologies, and equities of sleep knowledge. Exploring the value of sleep research in art and design, humanities, and social sciences, and taking experiential, experimental, critical, and sociable approaches to sleep, each monthly Salon pairs short talks (ca. 25 minutes) from featured speakers to generate interdisciplinary insights in the ensuing discussion about the sociability of sleep.
The Sociability of Sleep and its Sleep Salons are supported by funding from the Government of Canada's New Frontiers in Research Fund (NFRF).