SLF Pride Talks: Championing Mental Health Programs for LGBTIQ Communities
Activists in Uganda and Kenya discuss prioritizing mental health services and increasing access in response to violence, HIV and COVID-19
About this Event
LGBTIQ organizations in sub-Saharan Africa continue to respond to a surge in violence and discrimination linked to the COVID-19 pandemic. At the same time, they are experiencing increased demands for their services as lockdowns and social distancing policies have disrupted vital systems of support for LGBTIQ community members living with or vulnerable to HIV.
Join us for the second in our series of SLF Pride Talks and hear from leaders of two LGBTIQ organizations based in Uganda and Kenya. Learn about the impact of the COVID-19 pandemic on the mental health needs of their communities and what LGBTIQ organizations are doing to meet these needs. Be inspired to become part of a global movement for LGBTIQ health and human rights and support the Stephen Lewis Foundation's Partners in Pride campaign.
A Q&A will follow the conversation.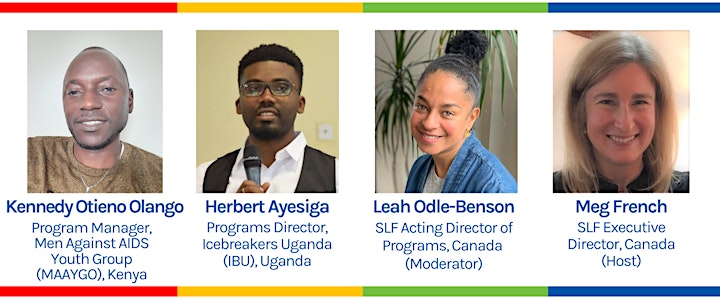 Kennedy Otieno Olango, Program Manager, Men Against AIDS Youth Group (MAAYGO), Kenya
Herbert Ayesiga, Programs Director, Icebreakers Uganda (IBU), Uganda
Leah Odle-Benson, Acting Director of Programs, Stephen Lewis Foundation, Canada (Moderator)
Meg French, Executive Director, Stephen Lewis Foundation, Canada (Host)
Topics considered in this live conversation will include:
The impact of the COVID-19 pandemic on the mental health and wellbeing of LGBTIQ individuals
Successes and challenges of LGBTIQ organizations delivering mental health programming
Strategies LGBTIQ leaders and organizations have developed to support one another and provide psychosocial support to community members and staff
Why sustained support for mental health programming is essential for LGBTIQ organizations in sub-Saharan Africa
The role of global solidarity and how Canadians and the international community can get involved
Partners in Pride
The Stephen Lewis Foundation has launched the Partners in Pride campaign to raise $3 million over the next three years to support LGBTIQ organizations in sub-Saharan Africa. By scaling-up funding to our existing partners and extending support to new partners across the region, the campaign aims to reach 100,000 people per year.
Our LGBTIQ grassroots partner organizations are human rights defenders who have been working at the intersections of health and human rights, contributing to a global movement for LGBTIQ rights for years. Now as they face a surge in human rights violations, they're providing vital health and legal support while advocating for their communities. They've built extensive peer networks that allow them to reach and support LGBTIQ community members who are most vulnerable to the impacts of the COVID-19 pandemic, and to ensure that people living with HIV have the support they need to adhere to treatment during this global crisis.