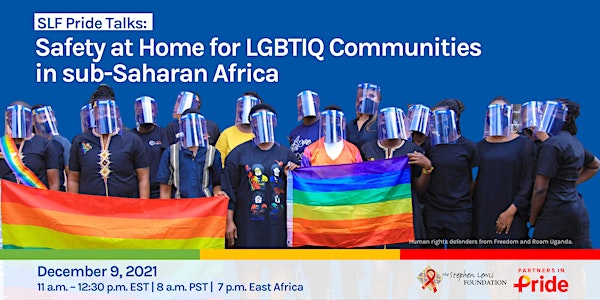 SLF Pride Talks|Safety at Home for LGBTIQ Communities in sub-Saharan Africa
Hear how LGBTIQ community-based organizations facing violence, stigma and discrimination are building safety at home.
About this event
In Democratic Republic of the Congo (DRC) and Kenya, as well as in many countries around the world, LGBTIQ people face discrimination and violence from their governments, communities, and families. While some LGBTIQ activists must flee for their safety, most continue to live and work in their home countries and communities.
Join us on December 9,at 11 a.m. EST in honour of Human Rights Day for our third installment of the SLF Pride Talks. You will have the opportunity to hear first-hand from the leaders of two vital community-based organizations in DRC and Kenya that are working to create safety at home for LGBTIQ individuals.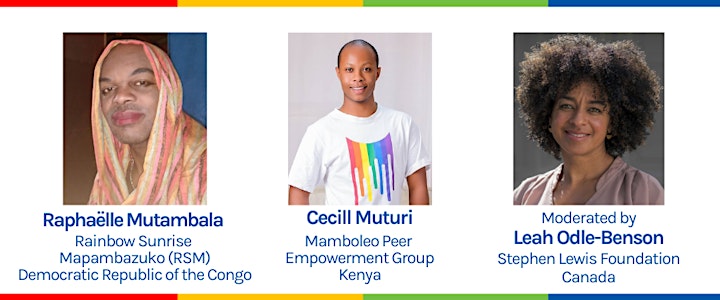 The event will also feature a short video that will highlight how:
Bridge Initiative Organization in Tanzania reunites families by leading peer-to-peer conversations between parents of LGBTIQ community members
Tamba Pwani in Kenya creates affirming and inclusive health care by training health care workers
Rainbow Sunrise Mapambazuko's friendship centre in Democratic Republic of the Congo gives LGBTIQ individuals a place to gather and connect without needing to hide who they are
and more!

Partners in Pride
The Stephen Lewis Foundation Partners in Pride campaign is a global solidarity movement that mobilizes funds for grassroots LGBTIQ organizations in five central and east African countries.
These organizations build hope and solidarity among LGBTIQ individuals while providing health care, legal services, counselling, and support. They champion human rights; ensure access to inclusive HIV services; and fight for a safer, freer, and more equal future for LGBTIQ communities, often in the face of violent homophobia, legally entrenched discrimination, and political and social persecution.
For more information about Partners in Pride, please contact:
slfpride@stephenlewisfoundation.org
www.stephenlewisfoundation.org/partners-in-pride
Click here to subscribe to our e-newsletter for updates and future events.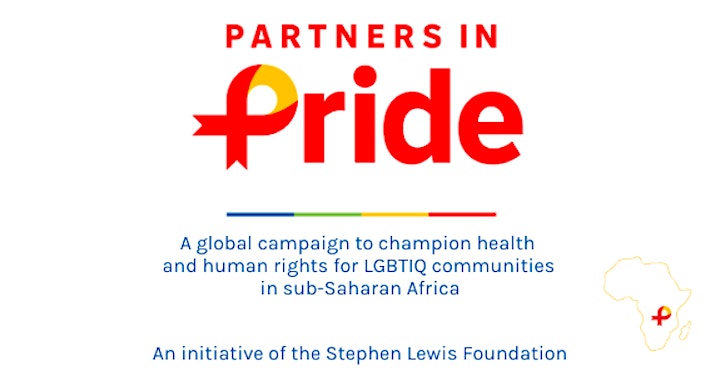 Organizer of SLF Pride Talks|Safety at Home for LGBTIQ Communities in sub-Saharan Africa
The Stephen Lewis Foundation (SLF) works with community-level organizations which are turning the tide of HIV and AIDS in Africa by providing care and support to women, orphaned children, grandmothers, LGBTIQ communities, and people living with HIV and AIDS. Since 2003, we have funded more than 2100 initiatives, partnering with more than 335 community-based organizations in the 15 African countries hardest hit by the pandemic.