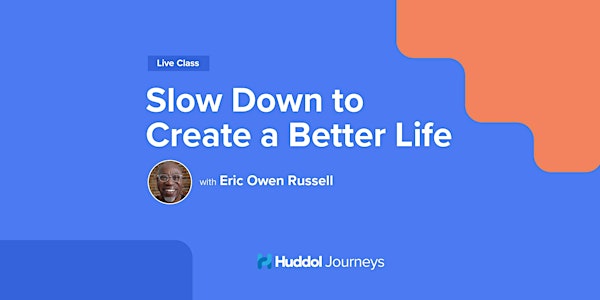 Slow Down to Create a Better Life
Live more fully in a stressed and hurried world.
About this event
It's no surprise that many of us are feeling disconnected from ourselves, others and the world around us. We're swept up in expectations, work, and a lot of "more".
Join Eric Owen Russell in his Be Still Now live class and take your first step into the practice of stillness.
Immerse yourself in the "flow" and experience the richness your life has to offer.
About Eric Owen Russell
Hi. My name is Eric, and this is the old me you won't get to meet: painfully shy, introverted, hyper vigilant and self protective, anxious, fearful, angry and people averse. The Eric you'll get to know is: calm and calming, fun loving, curious, grounded, open, loving, receptive and has conversations with strangers. I've been professionally coaching others for nearly 40 years, focusing on well-being. I hold a BA in Organizational Behavior from Brown University, I'm a master level coach, and founder/creator of Well-Being CORE Practices Coaching. I specialize in coaching busy people who want more fulfilling lives.
This live class is presented by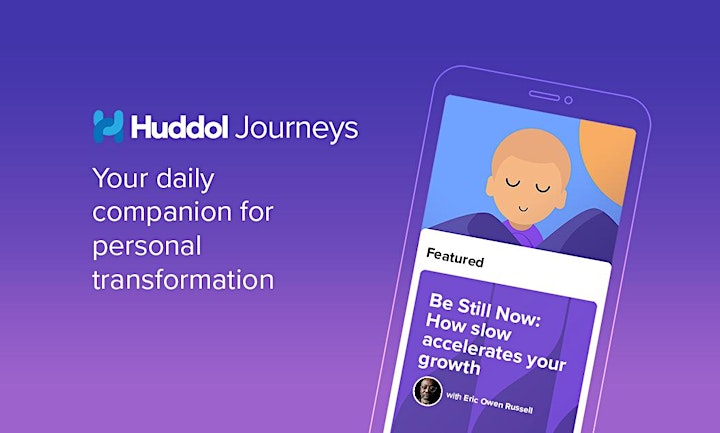 What starts as 7 days, transforms into a lifetime of personal growth.
The Huddol Journeys App activates a powerful growth experience:
Go on transformational Journeys – Take seven days to recreate your life
Learn with dedicated growth Mentors – Unlock your greatest potential with powerful growth experts
Make meaningful connections - Social forums to learn and discover with new life allies
Experience daily tools for growth - Reflections and practices for self discovery
Access live classes and podcasts – Dedicated time with your growth Mentors
Journal your breakthroughs - Capture your daily growth reflections
About Eric Owen Russell's 7-day transformational Journey:
Be Still Now: How slow accelerates your growth
Slow down, get still, and have a much better life. The over 7 trillion nerves in the body suggest we're built to experience life through what we feel and sense. Our hurried lives cause us to ignore nearly all of the body's sensory input. If we slowed down, it's possible to become immersed in the vast richness that life actually offers and live with better skill. In Stillness Practice we access life's rich experiences through the body's sensory input, and align our lives with the body's natural wisdom.
Over the next seven days you'll experience and implement Stillness Practice. Stillness is a wonderful somatic (body) tool to help you live more fully in a stressed and hurried world. At the end of our Journey together, you'll be in a better place to make different choices leading to a better quality of life.
Through Stillness Practice you'll:
Experience life through your body's senses.
Enhance relationships.
Tap into calm in pressured circumstances.
Get more deeply connected to your life and not racing through it.
Most people think faster is better. Here are some assumptions we'll challenge in this Journey:
My value and identity are tangled up in my busyness and productivity.
The only thing that matters is achieving goals.
Success means running hard at life.
I'll slow down when I retire.
What unhelpful ideas have you hurrying through life? The best time to slow down is right here and now.
Join Eric Owen Russell for a 7-day Journey to help you live more fully in a stressed and hurried world.

We made it really easy to get started. Simply create an account and start exploring the new Huddol Journeys App FREE! Start with seven days and activate a lifetime of growth.