Fredericton's 2nd Slow Roll! A great way to discover the city, learn about it's challenges, and have fun. Hop on your bike and let's roll!
About this Event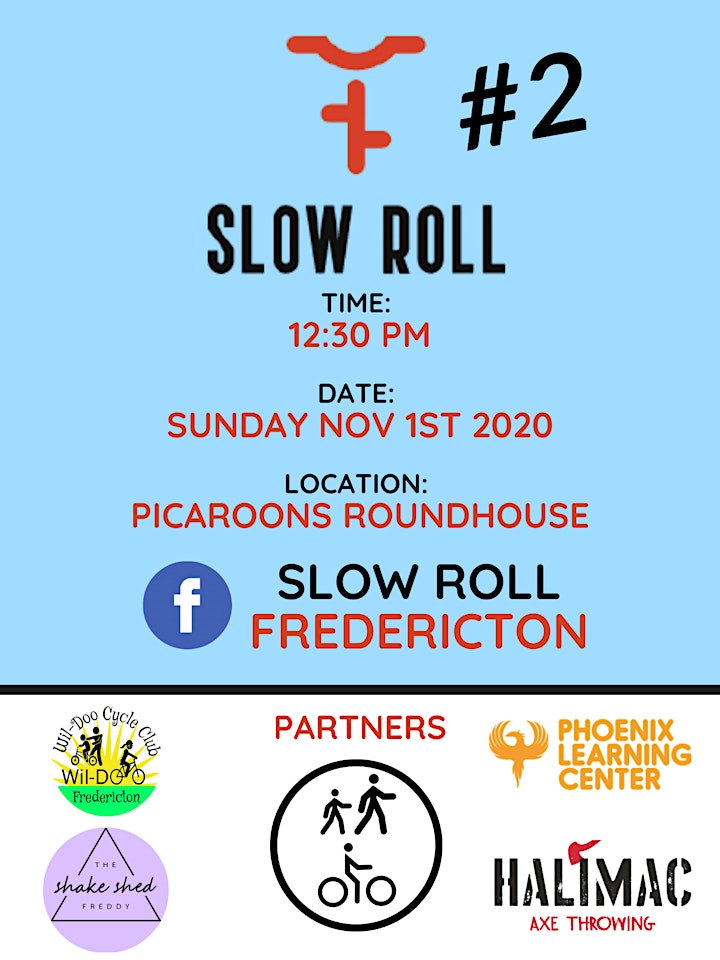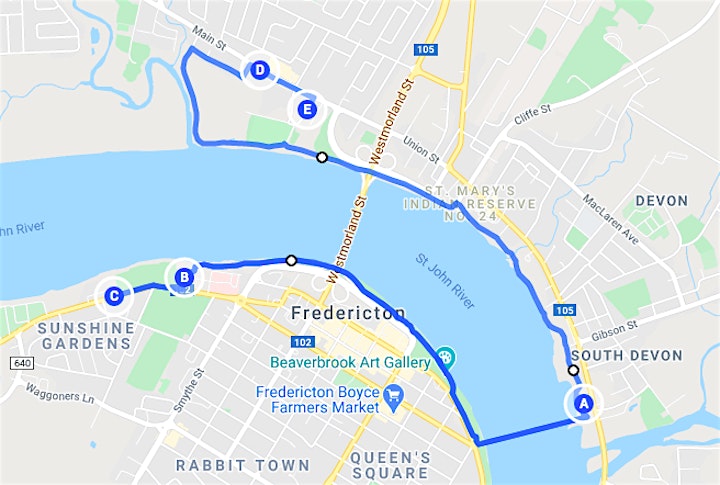 OUTLINE OF EVENT #2
WEARING OF HALLOWEEN COSTUMES IS ENCOURAGED AND RECOMMENDED :)
* If you do not have a bicycle and still want to participate, we have you covered. Please register for the event and select the General Admission + Bicycle ticket option. We have 6 bicycles available. First come, first served!
*If you are planning to attend with your family or kids, please reach out to us on our facebook page(www.facebook.com/slowrollfredericton) so we can accommodate your needs.
MAP ITINERARY:
https://goo.gl/maps/6gTEEB7QeLUTBjFL7
SUNDAY NOV 1ST 2020
1 - 12:30 PM - CARLETON PARK
Meet at Carleton Park by the parking lot of Picaroons Roundhouse (912 Union St.).
In order to ensure a smooth Slow Roll:
- All participants will sign a waiver for the Slow Roll as well as for HaliMac Fredericton
- We will also pre-order our shakes from The Shake Shed Freddy
- Assist those who requested a bicycle
- Receive instructions for the afternoon's journey
1 - 1:00 PM - CARLETON PARK
We leave at 1:00 pm sharp. Please meet on the grass (Carleton Park) by the parking lot. Once we are ready, we head to Government house as a group with our bicycles.
2 - 1:20 PM - GOVERNMENT HOUSE
Meet on the grounds of the dismantled tent city and take part in a dialogue of the realities of homelessness in Fredericton with Scott Earle, Coordinator at the Phoenix Learning Center.
3 - 1:55 PM - PHOENIX LEARNING CENTER
Take a tour of the newly opened Phoenix Learning Center, a drop in facility for the vulnerable/homeless.
3 - 2:45 PM SHAKE SHED FREDDY
Arrive to the Shake Shed to enjoy our gourmet milkshakes.
4 - 3:30 PM
Start Axe throwing at the newly opened Hali Mac Fredericton.
5 - 5:15 PM
End of the event.
*If you need your a ride with your bicycle to return to the starting point at Carleton Park, please alert the organizers and they will happily take you there.
*Please keep in mind that if there is rain in the weather forecast, we will reschedule on the following date: Nov 8th
A Slow Roll is a casual group bicycle ride around the community.
Slow Roll Fredericton has the following mission:
To encourage active transportation whether it be by bicycle, escooter, ebike, skateboard, or other means.
Provide an opportunity for residents to discover the city in all it's beauty.
Support local businesses by becoming patrons of their establishments.
Support local organizations via increased visibility and awareness through visits.
FACEBOOK:
https://www.facebook.com/slowrollfredericton
We will have a limit of 50 people for the event in order to follow COVID restrictions.
Please ensure you get a ticket so we can keep track of participations numbers.
Make sure to bring pocket money for your shake at The Shake Shed Freddy and axe throwing at HaliMac Fredericton.
PRICES
THE SHAKE SHED FREDDY:
From $4.50 to $12.95 + TAXES
HALIMAC FREDERICTON:
$24.09 Taxes In for 1 hr 45 minutes ($5 0ff regular price)
*Please see below for the menus of both establishments.
Please bring a mask and a hand sanitizer they will be used for the following activities:
- Signing of Waiver and Instructions Presentation.
- Dialogue on the realities of homelessness in Fredericton
- The Shake Shed Freddy
- HaliMac Axe Throwing
We would like to thank our partners the Fredericton Active Transportation Coalition, Wil-Doo Cycle Club, The Phoenix Learning Center, The Shake Shed Freddy, and HaliMac Fredericton for their support to make this event happen.
If you have any questions, please do not hesitate to reach out!
PARTNERS
FREDERICTON ACTIVE TRANSPORTATION COALITION
www.facebook.com/FrederictonATCoalition
WILL-DOO CYCLE CLUB
www.facebook.com/Wil.DooCBC
PHOENIX LEARNING CENTER
scott.earle@recoverynb.ca
THE SHAKE SHED FREDDY
www.theshakeshed.com
www.facebook.com/theshakeshedfreddy
www.instagram.com/theshakeshedfreddy
HALI MAC FREDERICTON
www.halimac.com
www.facebook.com/HaliMacFredericton
www.instagram.com/halimacaxethrowing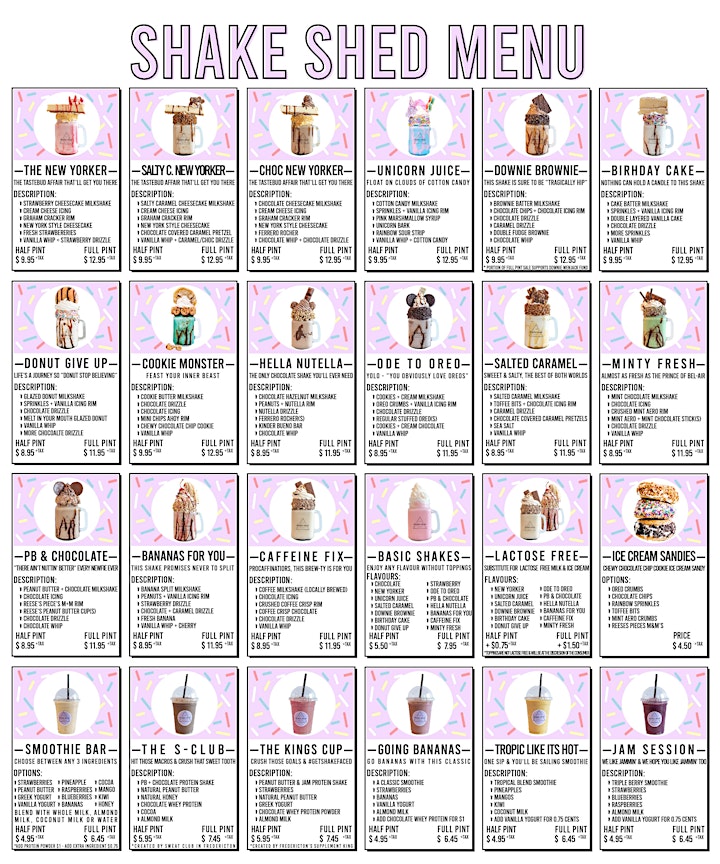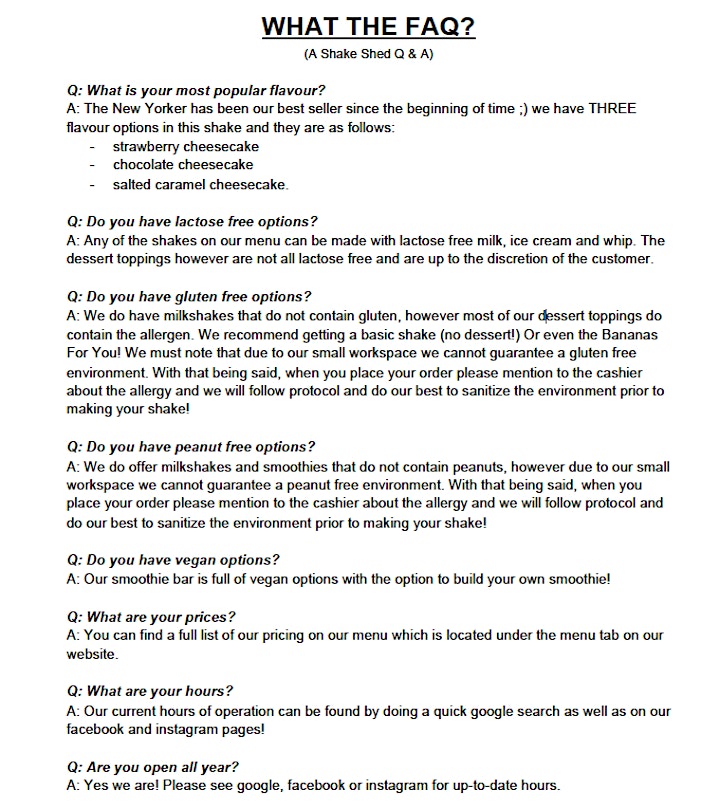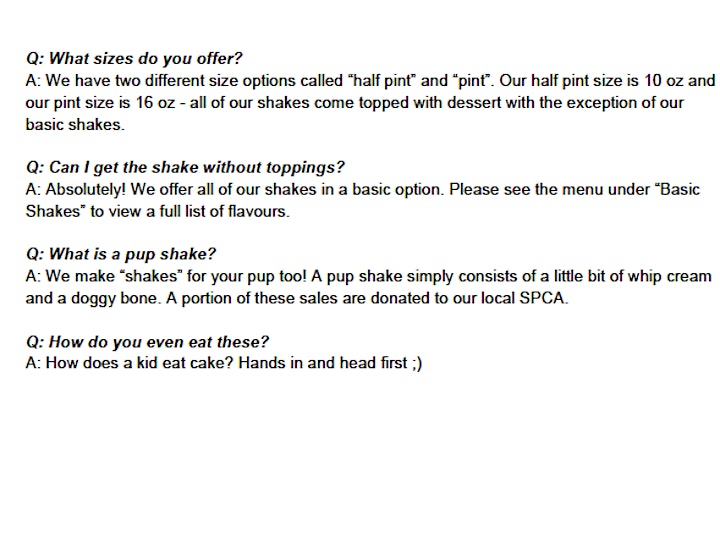 HALIMAC FREDERICTON MENU
SERVING LOCAL CRAFT BEER/CIDER:
Grimross
Long Bay Brewing
Maybee Brewing
York County Cider
Off Grid Brewing
Trailway Brewing
Fog Horn Brewing
All 16 oz glasses are $8 taxes included. We also have red and white wine.
FOOD ITEMS:
Mozza STicks $7.95
Fries - $4.95/$6.95
Onion Rings - $4.95
Jalapeno Poppers - $7.95